<! Nested Table for picture>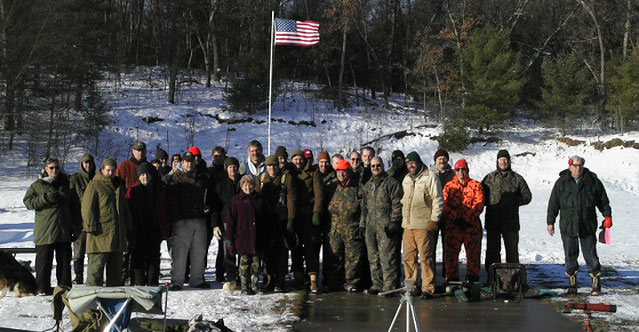 While many in Michigan huddled in their homes to stay out of the bitter cold, a record number of shooters attended the Muskegon Pistol and Rifle Club's first "M1 for Vets" match held on Saturday, December 9, 2006. Even a wind chill of 15 degrees did not deter the 30 dedicated shooters who wanted to be a part of this fantastic event. Some eager participants drove several hours just to be able to participate in the 30-round match. Temperatures may have been frigid, but the cloudless sky was a beautiful blue, and spirits were soaring.

The M1 for Vets Program was started in 2005, by a charismatic gentleman named JJ O'Shea, to present severely injured U.S. War on Terror veterans with an M1 Garand rifle in honor and recognition of their service to our country. Recipients are pre-selected from carefully screened candidates who have been severely wounded in the OEF or OIF, many having lost arms and legs, and who wish to continue competing in the shooting sports in some form as part of their rehabilitation process. Many M1 Garands have been donated as complete rifles, but more than half have been purchased from the Civilian Marksmanship Program.

<! Nested Table for picture>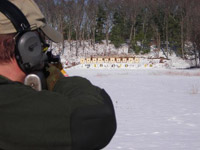 At every M1 for Vets match, a major portion of the match fee is donated to the purchase of a rifle for a pre-selected veteran. At the completion of its first year in operation, M1 for Vets has presented 67 rifles to grateful veterans, with more being continually readied.

As the parking lot rapidly filled with cars carrying shooters anxious to sign up and get their equipment ready, match director Steve Larson set out hot coffee and propane heaters to help alleviate the cold temperatures. Larson is not only an accomplished highpower shooter himself, but also a Master Clinic Instructor qualified to teach Garand-Springfield-Military Rifle Clinics.

<! Nested Table for picture>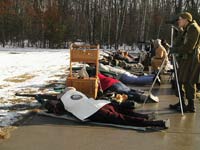 The Muskegon outdoor range has 12 firing points and military-style pit targets. The 30 shooters were split into four relays, starting with relay one shooting, relay two scoring, and relays three and four in the pits. The first relay was composed of experienced shooters who, when finished, were then available to assist the second relay if necessary. When the first two relays were finished, they reported to the pits and relays three and four reported to the firing line.

The match course itself was the John C. Garand Match Course A, following CMP rules. Rifles used were the M1 Garand rifle and the M1903 Springfield. The bolt-rifle relay was added for those wanting to shoot twice and also presented an opportunity to increase the fundraising effort.

<! Nested Table for picture>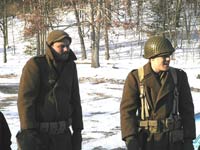 Participants included 27 men, one woman, and two junior men. Some even dressed in appropriate military uniforms and equipment to add to the feeling of authenticity. When a local newspaper reporter showed up to do a story on the event, he was "persuaded" to sign up and shoot the match. The journalist received some in-depth coaching by experienced highpower shooter Dan McSorley and then had a great time shooting his first Garand match. Who knew 30 rounds could be so much fun?

After the match concluded, everyone gathered for a hot meal of chili, rolls and coffee provided by the match director's wife, Deb. Even the match mascot, Carlos the dog, enjoyed all the excitement and good food. CMP achievement pins were presented to the top shooters in each category. Winners were as follows:

Garand Match:
Gold – Dan McSorley 280-1
Silver – Bob Steketee 279-5
Silver – Phil Randall 277-4
Bronze – Steve Larson 271-3
Bronze – John Vermeulen 267-0
Bronze – Jeff Humble 263-3

Bolt Rifle Match:
Bronze – Dan McSorley 274-4

Match director Larson stated that generous donations received from this match were enough to provide not only for MPRC's first rifle, but also to provide for a second one.

Everyone involved in the project was proud to have been able to contribute to the effort. These veterans long to get back into competitive shooting and by presenting them with an historic M1 Garand, the M1 for Vets Program enables them to do just that.

This event would not have been possible without the help of many volunteers. Snow removal was provided by a local company, flyer design by a graphic artist, free publicity from newspapers and radio stations, and of course, many hours of work from club members and friends. Special appreciation is also given to Art Curow, Jeff Humble, Dan McSorley, Ed Korpi, and John Willison for their help. For results, click on http://clubs.odcmp.com/cgi-bin/report_eventAward.cgi?matchID=1836&eventID=1&awardID=1. For additional pictures, click on http://www.odcmp.com/Photos/07/Muskegon/index.htm.