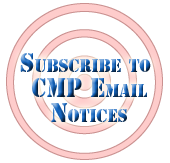 We want your feedback! Please let us know what you think about TFS. Do you have an interesting story or article that you would like to share? If so, please let us know!
Reader Comments:

CMP Shooters' News is one of my favorite email news publications. Information packed, talented authors, timely subjects, and all around well done. What a great service you are providing to the shooting community. Just wanted to say thanks and Merry Christmas. Newt E.
---
I enjoy and look forward to TFS and the excellent articles that are published on a regular basis. Please keep this publication coming and keep the CMP active. Don M.
---
One of the members at Snipers Hide pointed out the newsletter and the High Power Tips articles by the USAMU team.
Darn you! I was up until 1:00 AM last night reading all of the articles. Great newsletter and really great USAMU articles.
Thanks,
Michael E.
---
Great article written on physical conditioning in the latest TFS. I was one of likely many who had asked about the type of conditioning recommended for serious shooters. Sgt. Craig did a great job on describing the routines. Now it's my turn to put it to work.
Thanks to you, Sgt. Craig and other contributors who share best practices of shooting excellence.
Sincerely,
Keith H.
---
I use these articles in our high power clinics and have found them very helpful for both new shooters and reinforcement of the basics for the more experienced.
Thanks, Gary M.
---
Thanks for the great articles on the Carbine, Springfield, Garand matches. All the articles are interesting, but the Carbine, Springfield & Garand are my favorites.
Jim H.
---
The September-07 on line shooting tips by SSG Tobie Tomlinson, USAMU Service Rifle Team Member, is a great article. I have reproduced 15 copies of it to hand out and discuss to our "newbie" first year air rifle shooters on our high school JROTC Air Rifle Team. Come to think about it believe I'll hand out a copy to my advance shooters as well. His explanations are simple to understand but rich in detail. Coupled with the sight pictures this article will go a long way towards helping all our JROTC shooters obtain better sight patterns. Keep up the great work. AND…..keep the articles like this coming.
Malcolm V.
CW2 (R), US Army
---
It seemed good to read the article on Infantry Trophy Match. As a shooter on the Marine Corp Team way back in 1967 I participated in the Match. We were the second team for the Marines but placed second overall. One of our shooters forgot to put the windage on his rifle. I enjoyed shooting the M-1 and M-14 at Camp Perry and always wanted to go back but never seemed to find the time. The top over all shooter at that time was my team mate Lt. Bowen. I remember some of the team members carrying him from the 600 yd line back to the rest of us. It was a great time in my life and will never forget it. Thanks again for the article.
Mike A.
---
Thanks for the great series of articles from the USAMU – they are very readable, and usable!
Tom, AZ
---
Great articles. Great to identify those who are participating as well as those who are working behind the scenes to make the whole of the National Matches run so well.
David D.
Boxford, MA
---
This is a special note just for my friends at the CMP, I want to thank you all for your hard work and attention to details, it's a great program!
"You help our shooting dreams come true!"
Best Regards,
Tony M.
---



CMP College Scholarship Program Enters Eighth Year

By Sommer Wood, CMP Writer/Editor




The Civilian Marksmanship Program annually provides one hundred $1000 scholarships to current Army, Marine Corps and Navy JROTC seniors and ROTC cadets who are underclassmen enrolled in college Army or Navy ROTC programs. Applicants must also have a good academic record and have a record of success as a member of a college club, ROTC or varsity rifle team. This highly-acclaimed program has allowed the CMP to reward JROTC and ROTC cadets who display leadership and excellence both in the classroom and on the rifle range.

When this program was introduced in the spring of 2000, only 33 applicants qualified for the first CMP scholarships, but the program quickly grew and now all one hundred scholarships are awarded annually. Each year many outstanding applications are reviewed by the Scholarship Committees that determine which applicants are the most deserving. Even thought the number of applicants exceeds the number of CMP scholarships, there are still many well-qualified, potential applicants who should be encouraged to consider enrolling in ROTC and in applying for the CMP scholarships.

To be eligible to apply for a CMP ROTC Scholarship, a cadet must be a US citizen who is currently a high school senior enrolled in JROTC or a college freshman, sophomore or junior enrolled in ROTC. Applicants must have a minimum 2.5 cumulative GPA, be a successful participant on a competitive rifle team and demonstrate the potential to become an officer in the Armed Services. Applicants' leadership records is also taken into consideration. Successful applicants must enroll in ROTC for the 2008 fall semester in order to receive their scholarships.

Applications for scholarships for the 2008-2009 school year are being accepted now. The deadline for applications is 5 March 2008 for Army and Marine Corps applications, and 7 March 2008 for Navy applications. If you think you or someone you know might qualify for the 2008-2009 CMP ROTC Scholarships, visit the CMP website at http://www.odcmp.com/Programs/Scholarship.htm, or click on the scholarship link provided directly on the CMP home page at http://www.odcmp.com. Application forms and regulations for each service branch are available for downloading directly from the website. If you would like to see a list of previous scholarship recipients, visit the CMP Scholarship Honor Roll at http://www.odcmp.com/Programs/honor_roll.htm.