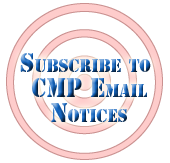 We want your feedback! Please let us know what you think about TFS. Do you have an interesting story or article that you would like to share? If so, please let us know!
Reader Comments:

Regarding the latest update, outstanding work again by the whole CMP crew! New or improved programs, expanded scholarships, new or improved facilities, new rifle and accessory offerings and the super relationships CMP has developed with the ONG and NRA leadership are shining examples of what can be done when one's heart is in the program. You all should be justifiably proud of how the program has progressed into its second century. Somewhere President Teddy Roosevelt has a big grin and is saying a hearty Bully for the CMP! Regards, LTC John F., USAR ret'd
---
I have truly enjoyed your Shooting Tips site. Even as a 25 yr veteran police sniper/high power shooter,I still find interesting,and useful tips from the successful younger folks coming up through the military,and law enforcement. Keep up the good work! Det.Tim R.
---
Wow! Please forward my thanks to everyone responsible for all the improvements I just read about at Camp Perry. Recent years have included quite a few impressive improvements and it looks like there are more this year. The Air Gun range, bath house at RV Park, Bataan Armory remodel, etc are all great. Just letting you know how much we (competitors) appreciate all the work.
Sincerely...
Grayson P.
---
CMP Shooters' News is one of my favorite email news publications. Information packed, talented authors, timely subjects, and all around well done. What a great service you are providing to the shooting community. Just wanted to say thanks and Merry Christmas. Newt E.
---
I enjoy and look forward to TFS and the excellent articles that are published on a regular basis. Please keep this publication coming and keep the CMP active. Don M.
---
One of the members at Snipers Hide pointed out the newsletter and the High Power Tips articles by the USAMU team.
Darn you! I was up until 1:00 AM last night reading all of the articles. Great newsletter and really great USAMU articles.
Thanks,
Michael E.
---
Great article written on physical conditioning in the latest TFS. I was one of likely many who had asked about the type of conditioning recommended for serious shooters. Sgt. Craig did a great job on describing the routines. Now it's my turn to put it to work.
Thanks to you, Sgt. Craig and other contributors who share best practices of shooting excellence.
Sincerely,
Keith H.
---
I use these articles in our high power clinics and have found them very helpful for both new shooters and reinforcement of the basics for the more experienced.
Thanks, Gary M.
---
Thanks for the great articles on the Carbine, Springfield, Garand matches. All the articles are interesting, but the Carbine, Springfield & Garand are my favorites.
Jim H.
---
The September-07 on line shooting tips by SSG Tobie Tomlinson, USAMU Service Rifle Team Member, is a great article. I have reproduced 15 copies of it to hand out and discuss to our "newbie" first year air rifle shooters on our high school JROTC Air Rifle Team. Come to think about it believe I'll hand out a copy to my advance shooters as well. His explanations are simple to understand but rich in detail. Coupled with the sight pictures this article will go a long way towards helping all our JROTC shooters obtain better sight patterns. Keep up the great work. AND…..keep the articles like this coming.
Malcolm V.
CW2 (R), US Army
---



2009 Achievement Medal and Achievement Pin Cut Scores

By Gary Anderson, DCM



<! Nested Table for picture>

CMP Achievement Medal cut scores are used to determine the shooters in As-Issued Military Rifle Matches who receive these medals. Shown here are (l. to r.) the silver, gold and bronze medals currently awarded during the National John C. Garand Match at Camp Perry.

One of the most popular goals for competitors in CMP As-Issued Military Rifle and Rimfire Sporter Matches is to fire a score good enough to earn a Gold, Silver or Bronze Achievement Medal or Pin. Competitors in the CMP Games Matches at the National Matches are awarded medals with neck ribbons when they fire scores that exceed Achievement Medal cut scores. Competitors in the Eastern and Western CMP Games Matches also are awarded medals with neck ribbons. Clubs that sponsor As-Issued Military Rifle or Rimfire Sporter Matches can award, Gold, Silver and Bronze Achievement Pins for scores fired in CMP sanctioned matches.

CMP Achievement Medal scores are achievable by all shooters who are willing to put reasonable effort into learning basic marksmanship skills and doing some extra practice. Cut scores are calculated on the basis of where the 40th percentile lies in scores fired at National and Regional CMP Games Matches when weather conditions in those matches are reasonable. After the 40th percentile score level is determined, scores above that point are divided into first one-sixth, next two-sixths and next three-sixths divisions in the same way that EIC match scores are divided into 10, 8 and 6-point legs. This breakdown then determines the gold, silver and bronze score levels.

<! Nested Table for picture>

CMP Achievement Medals with neck ribbons are also awarded at the Western and Eastern CMP Games Matches. Shown here are the silver, gold and bronze medals awarded for M1 Carbine Match scores in the Western CMP Games.

Once cut scores for the year are determined and posted in the CMP Competition Rules, those scores are used throughout the year to award Achievement Medals or Pins. For example, in the 2008 National Springfield Rifle Match, 743 shooters completed the match and turned in scorecards. 26 of those competitors fired scores of 278 or higher to win Gold Achievement Medals, 90 shooters fired scores from 270 to 277 to earn Silver Medals and 139 competitors fired scores between 260 and 269 to receive Bronze Medals. In evaluating last year's Springfield results, we ended up with less than 40 percent of the shooters earning medals. As a result, 2009 Springfield cut scores were adjusted downward.

John C. Garand cut scores remain nearly the same while Vintage Military Rifle scores went up because 2008 medals counts were above 40 percent. Carbine scores dropped slightly, while Rimfire Sporter cut scores increased, especially in the O-class where more shooters are learning how to produce good open sight scores.

All of the new Achievement Medal and Pin Cut Scores that will be in effect throughout 2009 are listed in the chart.

2009 CMP Achievement Award Scores
(2008 scores shown for comparison purposes)

Award

2008
2008
(50-shot)
2009
2009
(50-shot)
John C. Garand Match
Gold
276+
463+
276+
463+
Silver
269-275
452-462
269-275
452-462
Bronze
257-268
432-451
258-268
433-451
Springfield Rifle Match
Gold
278+
466+
276+
464+
Silver
270-277
454-465
269-275
452-463
Bronze
260-269
438-453
258-268
435-451
Vintage Military Rifle Match
Gold
275+
461+
276+
462+
Silver
267-274
449-460
267-275
449-461
Bronze
252-266
425-448
254-266
428-448
M1 Carbine Match
Gold
352+
351+
Silver
339-351
338-350
Bronze
323-338
322-337
Rimfire Sporter T-Class (scope)
Gold
577+
578+
Silver
564-576
562-577
Bronze
548-563
545-561
Rimfire Sporter O-Class (open sights)
Gold
552+
560+
Silver
542-551
546-559
Bronze
520-541
522-545
National Match Air Rifle Standing (20 shots SR)
Gold
175+
Silver
160-174
Bronze
140-159


New this year are cut scores for one of the new National Match Air Rifle events, 20 shots standing with a sporter air rifle fired on the 200-yard highpower target reduced for 10 meters. These cut scores are based on scores fired in the 2008 National Matches Air Gun Events.

Official Achievement Medal scores for the year will be published in the new 2009 CMP Competition Rules or CMP Guide to Rimfire Sporter when those publications are released in the next few weeks. Official rules for the new National Match Air Rifle events will be released after feedback from a 10 January Test Match is evaluated. Programs for the test match are posted at http://www.odcmp.com/Competitions/10Jan_New%20Program%20_2_.pdf.

In order to give match sponsors flexibility to adjust for difficult wind or climate conditions, a new rule is being developed for the 2009 rulebooks that will allow bronze medal or pin cut scores to be adjusted downward to a match placing that allows a maximum of 40% of the competitors in that match to receive awards. This was done in the 2008 Western CMP Games where strong winds made it difficult for shooters to attain medal-winning scores.

<! Nested Table for picture>

CMP Achievement Pins are awarded at CMP sanctioned matched for (l. to r.) the John C. Garand, Springfield Rifle, Vintage Military Rifle, Rimfire Sporter and M1 Carbine Matches.

Gold, Silver and Bronze medallions with neck ribbons are awarded only in the National Matches and Eastern and Western CMP Games. Gold, silver and bronze award pins can be awarded at any CMP-sanctioned match that includes one or more eligible events. Match sponsors that want to award pins to competitors in their matches should order them for $1.00 each from the CMP when they complete their match sanctioning application (form posted at http://www.odcmp.com/Competitions/Sanction.htm). With an inventory of pins on hand, the awards can be presented to shooters immediately after they fire a score that meets the cut score standards.

If you have questions or need additional information about sanctioning As-Issued Military Rifle or Rimfire Sporter Matches, please contact the CMP Competition Support staff at 419-635-2141, ext. 1101 or competitions@odcmp.com.