Gary Anderson, who served the CMP as the Director of Civilian Marksmanship for the past ten years, officially retired from that position on the 31st of December, 2009. Anderson, who celebrated his 70th birthday in October, announced his decision to retire at the last meeting of the CMP Board of Directors in October. He also has already shared this announcement with several CMP constituent groups. <! Nested Table for picture>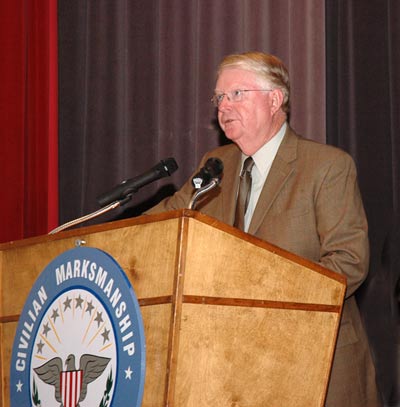 Retiring CMP Director Gary Anderson is shown here presiding over the 2009 National Trophy Rifle Matches Award Ceremony.
Anderson's retirement means he will no longer be actively involved in day-to-day CMP program operations and event management. He will, however, continue his association with the CMP in a part-time consulting capacity where he will work on several projects that include training curriculum development, master instructor training, rulebook editing and technical writing. He will now have the title DCM Emeritus.

The CMP has no immediate plans to appoint a new Director of Civilian Marksmanship. Leadership of CMP programs will now come under the CMP's Chief Operating Officer, Orest Michaels. Michaels, who has been responsible for CMP sales operations since 1998, will continue to work from his offices at CMP South in Anniston, Alabama. <! Nested Table for picture>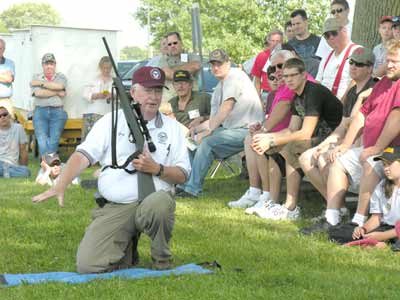 Gary Anderson is shown here teaching the National Rimfire Sporter Clinic. As DCM Emeritus, Anderson will continue to develop training curriculum and master instructor training.
During his tenure at CMP, Anderson guided the development of the Army, Marine Corps, Navy and Air Force JROTC marksmanship programs, the expansion of CMP Games rifle events, the doubling of participation in the CMP National Matches events, the creation of the CMP Master Instructor training program and its instructional clinics and the implementation of a series of innovations to improve the conduct of CMP competitions and training events. His leadership in the National Three-Position Air Rifle Council contributed to the growth of junior three-position air rifle shooting. He played key roles in the construction of the CMP Competition Centers at Camp Perry and Anniston and in making the CMP a national leader in using modern technology and the Internet to manage competitions and publicize shooting results to an expanded public. <! Nested Table for picture>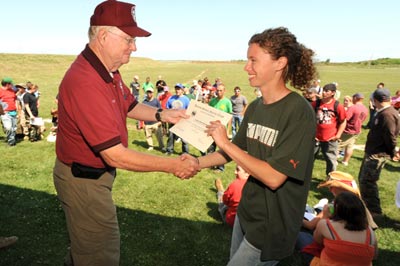 While DCM, Anderson was dedicated to growing youth participation in the shooting sports. He is shown here awarding a certificate to a CMP-USMC Junior Highpower Clinic participant.
Anderson said, "My work as the DCM has been richly fulfilling and I am grateful to the CMP and its Board of Directors for the opportunities they gave me to realize so many of my dreams and expectations for the shooting sports. I enjoyed the challenges the members of the CMP programs staff and I faced and take pride in what we have accomplished together, but the time for change has come. I still have many other things I would like to accomplish both inside and outside of the shooting sports. Most importantly, I have a wonderful wife and family who have sacrificed too much already and deserve more of my time."

Anderson added that he now expects to have more time to devote to the International Shooting Sports Federation, the world governing body of Olympic shooting where he is a Vice President and to USA Shooting, the U. S. Olympic shooting governing body where he was recently elected President.

The CMP Board is planning a formal tribute to Gary Anderson that will take place at Anniston, Alabama on 28 March, after the 2010 National JROTC Air Rifle Championship.