CAMP PERRY, OHIO – Looking back at our events in 2013, it's pretty clear why the Oklahoma, Eastern and Western CMP Games were such a great success – the people who participate. Our competitors, volunteers and staff have made the Games Matches an enjoyable "go-to" event for many who have supported us in Oklahoma, North Carolina and Arizona.
Most recently CMP traveled to the Ben Avery Shooting Facility in Phoenix in October for the 10th Annual Western CMP Games. The weather cooperated splendidly with mild temperatures in the low to mid-80s and lots of blue skies. Other than a desert breeze that made short work of our new canopy on the first night, it was ideal.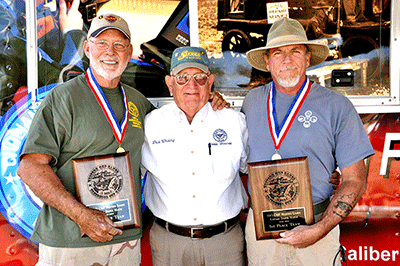 Mike Miller, of Downey, California, left, and Richard Curtis, of Surprise, Arizona, captured the 2013 Western CMP Games' Vintage Sniper Rifle Team Match championship. Miller and Curtis flank chief range officer Dick Whiting.
Like all CMP Games Matches, it was the people who commit to taking time away from family and work, spend their money, and lend a hand when needed to make these events so successful.
It takes considerable time and effort to put on a road show like the CMP Games Matches. The CMP staff trucks its gear a fair distance from Alabama and Ohio and puts in long hours to make sure competitors have a safe and enjoyable experience. The host facilities go out of their way to make us feel welcome and volunteers fill in where needed, making a huge difference.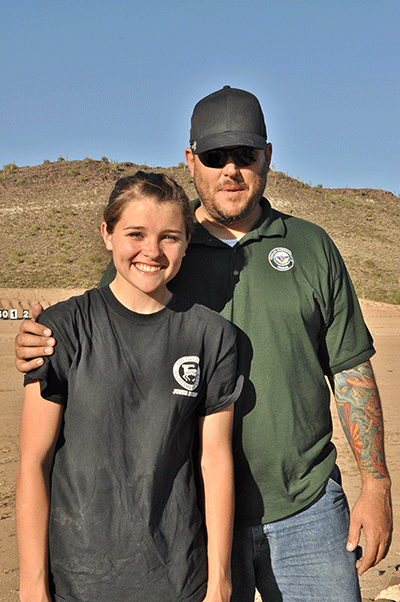 Morgan Langdon, 14, and her dad, Clint, 41, of Apache Junction, Arizona, took the opportunity to shoot together in the Small Arms Firing School during the 2013 Western Games. Morgan is a member of the Rio Salado Sportsmen's Club. She is also a member of the Apache Junction HS Navy Junior ROTC air rifle team and has competed in both sporter and precision classes. Clint said it was a good experience for his daughter and it gave him an opportunity to shoot and have some fun too.
Without naming names, our competitors come from every walk of life - male and female and many nationalities. They are commercial airline pilots and pole-climbing telephone linemen. Some are military veterans who have unimaginable stories, while others are farmers who battle droughts and floods to grow corn for food or help fuel our cars. They're cops, school teachers and laborers. Others are scientists and engineers (yes, we have one who helped test the rover "Curiosity" that's crawling on Mars) and we've got a top NASCAR team R&D guy pulling vintage rifle triggers.
Yes, these events bring out some awesome people – folks who will give the shirt off their back to help the guy on the next firing point. It makes for a safe, instructive, fun and rewarding environment.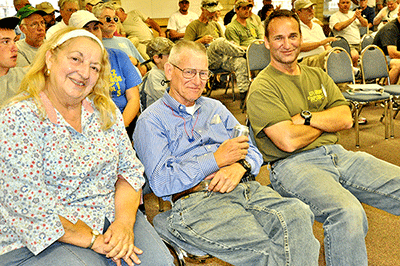 The Van Hyning family of Redlands, CA, is no stranger to the Western CMP Games. This year Fannie Van Hyning, left, was accompanied by her husband Don, 76, and son Ken, 47, of Snoqualmie, WA. Missing this year was Ken's brother Robert, 50, of Tustin, CA, who was out with gall bladder surgery and Ken's sons Jake, 23, a PFC in the U.S. Marine Corps, was not able to get leave and his youngest son Aaron, 19, was job-seeking. Don and Ken picked up the flag and handled all the Van Hyning competition duty at this year's event, firing the Vintage Sniper and M1 matches. Mrs. Van Hyning, the non-shooter of the clan, is in charge of family logistics, she said.
The CMP Games Matches itinerary consistently includes competitor schools and clinics, a series of vintage and modern military rifle matches, pistol and rimfire sporter rifle matches at some venues, at least one barbecue plus rifle and ammo sales and a healthy number of awards presentations.
In recent years we've added challenging new games, including the Vintage Sniper Rifle Team Match, which has brought many vision-challenged competitors back to the range, thanks to the optics on those great old guns – and their newly-manufactured replicas. At Ben Avery this year, silver-haired teammates Mike Miller, 66, of Downey, CA, and Richard Curtis, 56, of Surprise, AZ, captured the 2013 team match with an aggregate score of 390-12X, under the name "Desert Sharpshooters." Miller fired a 196-6X (98-98) and Curtis followed with a 194-6X (99-95).
The "Blind Squirrels," Dennis Pownall, 62, of Payson, AZ, and Ed Traxler, 58, also of Payson, placed second with a team score of 388-11X. The "KittyHawks," William Ellis, 49, of Langley, England, and Bill Fairless, 58, of Vienna, IL, placed third with an aggregate score of 387-12X. Ellis, who crosses the pond three times each year to participate in the Eastern Games, Western Games and National Matches, doesn't have the opportunity to practice at home, but still turns in some great scores.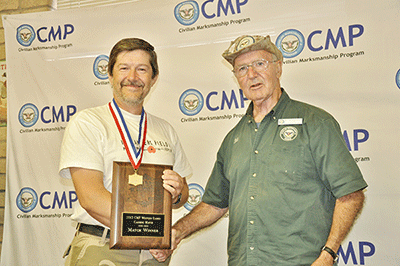 William Ellis, of Langley, England, won the Western Games M1 Carbine Match with an overall score of 359-4X out of a possible 400. Ellis was presented his match winner's plaque by CMP Board Member Bill Willoughby.
True to form, Ellis also won the Western Games M1 Carbine Match with an overall score of 359-4X out of a possible 400. The four-stage, 100-yard match (prone slow, prone rapid, sitting rapid and standing slow) featured 54 competitors. Ellis fired 90-1X, 86, 91-3X and 92, respectively. Stuart "Jake" De Motte, 26, of Kagel Canyon, CA, placed second in the carbine match with an aggregate of 354-4X and Shawn Begay, 39 of Rehoboth, NM, placed third with an aggregate score of 351-2X. Bill Aten, xx, of Kingwood, TX, was the high senior competitor in the match and finished fourth overall. Shepard Saabye, 13, of Colorado Springs, CO, was the high junior competitor. The always-popular Rimfire Sporter Rifle Match, fired at the Eastern, Western and National events, was fired by 62 competitors in three classifications – telescopic, open sights and tactical at this year's Western Games.
Lee McKinney, 67, of Rio Rico, AZ, won the T-Class competition with an aggregate score of 585-23X of a possible 600. The six stages of the match are prone slow and rapid, sitting/kneeling slow and rapid, standing slow and rapid. All prone and sitting/kneeling stages are fired at 50 yards and both standing stages are completed at the 25 yard line. McKinney's breakout scores were 100-8X, 98-4X, 99-5X, 97-1X, 93-1X and 98-4X, respectively. He doubled as high senior in the T-Class.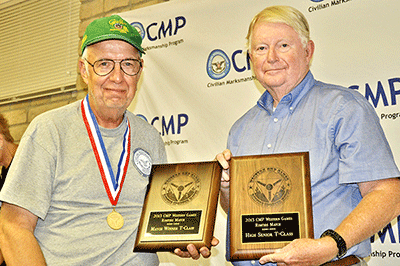 Lee McKinney, of Rio Rico, Arizona, won the telescopic class Rimfire Sporter Match with an aggregate score of 585-23X of a possible 600. He was also the high scoring senior in his class. Here he is congratulated by Gary Anderson, CMP Director of Civilian Marksmanship Emeritus.

Russ Mitchell, 44, of Perrysburg, OH, placed second in T-Class with an aggregate score of 583-18X. Mitchell topped third place finisher, Edward Hotz, 58, of Costa Mesa, CA, via X-count tiebreaker (583-15X). A total of 44 competitors fired in the telescopic class.
In Open Sights Class, Lyle Drenth, 60, of Apple Valley, CA, placed first with a combined score of 570-15X. Drenth scored a 96-4X, 97-3X, 93-2X, 93-2X, 95-2X and 96-2X series. Bill Aten placed second with an overall score of 559-12X and William Harty, 63, of Las Vegas, NV, placed third with a 555-6X total. Thirteen shooters fired the O-Class category.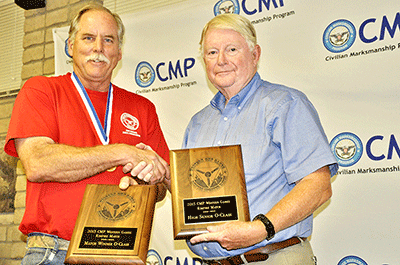 CMP Director of Civilian Marksmanship Emeritus congratulates Lyle Drenth, of Apple Valley, California, on his first place finish in the Rimfire Sporter open sights class. Drenth was also the high senior in his class.
The Tactical Class, Craig McGuire, 38, of Winnetka, CA, led a group of five competitors, scoring a 541-6X aggregate. McGuire's split scores were 88, 94-2X, 89-1X, 86, 93-3, and 91. Mark Nelson, Sr., 55, of Phoenix, AZ, placed second with a 539-5X and Dennis Caviness, Jr., 38, of Lake Havasu City, AZ, finished third with a combined score of 537-3X.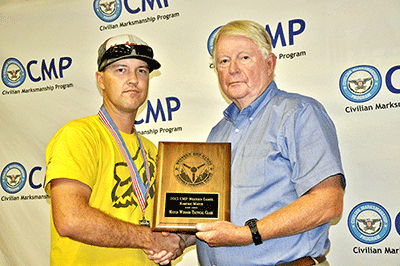 Craig McGuire, of Winnetka, California, won the tactical class of the Rimfire Sporter Match, scoring a 541-6X aggregate. McGuire was presented his match winner's plaque by DCM Emeritus, Gary Anderson.
For complete results of the 2013 Western CMP Games, log onto http://ct.thecmp.org/app/v1/index.php?do=match&task=edit&match=10405.
To view photos from this event, log onto http://cmp1.zenfolio.com/. To view previous 2013 Western CMP Games, CMP Oklahoma Games and Eastern CMP Games articles, log onto the CMP's First Shot Archives at http://www.odcmp.org/archives.htm.
The dates for the 2014 CMP Games Matches and National Games Matches are:
CMP Games Oklahoma, Oklahoma City Gun Club – April 9-13
Eastern CMP Games, Camp Butner, N. Carolina – May 2-6
CMP National Games Matches, Camp Perry, Ohio – July 18-21
Western CMP Games, Ben Avery Shooting Facility, Phoenix, Arizona – Oct. 10-13
NEXT ARTICLE