Registration is now open for the CMP Games – Oklahoma and the Eastern CMP Games in North Carolina. The Oklahoma Games registration opened Dec. 2, 2013 and Eastern Games opened Jan. 2, 2014, with each remaining open up to the start date of the event.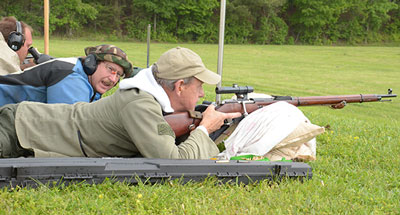 Two-person teams work together to achieve the highest score possible in the Vintage Sniper Match.
Since the CMP Games began over a decade ago, thousands of shooters have participated in the many matches that comprise the events. Such matches include the M1 Garand Match, M1 Carbine Match, Springfield Match, Vintage Military Match and the very popular Vintage Sniper Rifle Team Match.
The Games were designed to accommodate new and experienced shooters in a fun, competitive and engaging atmosphere, so all are welcome to participate.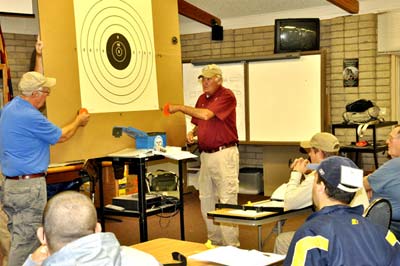 CMP SAFS instructors Lee McKinney, left, and Leon Rutherford demonstrate scoring a target during the classroom session of the Small Arms Firing School.
A Rifle Small Arms Firing School (SAFS) will return to the event schedule at each location, which includes guidance for beginning shooters from CMP staff and CMP Military Instructors in the classroom and on the firing line. Those in attendance will learn about rifle handling, shot technique, basic firing positions and safety. They will also participate in an actual M16 Excellence-in-Competition (EIC) match.
In addition to the high power events, both Games will also feature a series of growing pistol matches, including 40 Shot, As-Issued 1911 and Military & Police Service Pistol matches.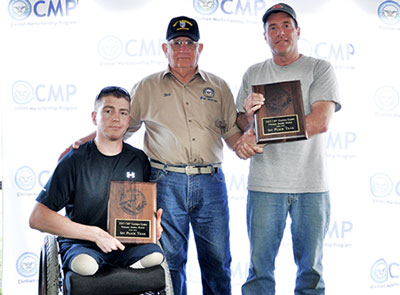 Cpl. Aaron Howell (left) earned a standing ovation as he and teammate Richard Thornley (right) accepted their first place awards for the Vintage Sniper Match.
Awards will be distributed each day to those firing qualifying scores, and everyone is invited to the always well-received barbecue at each Games, where shooters are given the opportunity to mingle with fellow participants and CMP staff.
The CMP Games – Oklahoma will be fired April 9-13, 2014 at the Oklahoma City Gun Club. More information on these games, including directions and a complete schedule, can be found at http://thecmp.org/Competitions/CMPGames_OK.htm.
The Eastern CMP Games will be fired May 2-6, 2014 at Camp Butner, NC. Travel information and a complete schedule for the Eastern Games can be found at http://thecmp.org/Competitions/EasternGames.htm.
If any companies or vendors would like to become an award sponsor for the Oklahoma and/or Eastern Games, please contact Christina Roguski at croguski@thecmp.org or 419-635-2141 ext. 1114.
NEXT ARTICLE