The GSM Master Instructor clinics educates advanced shooters and instructors and certifies them as Master Instructors who are qualified to teach specific marksmanship instructional topics using CMP training material and curricula. Certified instructors have the tools and know-how to teach basic and intermediate rifle marksmanship skills to new and beginning shooters in their communities.
A change has been made to the GSM Master Instructor Course for 2014. The cost to participate has been raised to $135 for any person attending the course, including those who have previously attended the program.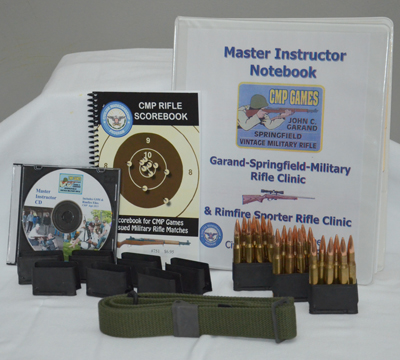 The new price will include training and hands-on practice, a notebook, CD (with all of the appropriate instruction slides), a sling, 10 M1 clips, 20 dummy rounds and a CMP Rifle Score Book.
The schedule for the 2014 GSM Master Instructor Courses are below.
| | |
| --- | --- |
| February 8-9, 2014 | Camp Perry, Ohio |
| March 15-16, 2014 | Anniston, Alabama |
| May 2-3, 2014 | Camp Butner, North Carolina (May 3rd assisting with New Shooter Clinic) |
| July 15th, 2014 | Camp Perry, Ohio |
| October 10-11, 2014 | Phoenix, Arizona (October 11th assisting with New Shooter Clinic) |
Master Instructor Training Workshops are usually limited to 30 students per class to ensure all attendees receive practical opportunities to work with leaders and practice what they're taught. General qualifications of attendees include an association with a shooting club or range where there are opportunities to teach Sanctioned Rifle Clinics, someone who is an experienced coach or instructor in marksmanship, experienced in competing in John C. Garand, Springfield or Rimfire Sporter matches at national and club levels and has a desire to teach marksmanship to new shooters. Since the program started in April 2006, there have been 636 GSM Master Instructors certified through this program.
Please visit the CMP website at http://www.thecmp.org/Training/GSM.htm for additional information and an application form to attend a GSM Master Instructor Course. If you want more information about CMP GSM Master Instructor training workshops, the CMP G-S-M Rifle Clinics or the CMP Master Instructor Program, please contact Kim Filipiak via email at kfilipiak@thecmp.org or via phone at 419-635-2141, ext. 1106.