Dates and locations for the always-anticipated 2014 CMP Junior Air Rifle Camps and Clinics have been released. Registration will open February 3. Those interested are encouraged to register early, since camps tend to fill up quickly.
The Junior Air Rifle Camps are a summer program conducted each year around the country to teach intermediate and advanced rifle marksmanship skills to junior shooters through exercises and demonstrations. There are three different training programs provided by CMP over the summer, including a week long Three-Position Air Rifle Camp, a three-day Advanced Standing Camp and several small outreach clinics that provide three days of three-position air rifle training to areas of the country not traditionally reached by the CMP camp program.
The week long camp is the most popular, and, like all the CMP camps, is headed by counselors from some of the top NCAA rifle teams in the country. Many counselors are also alumni of the rifle camps, having attended as juniors themselves.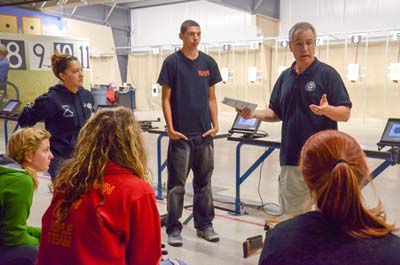 Dan Durben was the director and chief instructor for the camps at Camp Perry. Either he or Wood is present at each camp.
Last year, a record-breaking total of 700 participants attended the camps nationwide. This year, CMP expects to see the same success.
The three-position camps and clinics are geared toward high school-age athletes with at least one year of air rifle competition experience. However, is it strongly recommended that athletes participate in at least one of the three-position training programs before attending an Advanced Standing Camp.
During the camps, shooters will be placed into groups led by the counselors to learn the fundamentals of different shooting positions and equipment. Each day will begin with stretching and mental exercises to ready the entire body for firing. Throughout training, camp-goers will also obtain leadership skills and confidence when competing.
The Junior Rifle Camps are often well received by parents and coaches alike. In response to the success of the camps, one adult leader commented, "Our junior shooters have been taught by (and some later competed with) arguably the best collegiate shooters in the country. This hands-on opportunity is invaluable in reinforcing coaching techniques already taught and introducing newer approaches to both shooters and coaches. Most importantly, our young people are exposed to (almost) peers who have invested in the shooting sports and followed on to a college shooting team…"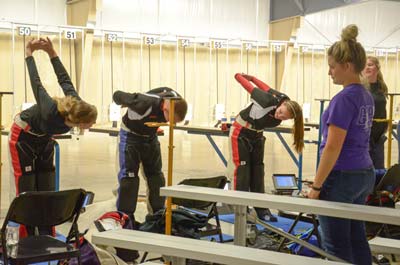 Counselors led shooters in stretching exercises each day to prepare them for the grueling training ahead.
At least one adult leader (parent, coach, team, club, etc.) must accompany each athlete or group of athletes. Only those adults accompanying a junior athlete may attend the camps. To make everything as interesting as possible for all in attendance, the CMP Camp format allows the adults to learn right along with the shooters.
The 2014 Junior Camp fees are:
$245 (athlete), $50 (adult) for Three-Position Air Rifle
$175 (athlete), $50 (adult) Advanced Standing Camp
$150 (athlete), $30 (adult) for Clinics
A $50 deposit is also required for all athlete registrations.
The conclusion of the week- long three-position camp will feature a full-length 3x20 EIC competition, where medals are awarded to the top precision and sporter shooters. Additionally, participants at all camps and clinics will be awarded a certificate, t-shirt and personalized letters from camp counselors.
"The counselors were great, the instruction was professional, and I felt like it was a very calm, cool, collected environment," said SMA Michael Dechy with Freeport High School NJROTC in Freeport, IL, who attended one of last year's camps. "It was worth all of the time and effort to get to here."
For more information on the rifle camps, such as registration forms and application instruction, visit http://www.org.org/3P/Camp.htm.