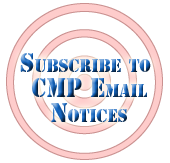 We want your feedback! Please let us know what you think about TFS. Do you have an interesting story or article that you would like to share? If so, please let us know!
Reader Comments:

CMP Shooters' News is one of my favorite email news publications. Information packed, talented authors, timely subjects, and all around well done. What a great service you are providing to the shooting community. Just wanted to say thanks and Merry Christmas. Newt E.
---
I enjoy and look forward to TFS and the excellent articles that are published on a regular basis. Please keep this publication coming and keep the CMP active. Don M.
---
One of the members at Snipers Hide pointed out the newsletter and the High Power Tips articles by the USAMU team.
Darn you! I was up until 1:00 AM last night reading all of the articles. Great newsletter and really great USAMU articles.
Thanks,
Michael E.
---
Great article written on physical conditioning in the latest TFS. I was one of likely many who had asked about the type of conditioning recommended for serious shooters. Sgt. Craig did a great job on describing the routines. Now it's my turn to put it to work.
Thanks to you, Sgt. Craig and other contributors who share best practices of shooting excellence.
Sincerely,
Keith H.
---
I use these articles in our high power clinics and have found them very helpful for both new shooters and reinforcement of the basics for the more experienced.
Thanks, Gary M.
---
Thanks for the great articles on the Carbine, Springfield, Garand matches. All the articles are interesting, but the Carbine, Springfield & Garand are my favorites.
Jim H.
---
The September-07 on line shooting tips by SSG Tobie Tomlinson, USAMU Service Rifle Team Member, is a great article. I have reproduced 15 copies of it to hand out and discuss to our "newbie" first year air rifle shooters on our high school JROTC Air Rifle Team. Come to think about it believe I'll hand out a copy to my advance shooters as well. His explanations are simple to understand but rich in detail. Coupled with the sight pictures this article will go a long way towards helping all our JROTC shooters obtain better sight patterns. Keep up the great work. AND…..keep the articles like this coming.
Malcolm V.
CW2 (R), US Army
---
It seemed good to read the article on Infantry Trophy Match. As a shooter on the Marine Corp Team way back in 1967 I participated in the Match. We were the second team for the Marines but placed second overall. One of our shooters forgot to put the windage on his rifle. I enjoyed shooting the M-1 and M-14 at Camp Perry and always wanted to go back but never seemed to find the time. The top over all shooter at that time was my team mate Lt. Bowen. I remember some of the team members carrying him from the 600 yd line back to the rest of us. It was a great time in my life and will never forget it. Thanks again for the article.
Mike A.
---
Thanks for the great series of articles from the USAMU – they are very readable, and usable!
Tom, AZ
---
Great articles. Great to identify those who are participating as well as those who are working behind the scenes to make the whole of the National Matches run so well.
David D.
Boxford, MA
---
This is a special note just for my friends at the CMP, I want to thank you all for your hard work and attention to details, it's a great program!
"You help our shooting dreams come true!"
Best Regards,
Tony M.
---



THE FIRST ALLIED CARBINE MATCH?

Submitted by Marty Black, Carbine Club
Credit given to After The Battle publications, Winston G. Ramsey, Editor



<! Nested Table for picture>

General Eisenhower, Prime Minister Churchill and General Bradley on the firing line with their M1 Carbines.

A little-known sidelight in the history of the U.S. Cal. 30 M1 Carbine during WWII is an impromptu "Carbine Match" that was precipitated by Great Britain's Prime Minister Winston Churchill. He was an avid firearms enthusiast and owned several carbines, including a pre-production prototype.

Prime Minister Churchill fires the U.S. Cal. 30 M1 Carbine.

On March 24, 1944, General Eisenhower, General Bradley and Prime Minister Churchill were conducting an inspection of the 2nd Armored and 9th Infantry Divisions at the huge US training base at Tidworth in Wiltshire, England. General Omar Bradley reported in a memoir, "….Churchill confessed to an itch to try out the new American carbine. Targets were promptly put out for Churchill, Eisenhower, and me. Mine was handicapped at 75 yards, Eisenhower's at 50 yards. The Prime Minister's was placed at 25 yards. We each fired 15 rounds in rapid succession. Manton Eddy (Commanding General of the 9th Infantry Division) wisely hustled us away before we could inspect the targets."

Winston Ramsey, Editor of After The Battle publications in London, discovered the itinerary sheet for that day's events, as well as a number of additional photos at the Imperial War Museum, and by comparing the background terrain, woods and ridgelines from the various photos, was able to pinpoint the location as Perham Down "B" Small Arms Range, still in use today by the British Army's School of Infantry.


Prime Minister Churchill looks through the sights of a M1903A4 Springfield.

Military firearms enthusiasts will be interested to know that, in addition to the carbines available to these VIPs, they also fired the M1928A1 and M1 Thompson submachine guns, M1903A3 and A4 Springfield Rifles, and the M1 Garand. Presumably in the interest of Allied solidarity, the results of these competitions were never made public!

For those readers with further interest in this event, the After The Battle magazines are available through the US distributor, RZM Imports, phone (203) 653-2272 or http://www.rzm.com. The applicable issues are #22 and #100.