<! Nested Table for picture>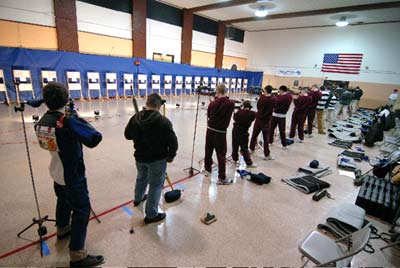 57 juniors came to Camp Perry to participate in the 2nd Annual "Camp Perry Open".
For the second year in a row CMP's newest three-position air rifle event, the Camp Perry Junior Open, was filled to capacity with juniors from different parts of the country. Travelers from as far away as Auburn, Alabama and Waukegan, Illinois made the trek to Camp Perry, Ohio, the home of CMP North, for the sanctioned precision and sporter air rifle match.

Currently the match is still relatively small, with a limit of three relays of 20 competitors each firing on a temporary range set up in Camp Perry's Bataan Armory, which the CMP acquired from the Ohio National Guard in 2006. The more exciting news is that this will be the last time an event like this will we conducted on the Armory's 20-point range. The new CMP Camp Perry Competition Center is on schedule to be completed in June; it will offer a brand new 80-point air gun range with electronic targets to host next year's Camp Perry Junior Open.

To kickoff the weekend a clinic was held on Friday night with nearly half of the match participants in attendance. DCM Gary Anderson opened the clinic and CMP instructors, Sommer Wood, Brand Donoho and Vicki Donoho led clinic presentations on shooting positions and competitions.

<! Nested Table for picture>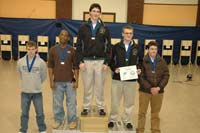 The top five finishers in each class were recognized. The winners of the sporter class were (left to right) Steven Head (4th) Auburn HS of Auburn, AL, Anthony Hayes (2nd) Auburn HS, Chance Cover (1st) Western Reserve Academy of Hudson, OH, Eben Jenness (3rd) Western Reserve Academy and Evan DeShong (5th) Western Reserve Academy.
The match was a full course 3x20, plus every shooter on each relay shot a 10-shot standing position final. To handle all the scoring and keep the match on track, CMP relied on its Orion Visual Image Scoring technology, which has been in use since late 2006. This program works by digitizing and scoring 8.5x11 inch scannable 10-bull targets. It is so efficient that one person did all scoring for the entire match, with scores for each position being available within 15-20 minutes after firing was completed. Achieving this with conventional scoring would normally require a team of several scorers. Another advantage of Orion is that as scoring was completed for each stage, the scores could be uploaded in to CMP's Competition Tracker and viewed over the Internet. This meant that relatives and friends could follow their favorite competitor's progress at home. Orion even lets them download a PDF file that shows a competitor's shot groups for each 10-shot series with scores for each shot listed in tenths. To download and print these PDF files, click on the total score for an individual competitor and the file will download.

<! Nested Table for picture>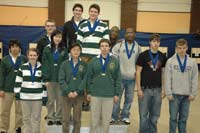 The top three teams in the sporter class were Western Reserve Academy Team 1 (center), Western Reserve Academy Team 2 (left) and Auburn HS (right). This was the second year in a row that Western Reserve Academy claimed the sporter team championship at the Camp Perry Open.
On the range the competition was close with only a few points separating the leading competitors. Awards were given to top five individuals in both sporter and precision classes and to the top three teams. An award was also given for the highest final round score shot in each class and for the highest scores fired a new shooter. A new shooter was classified as someone who had been shooting less than one year. In the sporter category, Western Reserve Academy from Hudson, OH had the strongest showing for the second year in a row. They won the sporter team event with a score of 2008. Winning sporter team members were Chance Cover, 514, Evan DeShong, 509, Jung-Min Kim, 503 and Dan Litowitz, 482. Western Reserve Academy also had several shooters win awards in the individual category, including Chance Cover who had the top individual score with a 514+83.2 final for a 597.2 aggregate. Finishing out the top five in the sporter class were Anthony Hayes of Auburn HS, Auburn, AL, 517+73.4=590.4; Eben Jenness, Western Reserve Academy, 501+86.7=587.7; Steven Head, Auburn HS, 502+80.6=587.7 and Evan DeShong, Western Reserve Academy, 509+71.9=580.9. The top new shooter in the sporter class was Shaley Clements from Kenton HS in Kenton, OH. Western Reserve's Jenness had the high sporter final with his 86.7.

<! Nested Table for picture>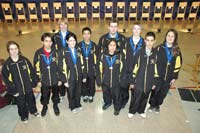 Waukegan HS from Waukegan IL claimed both the team gold and silver in the precision class. This is the second year in a row that Waukegan has won the precision team championship in the Camp Perry Open.
Attendance was down in the precision category from 2007, but last year's team champion, Waukegan HS of Waukegan, IL, was once again in attendance and claimed the 2008 precision team championship. Members for the first place team were Chris Sedar, 570, Dana Carpenter, 568, Iris Gordillo, 566 and Michael Bicanic, 542. The top five individuals were Dana Carpenter, Waukegan HS, 568+97.8=665.8/ Iris Gordillo, Waukegan HS, 566+95.7=661.7; Chris Sedar, Waukegan HS, 570+91.7=661.7; Juan Adan, Waukegan HS, 563+91.8=654.8 and Tyler Luce of Sturgis, MI, 555+91.5=646.5. The top new shooter in the precision class was Matthew Bell of Waukegan HS. Waukegan's Dana Carpenter fired the top final with her 97.8.

Congratulations to all of the competitors and thank you to all the parents, coaches and volunteers who helped make the 2008 Camp Perry Open a success! Dates for the 2009 Camp Perry Open are set for 16-18 January, so mark your calendars. The 2009 Camp Perry Open will feature an expanded program and will be held in the new state-of-the-art CMP Competition Center—Camp Perry, making it an event that you will not want to miss. Start looking on the CMP website in September for the 2009 program and registration form. For complete scores for the 2008 Camp Perry Open go to http://clubs.odcmp.com/cgi-bin/report_matchResult.cgi?matchID=2857. For photos from the event go to http://www.odcmp.com/Photos.htm.