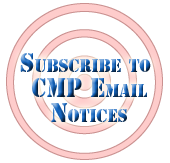 We want your feedback! Please let us know what you think about TFS. Do you have an interesting story or article that you would like to share? If so, please let us know!
Reader Comments:

CMP Shooters' News is one of my favorite email news publications. Information packed, talented authors, timely subjects, and all around well done. What a great service you are providing to the shooting community. Just wanted to say thanks and Merry Christmas. Newt E.
---
I enjoy and look forward to TFS and the excellent articles that are published on a regular basis. Please keep this publication coming and keep the CMP active. Don M.
---
One of the members at Snipers Hide pointed out the newsletter and the High Power Tips articles by the USAMU team.
Darn you! I was up until 1:00 AM last night reading all of the articles. Great newsletter and really great USAMU articles.
Thanks,
Michael E.
---
Great article written on physical conditioning in the latest TFS. I was one of likely many who had asked about the type of conditioning recommended for serious shooters. Sgt. Craig did a great job on describing the routines. Now it's my turn to put it to work.
Thanks to you, Sgt. Craig and other contributors who share best practices of shooting excellence.
Sincerely,
Keith H.
---
I use these articles in our high power clinics and have found them very helpful for both new shooters and reinforcement of the basics for the more experienced.
Thanks, Gary M.
---
Thanks for the great articles on the Carbine, Springfield, Garand matches. All the articles are interesting, but the Carbine, Springfield & Garand are my favorites.
Jim H.
---
The September-07 on line shooting tips by SSG Tobie Tomlinson, USAMU Service Rifle Team Member, is a great article. I have reproduced 15 copies of it to hand out and discuss to our "newbie" first year air rifle shooters on our high school JROTC Air Rifle Team. Come to think about it believe I'll hand out a copy to my advance shooters as well. His explanations are simple to understand but rich in detail. Coupled with the sight pictures this article will go a long way towards helping all our JROTC shooters obtain better sight patterns. Keep up the great work. AND…..keep the articles like this coming.
Malcolm V.
CW2 (R), US Army
---
It seemed good to read the article on Infantry Trophy Match. As a shooter on the Marine Corp Team way back in 1967 I participated in the Match. We were the second team for the Marines but placed second overall. One of our shooters forgot to put the windage on his rifle. I enjoyed shooting the M-1 and M-14 at Camp Perry and always wanted to go back but never seemed to find the time. The top over all shooter at that time was my team mate Lt. Bowen. I remember some of the team members carrying him from the 600 yd line back to the rest of us. It was a great time in my life and will never forget it. Thanks again for the article.
Mike A.
---
Thanks for the great series of articles from the USAMU – they are very readable, and usable!
Tom, AZ
---
Great articles. Great to identify those who are participating as well as those who are working behind the scenes to make the whole of the National Matches run so well.
David D.
Boxford, MA
---
This is a special note just for my friends at the CMP, I want to thank you all for your hard work and attention to details, it's a great program!
"You help our shooting dreams come true!"
Best Regards,
Tony M.
---



2008 Palmyra Invitational

Submitted by Maureen Trickett



<! Nested Table for picture>

Over 360 competitors attended the 9th Annual Palmyra Invitational. CMP State Junior Director Erin Gestl was the match director.

The 9th Annual Palmyra Invitational took place over 12-13, 19-21 and 26-27 January 2008 at the Palmyra Sportsman's Association in Palmyra, PA. This smallbore and air rifle match has gained tremendous popularity in recent years attracting some of the top collegiate and junior shooters from across the country.

<! Nested Table for picture>

West Point's Christopher Abalo fired a 593 to claim the top air rifle individual NCAA score.

When match director Erin Gestl first held the event nine years ago only 65 shooters competed in the match. This year over 360 competitors registered, filling relays all three weekends the event was held. One of the draws to this match is that shooters can compete as individuals and as members of four-person teams; this makes it an excellent match for NCAA teams to attend. This year there were over fifty teams in both smallbore and air rifle, and competitors were broken down into several categories such as NCAA, Open, J1, J2 and J3.

A large volunteer staff was on hand each weekend to keep the range operations running smoothly. With over 2000 members, the Palmyra Sportsman's Association certainly has a large volunteer pool to draw from, and the event is spread between two air rifle ranges and one smallbore range located on the club's 130-acre complex. When competitors were not on the line they could watch a slideshow with photos from the match on a display in the waiting area, or browse the Center Shot or Ernest Shooting Products booths. The vendors were on hand with a variety of shooting equipment for sale.

<! Nested Table for picture>

Stephen Scherer, also from West Point, was the top NCAA smallbore individual firing a 583.

In the NCCA, division the top air rifle individual score was shot by Christopher Abalo of West Point who finished with a 593. The top air rifle team was the University of Alaska Fairbanks with a score of 2347. In smallbore, Stephen Scherer of West Point won the NCAA individual event with a 583, and the top smallbore team was the University of Kentucky Blue with a score of 2306. For complete preliminary results from the 2008 Palmyra Invitational please visit www.palmyrasportsmens.com. Published results will be sent to each participant along with a CD with the photos taken during the match. Registration for the 2009 Palmyra Invitational will begin after the final results are mailed out, which is usually mid February. Continue to check the club's web site for further information, or contact Erin Gestl at egestl@wcupa.edu.