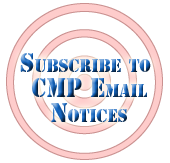 We want your feedback! Please let us know what you think about TFS. Do you have an interesting story or article that you would like to share? If so, please let us know!
Reader Comments:

CMP Shooters' News is one of my favorite email news publications. Information packed, talented authors, timely subjects, and all around well done. What a great service you are providing to the shooting community. Just wanted to say thanks and Merry Christmas. Newt E.
---
I enjoy and look forward to TFS and the excellent articles that are published on a regular basis. Please keep this publication coming and keep the CMP active. Don M.
---
One of the members at Snipers Hide pointed out the newsletter and the High Power Tips articles by the USAMU team.
Darn you! I was up until 1:00 AM last night reading all of the articles. Great newsletter and really great USAMU articles.
Thanks,
Michael E.
---
Great article written on physical conditioning in the latest TFS. I was one of likely many who had asked about the type of conditioning recommended for serious shooters. Sgt. Craig did a great job on describing the routines. Now it's my turn to put it to work.
Thanks to you, Sgt. Craig and other contributors who share best practices of shooting excellence.
Sincerely,
Keith H.
---
I use these articles in our high power clinics and have found them very helpful for both new shooters and reinforcement of the basics for the more experienced.
Thanks, Gary M.
---
Thanks for the great articles on the Carbine, Springfield, Garand matches. All the articles are interesting, but the Carbine, Springfield & Garand are my favorites.
Jim H.
---
The September-07 on line shooting tips by SSG Tobie Tomlinson, USAMU Service Rifle Team Member, is a great article. I have reproduced 15 copies of it to hand out and discuss to our "newbie" first year air rifle shooters on our high school JROTC Air Rifle Team. Come to think about it believe I'll hand out a copy to my advance shooters as well. His explanations are simple to understand but rich in detail. Coupled with the sight pictures this article will go a long way towards helping all our JROTC shooters obtain better sight patterns. Keep up the great work. AND…..keep the articles like this coming.
Malcolm V.
CW2 (R), US Army
---
It seemed good to read the article on Infantry Trophy Match. As a shooter on the Marine Corp Team way back in 1967 I participated in the Match. We were the second team for the Marines but placed second overall. One of our shooters forgot to put the windage on his rifle. I enjoyed shooting the M-1 and M-14 at Camp Perry and always wanted to go back but never seemed to find the time. The top over all shooter at that time was my team mate Lt. Bowen. I remember some of the team members carrying him from the 600 yd line back to the rest of us. It was a great time in my life and will never forget it. Thanks again for the article.
Mike A.
---
Thanks for the great series of articles from the USAMU – they are very readable, and usable!
Tom, AZ
---
Great articles. Great to identify those who are participating as well as those who are working behind the scenes to make the whole of the National Matches run so well.
David D.
Boxford, MA
---
This is a special note just for my friends at the CMP, I want to thank you all for your hard work and attention to details, it's a great program!
"You help our shooting dreams come true!"
Best Regards,
Tony M.
---



Junior Smallbore Rifle Available Through Special Purchase Program

By Gary Anderson, DCM



<! Nested Table for picture>

CMP-affiliated clubs that sponsor youth shooting programs can purchase the Savage Mark I-FVT junior smallbore rifle through a "special purchase program" just announced by the CMP and Savage Arms.

The CMP and Savage Arms Company have just announced a new special purchase program that makes the Savage Mark I-FVT junior smallbore rifles available to CMP-affiliated organizations sponsoring junior shooting activities. This program is part of a CMP effort to make it possible for more of its affiliated junior clubs and youth marksmanship programs to obtain the basic target shooting equipment they need to expand their programs and serve more youth with rifle instruction. The CMP tested numerous rifles that might fulfill this need and concluded that the Savage Mark I-FVT offers the best overall combination of features and price that make it especially suitable for junior training and entry-level competition.

<! Nested Table for picture>

A close-up view of the Mark I action, rear sight and its unique AccuTrigger® that is clean, crisp and readily adjustable.

The Savage Mark I-FVT can now be purchased through this program for $212.00 each, including sights, packaging and shipping. Purchasing organizations must be CMP-affiliated organizations that will use these rifles for youth marksmanship. Eligible organizations may be junior shooting clubs, adult clubs with junior programs, 4-H Shooting Sports Clubs, summer camps with camp riflery activities, BSA organizations or camps or other organizations that sponsor junior activities, as long as they are affiliated with the CMP. 4-H, BSA and JROTC organizations may enroll as CMP-affiliated organizations at no cost. Affiliation applications may be downloaded from http://www.odcmp.com/Clubs/Affiliates.htm.

A downloadable information bulletin on the CMP Junior Smallbore Rifle Purchase Program is posted on the CMP website at http://www.odcmp.com/Programs/Savage.pdf. This information bulletin also has an Application Form that purchasing organizations may complete and send to the CMP to obtain a Rifle Purchase Eligibility Certificate that must be used when ordering the rifles from Savage.

<! Nested Table for picture>

The tunnel front sight on the Savage Mark I comes with six interchangeable apertures and four post inserts.

The Savage Mark I-FVT is a bolt action, single shot, .22 cal. rimfire rifle. It comes with a black, checkered synthetic stock. With a 21" barrel, a 39.5" overall length and a total weight, with sights, of 5 ¼ pounds, it is ideally sized for younger juniors. Indeed, one of the most important prerequisites for successfully starting juniors in rifle shooting is to use a rifle that is sized appropriately. Marksmanship instructors should never start juniors with a rifle that is too big or too heavy for them to handle safely and comfortably. Additional information on the Savage Mark I-FVT rifle may be downloaded from the Savage Arms website at http://www.savagearms.com/markifvt.htm.

The Savage Mark I-FVT has several key features that make it especially suitable for junior target shooting. It has a sling attachment stud so slings can readily be used with it for prone and kneeling shooting. It is equipped with a hooded front sight supplied with ten interchangeable ring and post aperture inserts. The larger apertures are suitable for new shooters. The Williams receiver sight that ships with the rifle has click-adjustable windage and elevation knobs. One of this rifle's most attractive features is the Savage AccuTrigger® that offers a two-stage type release with a remarkably smooth let-off and no significant creep. The AccuTrigger® is adjustable for weight of pull and comes with an adjustment tool.

<! Nested Table for picture>

The Williams receiver sight on the Savage Mark I has click adjustable elevation and windage knobs.



Purchasing procedures are quite simple. An organization that wants to order one or more of these rifles must first submit an Application Form to the CMP. When the CMP receives the application, it must confirm eligibility to purchase by checking the organization's affiliation status and confirm that the organization is conducting junior marksmanship training or competition activities. The CMP will then send a Rifle Purchase Eligibility Certificate to the organization together with an order form and instructions. The purchasing organization may then complete the order form, obtain a signed copy of the FFL of a local dealer who will handle the FFL transfer and send the order with payment for the rifles directly to Savage. Savage will ship the rifles to the FFL dealer for delivery to the purchaser.

The Savage Mark I-FVT has a remarkable array of features that are desired in a junior smallbore target rifle including appropriate size and weight, single shot action, ability to attach a sling, adjustable aperture rear sight, a front sight with interchangeable inserts and a crisp, clean trigger. The special purchase price for eligible organizations of $212.00, with sights and shipping included, is well below the MSRP for this rifle of $346.00. Organizations sponsoring junior shooting activities that are interested in purchasing these rifles should begin the order process by downloading the program instructions and Application Form from the CMP website at http://www.odcmp.com/Programs/JrRifles.htm.