<! Nested Table for picture>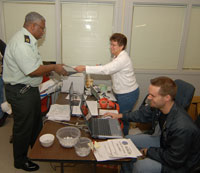 Region Championship participation began when team coaches checked in with CMP Staff where they confirmed entries, drew squadding assignments and received start numbers for their cadets.
The Army Marksmanship Unitís air rifle range at Fort Benning, Georgia was filled to capacity with many of the best junior shooters in the country this past week. On 15-17 February, 275 JROTC cadets representing 73 JROTC units from the Eastern part of the United States competed for honors in the Army, Marine Corps and Navy Eastern Region JROTC Air Rifle Championships.

<! Nested Table for picture>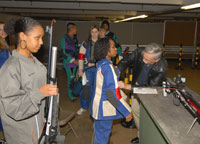 Cadetsí air rifles and shooting clothing had to pass through equipment control before they can compete.
There are now two JROTC Region Championships, the Eastern Region competition at Fort Benning and the Western Region Championships at the Olympic Training Center in Colorado Springs on 1-3 March. Each Region Championship actually consists of three competitions, one for Army JROTC, one for Marine Corps JROTC and one for Navy JROTC. The three competitions are fired concurrently, with each service having separate individual finals and separate awards that were presented at a joint Saturday evening awards banquet.

Each serviceís competition has individual, team and team alternatesí matches in both sporter and precision classes. To compete in a Region Championship, JROTC unit teams and individual cadets must qualify on the basis of scores they fired in the JROTC postal matches that took place in November and December with over 6,000 participating cadets. Selections for the Region Championships are made according to the top scores in Army Brigades, Marine Corps Districts and Navy Areas.

<! Nested Table for picture>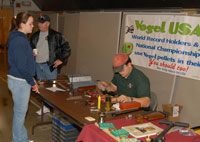 Buck Parson from Pilkington Competition Equipment provided gunsmithing services for competitors.
The competitions at Fort Benning were conducted by the CMP and hosted by the U. S. Army Marksmanship Unit. On the first day, Thursday, 15 February, teams checked in, took their rifles and gear through equipment control and completed a training session on the range. An electronic target orientation was given before each training relay since nearly half of the competitors had never fired on these targets before. The large number of participants made it necessary to squad competitors in six different relays. Three full relays and an alternatesí relay were completed on Friday. Two additional full relays plus separate sporter and precision class finals were fired on Saturday.

<! Nested Table for picture>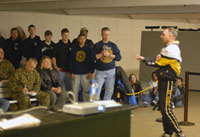 USAMU International Rifle Team NCOIC SFC Mike Moore taught rifle clinics on both Friday and Saturday that were attended by over 100 cadets.
Competitors could take advantage of other special opportunities as well. When competitors were not firing, most attended rifle marksmanship clinics taught by SFC Mike Moore, a Distinguished Rifleman and Distinguished International Shooter and Army International Rifle Team NCOIC. Buck Parson, a gunsmith with Pilkington Competition Equipment, Monteagle, Tennessee, was available throughout the three days to repair rifles for any competitor that needed gunsmithing services. The championship culminated with a huge Saturday evening awards banquet attended by over 450 cadets, coaches and parents. Award presenters included representatives of the Army, Marine Corps and Navy JROTC Commands and the Army Marksmanship Unit. The Armyís SFC Lance Dement, triple Distinguished Shooter and winner of the 2007 Presidentís Rifle Match at the National Matches, was one of the presenters.

<! Nested Table for picture>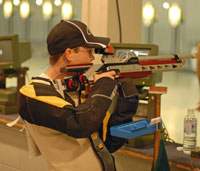 David Garman, Henry County HS, McDonough, GA, fired the top overall precision score with a 588 + 99.2 final.
With so many different competitions taking place, it is difficult to single out the most outstanding scores, however, two Navy JROTC cadets from Georgia deserve special recognition for firing the highest individual totals among all three services. 17-year-old Tiffany Kineard from South Effingham High School had the top sporter class total of 641.4 with a 553 3x20 score and 88.4 final. David Garman, a senior at Henry County High School in McDonough, fired the best precision class score of 687.2. Garman fired a 588 3x20 and a 99.2 final.

<! Nested Table for picture>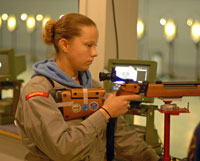 Tiffany Kineard, South Effingham HS, Guyton, Georgia, had the top overall sporter score with a 553 + 88.4 final.
There were several close team competitions where qualifying spots for the JROTC National Championship in April were at stake. In the Marine Corps precision team event, defending National JROTC Team Champions Shelby County High School, Shelbyville, Kentucky, had the highest overall team score with a 2299 total, but they finished just 12 points ahead of the second place Marine team, East Coweta High School, Sharpsburg, Georgia, with a 2287. Henry County High School was the top Navy team with a 2293 total. This means the Shelby County team, coached by MGySgt Gerald Lyons, will have their work cut out for them at the JROTC Nationals where they will try to win their fourth national title in the five years this competition has been held.

In the Army Sporter Team event, Craigmont High School from Memphis, Tennessee, won with a 2050, but they finished just three points ahead of East Columbus High School from Lake Waccamaw, North Carolina, six points ahead of Preston High School from Kingwood, West Virginia, and seven points ahead of Ripley High School, Ripley, Tennessee. In the Navy Sporter team championship, King George High School, King George, Virginia fired the top overall sporter score with a 2125.

<! Nested Table for picture>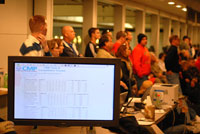 Throughout the competitions and individual finals, scores from the Fort Benning rangeís electronic targets were fed directly into the CMPís Competitor Tracker on-line results system for display on an electronic leaderboard at the range. Students at competitorsí schools and their family members back home could watch live results via the Internet.
Complete results lists for all sporter and precision team, individual and individual alternatesí events in the 2007 JROTC Eastern Region Championship are posted on the CMP website at http://clubs.odcmp.com/cgi-bin/report_matchResult.cgi?matchID=1948.

A large collection of photos taken during the Eastern Region Championship are posted at http://www.odcmp.com/Photos/07/
EasternRegion_JROTC/index.htm.

<! Nested Table for picture>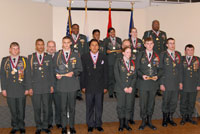 The top three teams in each service in sporter and precision classes received medals and trophies at the final award ceremony. The Army Sporter team winners are shown here. The first place Craigmont HS, TN, team is in the top center. 2nd place East Columbus HS, NC is on the lower left and 3rd place Preston HS, WV is on the lower right.

<! Nested Table for picture>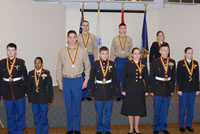 The top ten cadets in each service in sporter and precision classes received medals at the final award ceremony. Marine Corps individual winners are shown here. The first three place winners, silver medalist Kent Wilcox, Shelby County HS, KY (l.), gold medalist Logan Fox, Shelby County HS, KY (center) and bronze medalist April Dunn, East Coweta HS, GA (r.) are on the top level.