<! Nested Table for picture>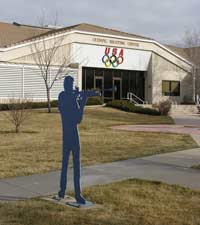 The 2007 JROTC Western Region Army, Marine Corps and Navy JROTC Championships took place at the U. S. Olympic Shooting Center at Colorado Springs. The Center is used by USA Shooting to train athletes who will represent the USA in the 2008 Olympics in Beijing.
The numbers say it all for the Western Region JROTC Championship which took place this past weekend, 1-3 March, at the Olympic Training Center in Colorado Springs, CO. The 344 competitors were the largest number ever to fire in a single event at the Olympic Shooting Complex, and it took five relays on a 72 firing point range held over two days to accommodate everyone.

68 JROTC unit teams from 25 different states participated in both Sporter and Precision classes in separate, but concurrent Western Region Championships for the Army, Marine Corps and Navy JROTC programs. This 3x20 three-position air rifle competition determined who would advance to the National JROTC Championship to be held at Fort Benning, Georgia on 12-14 April where they will face the winners of the Eastern Region Championship that was held on 15-17 February.

The competition began with an equipment check and a training day on 1 March. For many of the athletes this was the largest match they had ever attended and for some, the equipment check was a new experience. Once the training day was complete competitors were ready to take to the range and get the competition underway. For CMP staff the start of the competition meant that hundreds of targets were about to come their way for scoring, 2064 targets to be exact, and CMP's new Visual Imaging System called Orion was about to get it's first road test in a major shoulder-to-shoulder competition.

<! Nested Table for picture>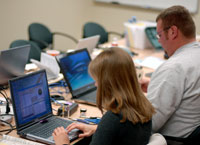 2034 targets fired by 344 JROTC Western Region competitors were scored electronically. After scanning, they were scored by a computer and checked on computer screens by two verifiers. Scoring that many paper targets by hand would normally require at least 10-12 scorers.
Operated by only three CMP Staff members, Orion produced results faster and more accurately than a team of experienced scores could have hoped for. The system, which utilizes a standard 8 ½ x11 in. scanner to score targets scanned at 300dpi, is incredibly accurate and had very few successful challenges from competitors. This was the first time coaches had the opportunity to witness the program at work first hand since it was first introduced and used to score JROTC Postal Competition targets in December 2006.

<! Nested Table for picture>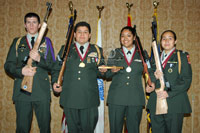 The R. L. Paschal High School Army JROTC team from Fort Worth, Texas fired the overall top sporter team score of 2190, which was just two points under the open national record. Team members (l. to r.) are Dean Harmon, Daniel Hilario, Amanda Aguilera and Xentri Garza. Terry LeBoeuf is the team coach.
The advanced scoring system proved itself up to the challenge as several new national records emerged from the competition. An open team record thought to be untouchable nearly fell when R.L. Paschal High School Army JROTC of Fort Worth, Texas shot a 2190 in the Sporter Class. This broke the Army JROTC National 4x3x20 Team Record by 84 points and was just two points shy of the Open National Record held by the Homestead 4-H Shooting Club from Nebraska. The team was coached by Terry LeBoeuf. Scoring members were Daniel Hilario, 560, Dean Harmon, 547, Amanda Aguilera, 545 and Xentri Garza, 538. All four team members made it into the Army Sporter Final and finished first, forth, sixth and eight respectively. Hilario's individual score of 652.5 broke the Individual Army JROTC 3x20 plus final record held by Brandon Green and his 185 standing total also broke the Army JROTC standing position record. Of the four members of the record setting Paschal High team, only Harmon is a senior.

<! Nested Table for picture>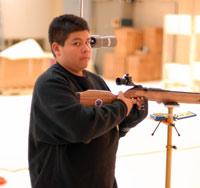 Daniel Hilario of R. L. Paschal High School fired the top individual sporter score with a 652.5 total. That score and his 185 standing result were both new Army JROTC national records.
The Army was not the only service that had records fall this weekend. Tuba City HS Marine Corps JROTC of Tuba City, Arizona shot a new Marine Corps National Sporter Team Record with a 2134, breaking the previous record held by La Cueva HS of New Mexico. Scoring members were Ashley Manygoats, 540, Lee Charles, 538, Darrell Robbins, 537 and Darrin Talawepi, 519. The team was coached by GySgt Tim Shaner. Marine Corps JROTC individual records were set by Selina Clancy of Gloucester, Massachusetts who fired a record 195 score in prone and by Darrel Robbins who tied the standing record with a 180.

Sporter class winners in the three service championships were Paschal High's Daniel Hilario, whose 652.5 score won the Army Championship, Jonathan Frye from Reed High School in Nevada, who took the Navy title with a 630.4 and Tuba City's Darrell Robbins who started the final in fourth place and finished with a 630.4 to win the Marine Corps title. Paschal High School and Tuba City High School won the Army and Marine Corps team titles with their record setting scores. Central Crossing High School, Grove City, Ohio, won the Navy team title with a 2112 total.

<! Nested Table for picture>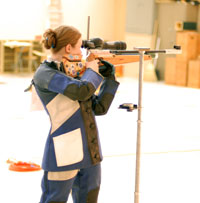 Amber Criss from Walla Walla, Washington, fired to overall best individual precision score with a 679.7 total.
Precision class individual winners were Amber Criss, who represented Walla Walla, Washington High School Army JROTC and fired the overall high score with a 679.7; Austin Bonino of El Dorado High School in Albuquerque, New Mexico who fired a 678.0 to win the Marine Corps title and Helena Long from Burlington Edison High School in Burlington, Washington, who won the Navy championship.

A complete listing of results can be found on the CMP website at http://clubs.odcmp.com/cgi-bin/report_matchResult.cgi?matchID=1949. For results from the JROTC Eastern Region Championship visit the CMP website at http://clubs.odcmp.com/cgi-bin/report_matchResult.cgi?matchID=1948.

<! Nested Table for picture>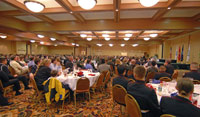 Over 600 athletes, coaches, instructors and parents attended the Saturday evening Awards Banquet where 98 individual and team awards were presented.
After the event concluded on the range, festivities moved to the Sheraton Hotel in Colorado Springs where the Western Region Awards Banquet was held. Participants traded shooting clothes for smart, well-tailored JROTC uniforms, and top competitors from each Service Branch were recognized in front of a crowd of over 600 people. One especially touching moment in the evening came when the Enterprise High School Army JROTC team from Enterprise, Alabama received a standing ovation as they made their way to the winner's podium to receive their Second Place Team trophy in the Army Precision Class. The team, which is coached by James Fuller, made the decision to remain in the competition after learning that their school and classmates had been devastated by a tornado on Thursday afternoon.

<! Nested Table for picture>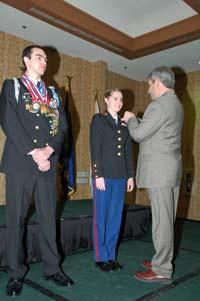 Cadet Jim Fitz from Grove City, Ohio and Cadet Danielle McCarthy from Albuquerque, New Mexico were presented with their new Junior Distinguished Badges by Olympic silver medalist Bob Foth. Foth is the Youth Programs Manager at USA Shooting.
In all 98 awards were presented including two Junior Distinguished Badges. Also, shooters who advanced to the JROTC National Championship were recognized. Be sure to check the CMP website once competition begins on 13 April to follow real-time results from the JROTC National Championship. Congratulations to all who participated in this past weekend's event. For a complete collection of photos from the JROTC Western Region Championship go to http://www.odcmp.com/Photos/07/
WesternRegion_JROTC/index.htm.