On 20-21 February, the best junior three-position air rifle shooters representing all of the Marine Corps and Air Force JROTC units around the country made their way to Camp Perry, Ohio for second round of the 2009 JROTC Air Rifle Championship series being hosted by the Civilian Marksmanship Program.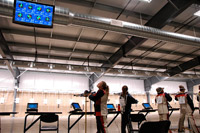 Karina Schmidt of Seneca High School in Louisville, KY looks up at the scoreboard during the MCJROTC Precision final on 21 February at Camp Perry, OH. This was the first time Schmidt had ever reached a final in competition, and she went on to win the MCJROTC Individual National Championship.
This was the second stage of competition for these Cadets. The road to the championship began last fall as 1,440 Marine Corps Cadets from 176 Units, and 248 Air Force Cadets from 22 Units participated in this school year's JROTC postal competition. From that initial group, only 90 Marine Corps Cadets and 35 Air Force Cadets qualified for the 2009 National Marine Corps and Air Force JROTC Air Rifle Championship. Air Force JROTC numbers are smaller because their program is new; marksmanship programs were first authorized for Air Force JROTC units in 2007. In all, 125 individual high school age Cadets representing 16 different schools from the Continental USA and Alaska competed at Camp Perry this past weekend. Qualifying to compete in these championships was a significant accomplishment for all of the Cadets who competed at Camp Perry.

This was the second weekend in a row that a major junior championship has been held in the CMP's new Camp Perry Marksmanship Center, with its 80-firing point electronic target equipped air gun range. The electronic targets with their instant scoring and the CMP's Competitor Tracker Internet-based results system has enabled the CMP to post live, continually updated results on its website. But the new target system at the Camp Perry range now allows the concept of live results on the Internet to go far beyond just posting scores on the web. For the first time anywhere, not only the scores, but also live target images of the shooters in the JROTC Championships were displayed on the Internet. This meant that anyone anywhere in the world could see the exact same display screen that competitors on the range see to follow their progress live, shot-by-shot, from their personal computers. Several schools took advantage of this new technology, and set-up projection screens in classrooms so that students could watch their classmates compete. Coaches and parents were also pulling out their laptops on the range so they could track multiple shooters at the same time. In all, there were over 16,000 web hits on the 2009 National MC/AFJROTC Air Rifle Championship results page during the two days of competition. Viewer numbers during the Army JROTC Championship one week earlier were even higher.

The competition itself was a two-day three-position 3x20 air rifle competition, broken into Sporter and Precision rifle classes. Both Team and Individual Champions were honored on the basis of the total aggregate score from the two days. To determine the Individual Champions, the top eight shooters from the two-day competition in each rifle class shot a 10-shot final on Saturday that was added to their aggregate score to determine the winners from each class.

The were several impressive performances over the weekend including new National Records set in both the Marine Corps and Air Force JROTC categories. Though the story of the weekend came from Karina Schmidt of Seneca High School in Louisville, KY. Schmidt shot a personal record, 588, on the day one of competition to tie for first place with teammate Alivia Yeager in the MCJROTC precision class. This was a personal best for Schmidt by 13-points, an impressive jump in score anytime, but especially remarkable when it occurs at a national championship competition. Schmidt went on to follow-up her personal record performance with a 587 on day-two of competition to give her a 4-point lead going onto the final. This marked another first for Schmidt, who had never before reached a final in competition. Inexperience did not seem to deter the high school junior who shot a 97.1 in the final to maintain her lead over Yeager, 1272.1 to 1270.1. This gave Schmidt one additional first for the weekend, a MCJROTC Individual National Championship.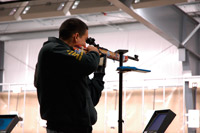 In the MCJROTC Sporter class Adam Sloan of Sapulpa HS in Sapulpa, OK entered the final with a commanding 14-point lead and won the Individual Championship with an 1191.1 aggregate.
In the MCJROTC Sporter class Adam Sloan of Sapulpa HS in Sapulpa, OK entered the final with a commanding 14-point lead. Second was a little more closely contested with only 2-points separating Deckard Day of LaCueva HS in Albuquerque, NM and Stephen Goldtooth of Tuba City HS in Tuba City, AZ. In the end though, all three maintained their positions and Sloan finished with an 1191.1 aggregate, Day with an 1176.1 and Goldtooth with an 1169.4.

The top teams for the MCJROTC over the weekend were LaCueva High School of Albuquerque, NM who shot a new Sporter Team National Record for the Marine Corps with a 4288. The lead was led by Major Bill Barker; firing team members were Deckard Day, 1087; Logan Stribling, 1072; Herman Trujilo, 1066 and Landon Shankles, 1063. The top precision team for the Marine Corps was East Coweta High School out of Sharpsburg, GA. The team shot a 4609 to gain a 17-point lead and prevent LaCueva High School from taking home a second team championship from the weekend. MSgt John Skinner coached the team; firing members were Courtney Duncan, 1171; April Dunn, 1167; Adam Grumbling, 1139 and Tyler Dayton, 1132.

The Air Force is the newest program on the JROTC air rifle scene, and this is only the second year that AFJROTC Cadets have participated in the JROTC Air Rifle Championship Series. Despite this short history, participation has grown quickly. 35 Cadets and six teams qualified to attend the AFJROTC Air Rifle Championship, all participating in the sporter class.

<! Nested Table for picture>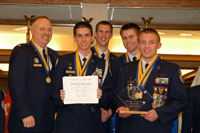 Clearfield HS from Clearfield, UT was the top Air Force JROTC sporter team with a score of 4236, a new Air Force JROTC National Record. This was the second year in a row that Clearfield High School has claimed this title.
The top individual for the AFJROTC was Austin Maughan of Clearfield High School in Clearfield, UT with an 1167.5 aggregate. Johann Diedericks of Monroe Area High School in Monroe, GA shot the high final for the AFJROTC to over come Zachary Lowe's lead and finish in second with an 1154.4. Lowe, also of Clearfield High School, finished in third with an 1149.4. Clearfield also claimed the top AFJROTC team spot with a score of 4236, a new Air Force JROTC National Record. Maughan and Lowe combined with teammates Paden Conway, 1051 and Jeffrey Rigby, 1036 to take the championship. The team was led by Major Kit Workman. This was the second year in a row that this group of shooters from Clearfield High School has won the Air Force JROTC Air Rifle Championship.

The following Marine Corps JROTC Unit teams and individual Cadets have qualified to compete in the 2009 National JROTC Championship on 26-28 March at Fort Benning, GA. In the Sporter Class, LaCueva HS, Tuba City HS, RS Central HS from Rutherfordton, NC and LaCueva HS- team-two. At-large individual Sporter qualifiers were Adam Sloan of Sapulpa HS, Amber Whiteway of Palm Bay HS in Melbourne, FL; Alex Green of Round Rock HS in Round Rock, TX; Ashley Wade of North HS in Des Moines, IA; David Anderson of Palm Bay HS and Robert Royer of Round Rock HS.

Marine Corps teams qualifying for the JROTC Nationals in the Precision Class were East Coweta HS, LaCueva HS, Eldorado HS from Albuquerque, NM and Shelby County HS from Shelbyville, KY. Precision at-large qualifiers were Karina Schmidt of Seneca HS, Alivia Yeager of Seneca HS, Melissa Quartarone of Parkview HS in Stone Mountain, GA; Caitlin Davis of Colquitt County HS in Moultrie, GA; Shahzaib Jiwani of Parkview HS and Seth Carson of Rutland HS in Macon, GA.

Air Force teams qualifying for the JROTC Nationals were Clearfield HS and Sunnyslope HS from Phoenix, AZ. Sporter at-large qualifiers were Johann Diedericks of Monroe Area HS, John Wallace of Western Hills HS in Benbrook, TX; Michael McDaniel of Bolivar HS in Bolivar, MO and James Hunter of Prairie HS in Battleground, WA.

Congratulations to all the Cadets and thank you to all the JROTC instructors, volunteers, parents and supporters for making this event a success. To see the final scores from the Marine Corps and Air Force JROTC Championship or to watch live results from the Navy JROTC Air Rifle Championship this coming weekend, go to the CMP website at http://odcmp.com. Click on "JROTC Championship Results" at the top center of the page. For a direct link to final results go to, http://clubs.odcmp.com/cgi-bin/report_matchResult.cgi?matchID=4377, to see photos from the event go to, http://www.odcmp.com/Photos.htm.