CAMP BUTNER, NORTH CAROLINA - All interested pistol and rifle shooters, new or experienced, recreation-oriented or national championship contenders, are invited to participate in the unique, national-level competitions at the Fifth Annual Eastern CMP Games & Creedmoor Cup Matches at Camp Butner, North Carolina from 7-15 May. <! Nested Table for picture>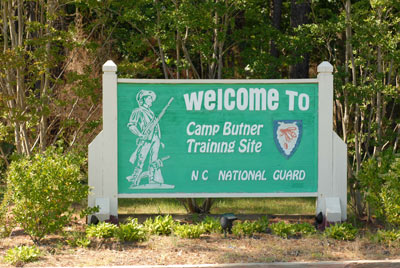 The Eastern CMP Games take place at Camp Butner, North Carolina. Camp Butner is a North Carolina National Guard training site. Three different Camp Butner ranges were used for the 2010 Games.


The CMP Games Matches are ideal events for shooters who have little previous competition experience but are looking for an opportunity to participate in a friendly, instructive and rewarding national competition event. It's also a great opportunity for veteran shooters to polish their game and reach out to others new to the sport.

Shooters are permitted to coach or assist each other in these matches while firing historic greats like the M1 Garand, 1903 Springfield, M1 Carbine, Vintage Military bolt gun, (domestic or foreign) and their favorite .22 caliber squirrel gun in the Rimfire Sporter category.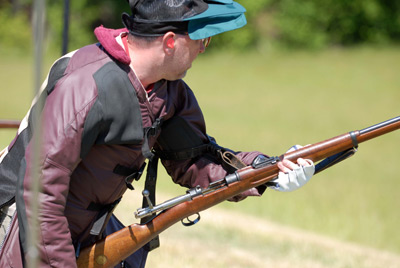 A Vintage Military Rifle Match competitor waits for his rapid-fire target to come up, with five rounds loaded and "with bolts remaining open."

All courses of fire are challenging, but shooters with basic firearm knowledge and ability can compete in them safely and successfully.

New this year for those interested in firing their own custom rounds is the Hornady Reloading Clinic. Hornady Manufacturing Company of Grand Island, Nebraska, one of the nation's leading producers of match grade ammunition, reloading components and reloading equipment, will offer a basic reloading clinic. The course will be taught by David Emary, Chief Ballistics Scientist at Hornady, who will teach reloading safety and beginning techniques.

Last year the Eastern CMP Games and Western CMP Games in Phoenix featured the Vintage Rifle Sniper Test match. The match was extremely successful and will now be featured as a regular match at the Eastern CMP Games, National CMP Games Matches at Camp Perry and the Western CMP Games. For those new to the event, we will offer a Vintage Sniper Clinic on Saturday 7 May at 10 a.m. at the Eastern CMP Games.

The clinic is FREE to anyone interested in learning more or participating in the New Vintage Rifle Sniper Match.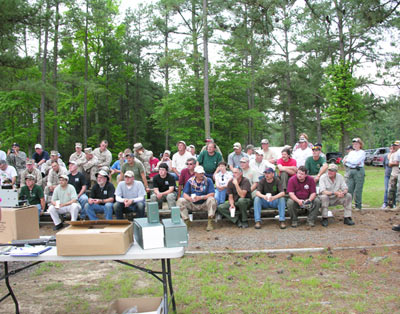 The Eastern CMP Games will again feature pistol matches with a new and expanded schedule that includes more matches. All interested pistol competitors are encouraged to participate in the As-Issued Pistol Match, EIC Pistol Match, 40-Shot Pistol Match and a Pistol Team Event. New this year, Glock pistols may also be fired during the Pistol Matches. All pistol matches will be fired on Sunday, 8 May.

Your favorite matches from previous years will be back including the military rifle matches, the Rimfire Sporter Match, which includes the growing Tactical .22 class, plus a taste of National Match competition with the Creedmoor Cup and Creedmoor EIC matches. Check out the full schedule of events in the 2011 Eastern CMP Games & Creedmoor Cup match program online at http://www.odcmp.com/Competitions/East_Program.pdf.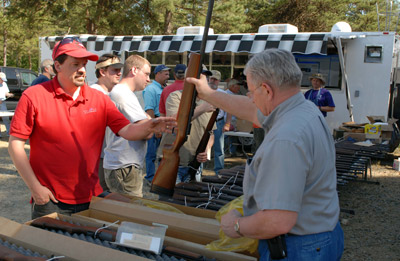 Another highlight of the Regional CMP Games Matches is the opportunities competitors and visitors had each day after shooting concluded to inspect a large selection of CMP rifles that could be tagged for purchase. Here CMP COO Orest Michaels hands a Kimber .22 rimfire rifle to a potential customer at the 2010 CMP Eastern Games.
The brand new CMP armorer's and sales truck will be on hand with rifles and ammunition for competitors and spectators to check out. Take some time to check out a supply of government surplus M1 Garand and Kimber smallbore rifles available. Our competitions statistical mobile unit will also be on hand, providing results, scheduling information and customer service as well.

If you have never attended the Eastern CMP Games & Creedmoor Cup matches, you'll find that it's fun for everyone. For CMP competitors there are award ceremonies every night with a BBQ on Sunday, 8 May. Creedmoor Sports will follow with a week of competitions and their BBQ and award ceremony on Saturday, 14 May.
The Creedmoor Cup matches begin on Wednesday, 11 May with a free Highpower Clinic. A team of expert service rifle shooters and coaches that comprise the Remington-Bushmaster Team will lead this special clinic on service rifle shooting that begins with classroom instruction and offers a full day of instruction and dry fire work and drills. Kenneth Roxburgh, a retired US Marine will be the lead instructor. He is the former Staff Non-Commissioned Officer in Charge of the USMC Shooting Teams, and current Director of Remington's Highpower Programs. There will be no live firing during the clinic.
A Creedmoor practice match follows on Thursday and a 4-Man Team Match will be held on Friday. The Creedmoor Cup 800 Aggregate will be held on Saturday, 14 May with a BBQ that evening. The Creedmoor Cup events conclude with a Creedmoor EIC Match on Sunday.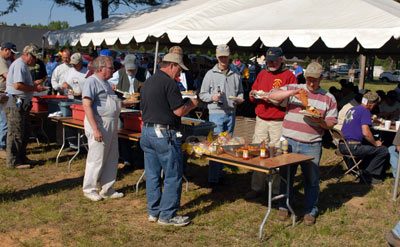 Competitors in the Eastern Games Matches are invited to a Sunday afternoon barbecue provided by the CMP after the day's matches are over.

New this year, if you are interested in volunteering during the CMP Eastern Games & Creedmoor Cup matches to help out on the line and in the pits, you may sign up online at http://clubs.odcmp.com/cgi-bin/matchInfo.cgi?matchID=6578. Volunteers will receive lunch on the days they serve plus an Eastern CMP Games volunteer T-shirt. Thanks to our volunteers, we are able to conduct a first-class event and we'd like you to be a part of it. Please register online or contact Christina Roguski at croguski@odcmp.com for more information.

All competitors are urged to pre-register, however, walk-on entries will be accepted to the capacity of the range. If you register after 6 May, 2011 there will be an additional $5.00 per match entry fee. The fee does not apply to the 4-Man Team Match or the Pistol Team Match.

We hope to see you at the 2011 Eastern CMP Games & Creedmoor Cup matches this May. Register online at http://clubs.odcmp.com/cgi-bin/matchInfo.cgi?matchID=6477. For information on the CMP Games matches or help in registering please contact Christina Roguski at 419-635-2141, ext. 1114 or croguski@odcmp.com. For information on the Creedmoor Cup matches contact Dennis DeMille at demille@creedmoorsports.com or call (800) 273-3366 Mon – Fri, 8am – 4pm Pacific time.

For competitors unable to attend the Eastern CMP Games & Creedmoor Cup matches please join us at the National Matches at Camp Perry in July and August and watch for information about the Western CMP Games & Creedmoor Cup matches at the Ben Avery Shooting Facility in Phoenix, Arizona from 15-23 October, 2011.

NEXT ARTICLE