The Gary Anderson Invitational three-position air rifle championship that is now hosted by the Wolf Creek Young Shooters Association at Fort Benning, Georgia is one of the two largest junior rifle competitions in the country1. This year's competition took place at the USAMU Pool Complex ranges on 21-23 November and 5-6 December. There were 379 total individual entries and 64 team entries in three-position and standing air rifle and smallbore events. Competitors came from as far away as Minnesota, South Dakota, Nebraska and Texas.
<! Nested Table for picture>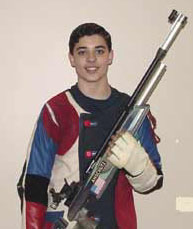 Joseph Hall, a home-school student from Carrolton, Georgia was the outstanding individual shooter in the 2003 Gary Anderson Invitational. Hall, who shot for the Wolf Creek Young Shooters, won all three individual precision air rifle and smallbore events.

Joseph Hall, an 18-year old home school senior from Carrolton, Georgia was the outstanding individual shooter. He won the precision three-position air rifle title with a 592 + 101.0 final. Enroute to that victory, he tied a national record with his 198 standing score. Hall's 693.0 total gave him a ten-point victory margin over Troy Casalone who represented the Hume-Fogg Academy of Nashville, Tennessee. Hall won the precision standing event with a score of 492.7 that just barely beat the 492.1 fired by Wesley Hess of the Lake Houston (Texas) 4-H Outdoor Explorers. Hall won his third victory by easily taking the 50-meter three position event with a 1234.5 to 1214.5 victory over David Sprecher who shot for the Wyoming Antelope Club.

The top shooter in the sporter class competition was Judson Talbot, a senior from Winnsboro High School in Louisiana. Talbot, who placed second in the 2003 JROTC National Championship, fired a 545 three position total and an outstanding final of 94.1 to achieve a 3.3 point victory margin over Jerome Cleveland of Patunxet High School, Maryland.

<! Nested Table for picture>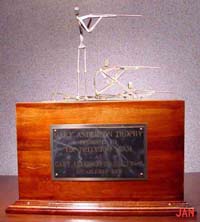 The Gary Anderson Invitational Trophy is presented each year to the highest scoring precision class team in the GAI Invitational. The 2003 winner was the Wolf Creek Young Shooters Association team.

In the team competitions, the Wolf Creek Young Shooters with team members Joseph and Jonathan Hall, Richard Tickle and Jeremy Drennan won a comfortable 2308 to 2287 victory over the Woodward Academy team from College Park, Georgia. Woodward won the GAI team title in 2001 and 2002. The winning precision team is awarded the Gary Anderson Invitational Trophy that features a set of stylized metal figures crafted as replicas of the shooting positions used by Anderson.

The Sporter team title went to a team that had not previously won a major sporter team championship in national level competition. Pelion High School of Pelion, South Carolina posted an excellent 2111 team total to take a nine-point victory over Winnsboro (LA) High School. Pelion team members were Adam Burrows, Nick Smith, Matthew Ripperdan and Wyatt Bryan. The four Winnsboro team members were all members of the Winnsboro Army JROTC team that won the first JROTC National Sporter Team Championship last March.

The Gary Anderson Invitational offers several innovative special awards to recognize outstanding new and "most-improved" shooters. Starting with the 2003 match, the top new shooter awards will be named after Bill Wayda. Match Coordinator Judy Hill announced the awards by stating, "it is with pleasure that the WCYSA establishes a new award for the Gary Anderson Invitational to be given for the first time this year. Mr. Bill Wayda has worked tirelessly with the WCYSA from its inception through the trials at the Wolf Creek Olympic facility and through our first three Gary Anderson Invitational tournaments. He has decided to "retire" as Match Director of WCYSA hosted events in pursuit of broader goals in support of USA Shooting and its mission." The GAI top new shooter awards are now called the WCYSA Bill Wayda Awards. Special Award winners were:

<! Nested Table for picture>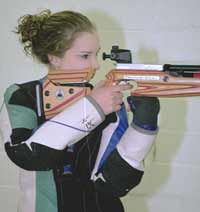 Rachel McClain, Griffin High School (GA) sophomore was recognized as the most improved precision class shooter in the 2003 Gary Anderson Invitational.

Most Improved, Precision 3PAR, Rachel McClain, Griffin (GA) High School, 561 total, 171 points improvement over 2002.

Outstanding New Shooter, Precision, 3PAR, Ian Young, Fort Benning JRC, 557 total score.

Most Improved, Sporter 3PAR, Joshua King, Athens (AL) High School, 430 total , 243 points improvement over 2002.

Outstanding New Shooter Sporter, 3PAR, Corey Camp, Bogalusa (LA) High School, 484 total score.

All 2003 GAI results are posted on the CMP web site.

Plans are already being made for the 2004 Gary Anderson Invitational that will again be held at Fort Benning's USAMU Pool Complex ranges on 19-21 November and 4-5 December. High School and junior teams in the southeast United States should put those dates on their calendars now.


---
1The second major junior rifle tournament is the Montgomery Bell Classic that is hosted by Montgomery Bell Academy each October in Nashville, Tennessee.