Top competitors from the JROTC Regional events traveled to Camp Perry, OH, to fire in the National Championship. National champions were named overall, amongst all four military branches.
CAMP PERRY, OH – Third time is a charm, or just another win, for Ozark High School, MO, which overtook the overall precision team title for the third consecutive year at the JROTC National Championship, held March 20-22 at the CMP Gary Anderson Competition Center in Camp Perry, OH.
Team members of the Army unit, Robert Broadstreet, Benjamin Estes, Brianna Sawyers and Sadie Evans, fired a combined score of 4660-291x to best the field by a margin of 20 points.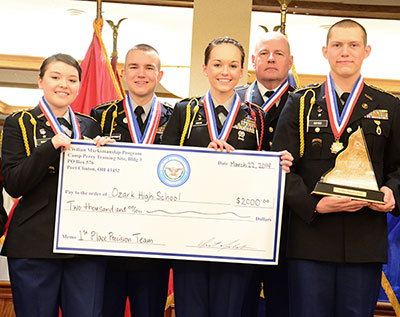 Ozark High School, MO, was once again the overall precision team champions. With only three years of precision experience and a transition of shooters under their belts, Ozark has outstandingly managed to hold the title for the past three years.
"It's never enough," said coach 1SG Terry Thompson, with a smile – speaking of his team's third win in three years.
Last year, Coach Thompson said goodbye to three members of his original Ozark precision team, who had won two National Championships in only two years of existence as precision shooters. With green shooters on the line for Ozark and another National Championship in hand, it's clear that there must be something in the water at the Ozark range.
"This is my first year shooting precision – I like it," said member Sadie Evans.
There's a lot to like about being part of a team that carries on a tradition of winning. Along with another addition to the school's trophy case, Ozark also received a check for $2,000 from the CMP and a $5,000 endowment from MidwayUSA.
Following in second place in the overall precision team competition was Army unit Lumpkin County High School, GA, with a score of 4640-278x. Team members Morgan Tritt, Dakota Spivey, Heather Johnson and Rhiannon Smith earned a $1,500 check from the CMP and added $3,500 to their MidwayUSA endowment.
Representing the Marine Corps, East Coweta High School, GA, landed in the third place spot with a score of 4636-261x. Members Glen Lauzon, Destiny Collier, Alexandria Wright and Jonathan Satterfield received a check for $1,000 from the CMP and $2,500 endowment from MidwayUSA.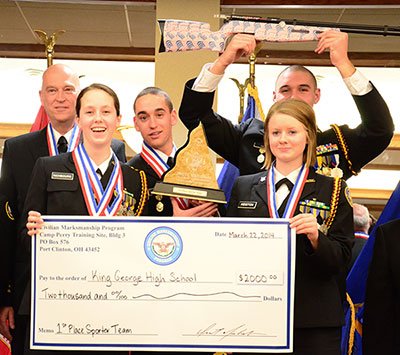 King George High School, VA, took home the first place trophy in the overall sporter team competition. Along with glory and prize money, the team also received a Crosman air rifle.
Navy team King George High School, VA, claimed the overall sporter team competition after firing a combined score of 4357-140x. Team members are Hunter Cushman, Benjamin Frith, Carrie Richbourg and Jenna Heiston. The team is coached by CDR Fred Duckworth and Jim Morgan. Along with bragging rights, the school also received $2,000 from the CMP, $5,000 towards their MidwayUSA endowment and a Crosman Challenger Air Rifle, donated by Crosman.
Trailing behind King George was fellow Navy unit Zion Benton High School, IL. Members Kevin Hamilton, Justine Hamilton, Zachary Dumyahn and Kayla Savage fired a combined score of 4350-126x for second place, prize money and endowment from MidwayUSA. Also receiving checks from Midway and the CMP was Army team Lebanon High School, OR, which earned the third place spot with a score of 4343-128x. Team members are Jesse Bustillos, Alexander Eikelenboom, Zachary Brooks and Jasmine Wiles.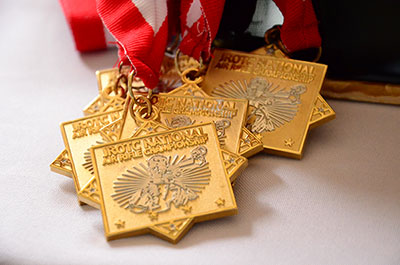 The JROTC National Three-Position Championship was held March 20-22 at the CMP Gary Anderson Competition Center in Camp Perry, OH. Shooters from the top JROTC units in the country gathered on the cold shore of Ohio to finally complete a six-month journey to determine who would earn the gold and be named champions.
Nationals is a two-day, three position competition, where overall winners are determined by an aggregate calculation from Day 1 and Day 2 scores. Overall winners fired the highest scores throughout all four military branches, instead of solely being determined within their own branches, as done during the Postal and Regional matches. Medals are also given to finals winners in Day 1 and Day 2 of competition, with the Top 8 sporter and precision shooters on the firing line competing in a 10-shot finals match.
Winners of the Day 1 sporter finals represented almost every branch as Hunter Cushman (Navy), 17, of King George High School, VA, claimed the gold. Brian Hampton (Marine Corps), 16, of Fort Mill High School, SC, earned silver, while Ashley Durham (Air Force), 17, of McMichael High School, NC, received bronze.
Robert Broadstreet (Army), 17, of Ozark High School, MO, took home the gold during the precision Day 1 final, followed by Ariana Grabowski (Army), 18, of Beaver Area High School, PA, with silver. Rosemary Kramer (Navy), 16, of Upson Lee High School, GA, earned the bronze.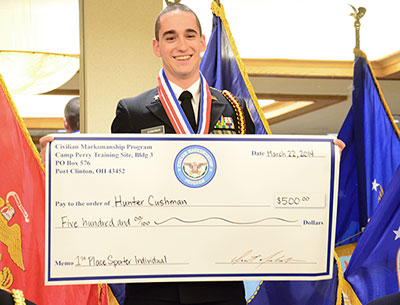 Hunter Cushman was the overall sporter competitor for the second year in a row. His outstanding scores also helped his team become the overall sporter team champions.
Day 2 finals brought a little more excitement in both the precision and sporter classes as the talented juniors stayed neck-and-neck throughout. Shooters moved up and down the rankings, keeping spectators on the edges of their seats, until the last shots were fired.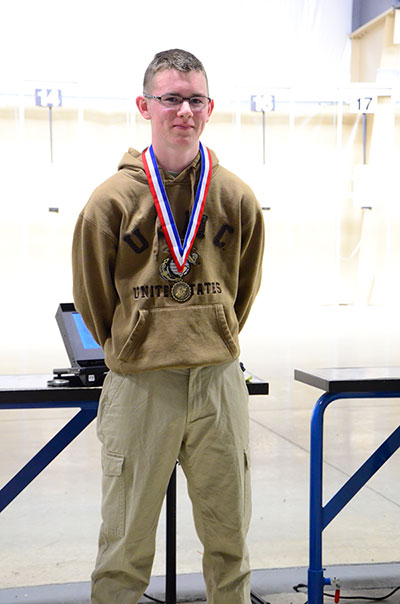 Hayden Briggs gave a remarkable performance during the Day 2 sporter finals, advancing from eighth place to a bronze medal.
In the end, Hunter Cushman again took home the gold, while Michael Murphy (Marine Corps), 18, of R-S Central High School, NC, earned silver. Hayden Briggs (Marine Corps), 16, of Nation Ford High School, SC, had undoubtedly the most impressive finals performance, as he began in eighth place and fought his way to a bronze medal.
Mary Pratt (Air Force), 16, of Monroe Area High School, GA, started the precision finals match tied for fourth place but shot smart and consistently to raise to a gold medal finish. Following only 0.4 points behind Pratt was Ariana Grabowski for silver, as Robert Broadstreet claimed the bronze.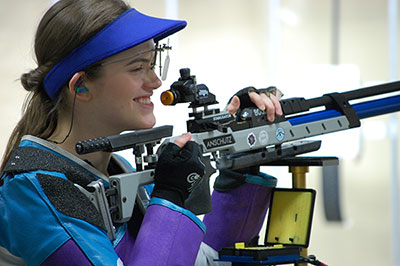 Mary Pratt showed her excitement with a bright grin as she shot her way from fourth place to first place in the Day 2 precision finals.
Pratt gave a wide grin and a fist pump after learning she had fired the winning shot. After coming off of the firing line, she finally took a deep breath and said, "That was so stressful!" as she gave a laugh.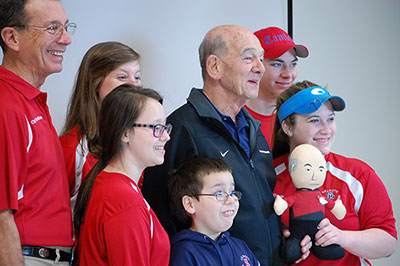 To the enjoyment of many, "Little Larry" made an appearance during the match. Little Larry (the doll) happens to bear a striking resemblance to chief range officer Larry Pendergrass (middle). South Panola High School, which brought Little Larry, took the time to pose for a photo with Pendergrass and his "mini me."
Also creating a few laughs throughout the match was the appearance of "Little Larry" – a small doll portraying Patrick Stewart's character in "Star Trek," which happened to bear a striking resemblance to chief range officer Larry Pendergrass. Little Larry was transported to and from the match by the South Panola High School team members, who were the ones to discover him.
"I saw it in the store and said, 'That looks like Mr. Larry!" said team member Ashlyn Coyle, who served as Little Larry's body guard most of the competition.
Others would agree that the likeness between the two is eerily uncanny. Not to be forgotten, Little Larry also received his own competition number, pinned to his back, so he would fit in with the other shooters on the firing line.
In the overall individual competition, Hunter Cushman won gold for the second consecutive year in the overall sporter competition, with his score of 1213.5. He also received a check for $500 from the CMP.
Cushman dominated the class, firing more than 10 points above Cassandra Rodriguez (Navy), 16, of Parlier High School, CA, who earned the silver medal and $400 from the CMP with a score of 1200.75, and Brain Hampton, who took home a check for $300 and the bronze after achieving a score of 1198.7.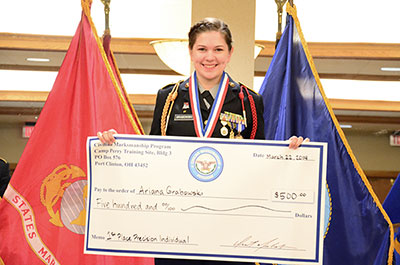 Ariana Grabowski's shooting performance over the two-day competition landed her with the gold medal and the title of overall precision champion.
Ariana Grabowski came out victorious in a hard-fought precision match, narrowly defeating two Ozark shooters to become the first place overall champion, with her score of 1281.35. Following close behind was Ozark High School member Robert Broadstreet, with a score of 1280.5 in second place and his teammate Benjamin Estes, 18, with 1278.6 for third. All three shooters were from Army JROTC units.
Many National Records were also broken and set during the National Championship, proving the continued excellence and higher level of competition each year brings. Amazingly, nearly all were Air Force JROTC, making the service branch one to be reckoned with in the JROTC realm.
In sporter, Charles Collins, 17, of McMichael High School, set a new Air Force JROTC kneeling record of 194-13x. Tori Martin, 16, of Franklin County High School, VA, also set a new Air Force JROTC record, firing an impressive prone score of 198-16x. Adding to the Air Force record books was Ashley Durham, who set two: a 3x20 score of 559-20x and a 3x20 plus final score of 648.7.
In precision, Mary Pratt set two Air Force JROTC records herself: a kneeling score of 199-17x and a final score of 102.3. Pratt managed to finish in fourth place overall with her record-breaking performances.
Zion Benton was the only team to make a record-setting appearance during the Championship, firing a combined team score of 2198-73x. The score will be added to the Navy JROTC record books.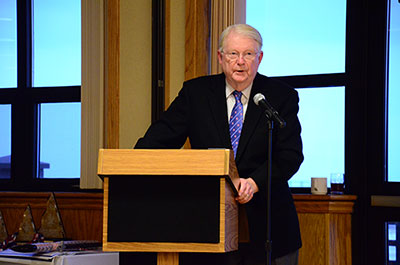 Gary Anderson, director of civilian marksmanship emeritus, was the speaker at the JROTC awards banquet, held during the evening after the conclusion of the competition. He spoke to the juniors about lessons that can be utilized in their shooting careers and their lives.
The CMP was proud to list MidwayUSA Foundation as the official sponsor of the JROTC competition, as the organization offered generous endowments of $2,000 to qualifying teams and also awarded additional funds to shooters who reached the winners podium. Total contributions by MidwayUSA during the three phases of the competition (Postal, Regional, National) reached more than $450,000. Congratulations to all winning teams and individuals!
For a complete list of results, visit http://ct.thecmp.org/app/v1/index.php?do=match&task=edit&match=11293. Photos from the event can be viewed at http://cmp1.zenfolio.com/. Photos are available to download for free or are also available for purchase.