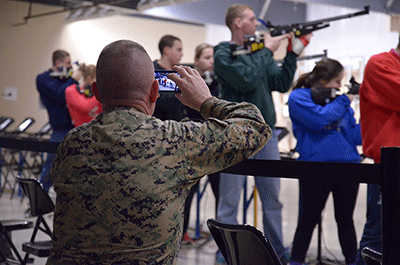 Over 1,150 JROTC cadets competed collectively at the three locations, supported by coaches, parents and guests on hand to witness all of the accomplishments of the talented junior shooters.
ALBUQUERQUE, NM; ANNISTON, AL; CAMP PERRY, OH – Army, Marine Corps, Navy and Air Force JROTC units met on the firing line to compete in the 2014 JROTC Regional Championships the weekends of Feb. 14-16 and Feb. 20-22 to give their all and earn their places at the JROTC National Championships in March.
Top shooters of the JROTC Postal match were invited to compete in the Regionals competition, held at the Expo New Mexico State Fair in Albuquerque, NM; CMP South Competition Center in Anniston, AL; and the newly renovated Gary Anderson Competition Center in Camp Perry, OH. Teams and At-Large individuals who made the cut at Regionals will travel to Camp Perry March 20-22 for Nationals.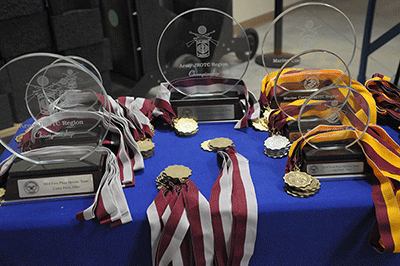 Army, Marine Corps, Navy and Air Force JROTC units gathered in New Mexico, Alabama and Ohio to compete in the 2014 JROTC Regional Championships, Feb. 14-16 and Feb. 20-22.
MidwayUSA Foundation is the official sponsor of the JROTC competition, offering generous endowments of $2,000 to qualifying teams and also awarding additional funds to shooters who reach the winners podium. Total contributions by MidwayUSA during the three phases of the competition (Postal, Regional, National) will reach more than $450,000.
In the Army overall sporter category, Isela Velazquez, 16, of R.L. Paschal High School, Fort Worth, TX, led with an aggregate score of 1106-35x. Kelly Frost, 18, of Wagener-Salley High School, Wagener, SC, earned the second place spot with 1101-28x, as Patrick Cramer, 19, of Saint Thomas Academy, Mendota Heights, MN, rounded out the Top 3 with a score of 1099-38x.
In the precision class, Sarah Jameson, 18, of Walla Walla High School, Walla Walla, WA, claimed the third place position with a score of 1174-78x as Robert Broadstreet, 17, of Ozark High School, Ozark, MO, just squeaked by Jameson – firing a 1175-90x for second. Ariana Grabowski, 18, of Beaver Area High School, Beaver, PA, earned the overall precision honors with her hard-fought score of 1176-80x.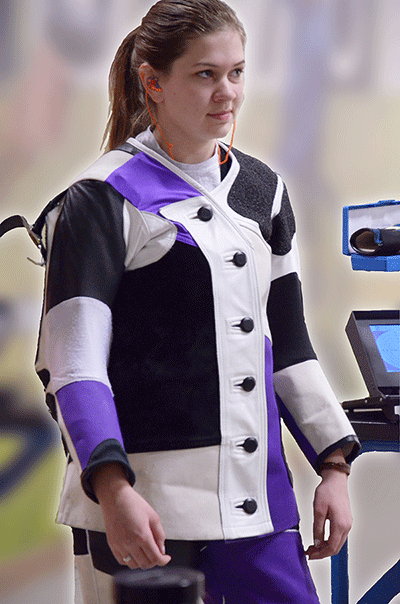 Ariana Grabowski of Beaver Area High School, PA, proved her resilience after a target malfunction disrupted her finals performance. Unshaken by the mishap, she calmly switched firing points to still manage to claim the overall Army precision title.
Grabowski showed an impressive amount of skill and focus during her finals performance at Camp Perry, managing to finish strong despite a hiccup in her shooting. A minor target malfunction forced Grabowski to move to another firing point in the middle of her finals record shots, but, with the poise and patience she has come to be known by throughout her shooting career, she continued to fire on the new point as if she had been shooting there all along – unshaken by the mishap.
"I was very impressed with the way she kept her composure," said CMP Board member Bill Willoughby, who witnessed Grabowski's final. "To pick up and move to another firing point in the middle of a finals match like that, and to still shoot well – she is a very good shooter."
In the Marine Corps individual match, Brian Hampton, 16, of Fort Mill High School, Fort Mill, SC, fired the top sporter score with a 1103-37x. Michael Murphy, 18, of R-S Central High School, Rutherfordton, NC, fired a 1101-40x for second, while Jackson Thompson, 17, of Sapulpa High School, Sapulpa, OK, trailed by only a few points with 1097-30x for third.
Tyler Ramos of Woodbridge High School, DE, finished in first place in the overall USMC precision match with his impressive score of 1167-68x.
Tyler Ramos, 18, of Woodbridge High School, Bridgeville, DE, gave an impressive performance, finishing in the first place spot in the precision class with an aggregate score of 1167-68x – seven points ahead of second place finisher Sydney Perry, 16, of Shelby County High School, Shelbyville, KY, who fired a 1160-67x. Rounding out the top three precision shooters was Richard Abeyta, 18, of La Cueva High School, Albuquerque, NM, with a combined score of 1155-63x.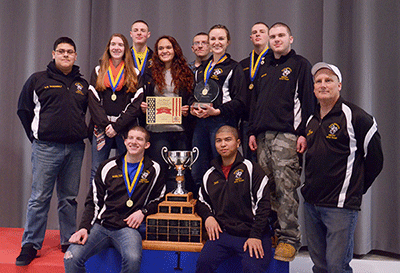 Zion Benton High School, IL, led the overall Navy sporter competition, snagging some snazzy new medals around their necks and their names engraved on a giant Navy trophy.
In the Navy overall sporter competition, Sheridan Beene, 18, of Joshua High School, Joshua, TX, fired a 1108-34x for third place – more than 10 points ahead of the fourth place competitor. The fight for first overall was a close battle that came down to only the x-count. Falling just short of the top spot was Isaac Diaz, 17, of Flint Northwestern High School, Flint, MI, who shot a combined score of 1115-41x. Just two x's ahead of Diaz, and claiming the overall position, was Hunter Cushman, 17, of King George High School, King George, VA, with his score of 1115-43x.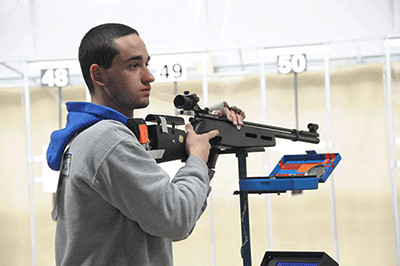 Hunter Cushman of King George High School, VA, fired a 1115-43x to earn the top spot as the overall Navy sporter competitor.
"I just put a song in my head and I don't worry about anybody else," said Cushman, with a grin. "What I do down range is what I do down range. And that's how I do it."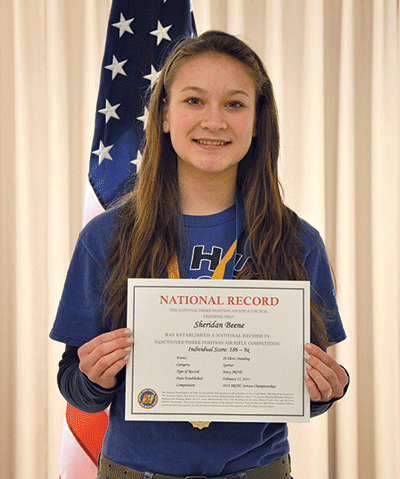 During her third place finish in the overall Navy sporter match, Sheridan Beene of Joshua High School, TX, recorded a new 20 Shot Standing National Record – firing a remarkable 186-9x.
Rosemary Kramer, 16, of Upson Lee High School, Thomaston, GA, earned the overall precision title with her score of 1180-81x. Following close behind in second place was Darren Kasl, 19, of El Dorado High School, El Paso, TX, with a score of 1174-79x – 10 points above third place finisher Keondra Moton, 16, of Henry County High School, McDonough, GA, who shot a combined score of 1164-72x.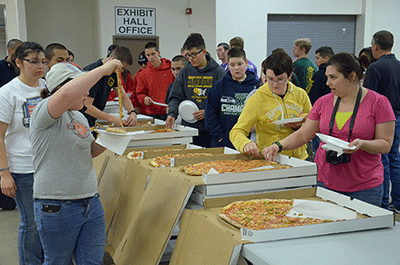 Grab a slice! Instead of a formal banquet, as in years past, the CMP held an informal, pizza party reception for shooters and guests.
In the Air Force overall sporter class match, Ashley Durham, 17, of McMichael High School, Mayodan, NC, fired a 1103-40x to claim a first place finish above Stanley Compton, 18, of Washington High School, Tacoma, WA, who shot a combined score of 1092-36x. Compton finished just one point ahead of Matthew Velazquez, 17, of Buckeye Union High School, Goodyear, AZ, who recorded an aggregate score of 1091-35x for third.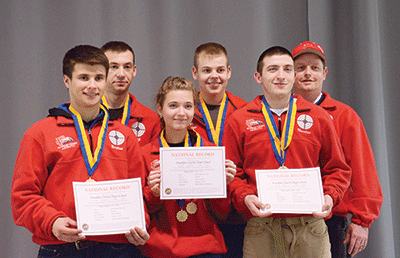 Franklin County High School, VA, was the overall Air Force precision team of the competition, also snagging a new Four Member Team 3x20 National Record with a score of 2311-137x.
Franklin County High School in Rocky Mount, VA, carried three of the four top finishers in the precision class match, as Brantley Santrock, 16, fired a 1160-74x for third place behind teammate Sierra Czap, 16, who shot a 1165-69x for second. Claiming the top spot was Mary Pratt, 16, of Monroe Area High School, Monroe, GA, with her dominating combined score of 1187-86x.
For a full list of results, both individual performances and overall team scores, visit the CMP Competition Tracker at http://ct.thecmp.org/app/v1/index.php?do=match&task=edit&match=10801. Photos of the event can be downloaded or purchased at http://cmp1.zenfolio.com/.
NEXT ARTICLE