<! Nested Table for picture>

The Camp Perry National Matches Centennial Banner.

2007 is an important year in the history of the National Matches. That makes it an important year for shooters to be at Camp Perry. 2007 is significant, first of all, because it marks the 100th anniversary of the National Matches at Camp Perry. With preparations for the 2007 "Camp Perry Centennial" National Matches well underway, this article gives you an update on what you can expect to experience during this year's "100-years at Camp Perry" celebration.



1907-2007 CAMP PERRY CENTENNIAL. In the years following the first National Matches in 1903, shooting leaders struggled to find suitable sites for the Matches. The matches went to Fort Riley, Kansas in 1904 and returned to Sea Girt, New Jersey in 1905 and 1906, but the facilities at either location were not adequate to support growing participation. A permanent home was needed. General Ammon Critchfield, who became the Adjutant General of Ohio in 1903, selected the present Camp Perry site as a potential home for the matches, obtained an appropriation from the Ohio Legislature to start construction in 1905 and established Camp Perry in 1906. In January 1907, a proposal from the Ohio Rifle Association to make Camp Perry the home of the National Matches was accepted by the National Board for the Promotion of Rifle Practice Executive Committee (the NBPRP is a predecessor organization to the CMP), which asked the Department of War to transfer the matches to the new Ohio State Rifle Range. The range site was named Camp Perry in honor of Commodore Oliver Perry, whose 1813 sea victory over the British took place in Lake Erie just offshore from the ranges. The 2007 National Matches will celebrate 100 years of National Matches at Camp Perry with several special events.

<! Nested Table for picture>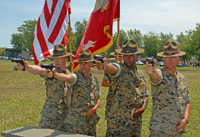 U. S. Marine Corps Teams won two of the three major National Trophy Team Matches in 2006, the Gold Cup National Trophy Pistol Team Match and the National Trophy Rifle Team Match. USMC and US Army teams plus lots of top civilian teams will be back at the 2007 National Trophy Matches competing to win these and many more trophies.
CMP EVENT ENTRIES. On-line registration for the CMP events that are part of the 2007 National Matches has been open for a month. In that short time, over 1,200 competitors have already signed up for this summer's matches. Schedule changes in 2006 added a day to the CMP highpower rifle week and made it possible to add a new Hearst Doubles service rifle match and the M1 Carbine Match, allowed the Springfield and Vintage Military Rifle Matches to move to the larger Viale Range and made it possible to fire the popular John C. Garand Match on both Viale and Rodriguez Ranges. The 2007 schedule will remain the same. Nearly 700 competitors have already entered the Garand Match, but there should be plenty of room for everyone who wants to shoot in it. Early entrants in this match include two General Officers, the Adjutant General and Assistant Adjutant General Army in Ohio. Early entries in the combined Springfield and Vintage Military Rifle Matches that take place on 3 August have clearly outpaced last year's entries. Vintage Military entries are already close to last year's record. Carbine Match entries are also running well ahead of last year's pace and with CMP Carbine sales opening that could be an additional stimulus to shooters to try this match.

NATIONAL MATCHES HOUSING. The availability of low-cost on-post housing at Camp Perry always makes a big difference to many shooters in whether they can come to the matches. Look for some improvements in this area in 2007. The new RV Park that was partially funded by the CMP in 2006 expanded housing opportunities for shooters who have RVs or trailers. The CMP recently provided a $20,000 grant to the Ohio National Guard to fund the restoration of 50 Camp Perry huts that will be finished by the Matches. This will make an additional 200 beds available to competitors during peak periods of the matches.

SMALL ARMS FIRING SCHOOL LIMITS. This year, military budget cutbacks and deployments to support the wars in Iraq and Afghanistan have reduced the numbers of military shooters who can attend the matches. This necessitated placing enrollment limits on both the Pistol and Rifle Small Arms Firing Schools since military team members act as the coaches and instructors in these popular schools. Over half of the 300 slots allocated for the Pistol SAFS have already been filled. About 40 percent of the 450 Rifle SAFS slots are filled. Entry priority is being given to shooters who have not previously attended the SAFS and who do not have EIC points. Nevertheless, anyone interested in attending either the Pistol or Rifle SAFS is urged to get their entries in to be sure they get in the school.

<! Nested Table for picture>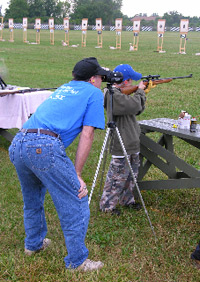 Junior entries will be free in the 2007 National Rimfire Sporter Match; expect to see even more adult-junior pairs in the match with many of the juniors getting their first taste of the National Matches.
FREE JUNIOR ENTRY IN RIMFIRE SPORTER. The 2007 National Rimfire Sporter Match will take place on Sunday, 22 July. This event, which has grown each of the five years it has been held, has become one of the most relaxed, enjoyable days that any shooter can have during the National Matches. This year, in recognition of the Camp Perry Centennial, there will be no entry fee for juniors in this match. The Rimfire Sporter Match is an ideal place for new junior shooters to get started in competition shooting and this year juniors can shoot free. This match is also a great way for new shooters to get their first National Matches experience.

<! Nested Table for picture>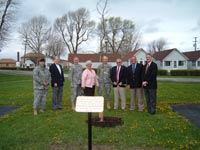 MG Wayt, Adjutant General of Ohio, along with members of the Camp Perry Executive Committee, planted a Centennial Tree at Camp Perry.

CAMP PERRY IMPROVEMENTS. Major General Greg Wayt, the Adjutant General of Ohio and a great supporter of Camp Perry and the National Matches, hosted a meeting on 27 April at Camp Perry attended by representatives of the CMP (Vice Chair Judy Legerski and DCM Gary Anderson) and the NRA (President John Sigler and Competitions Director Mike Krei) plus several local government leaders. A key purpose of the meeting was to discuss plans for Camp Perry improvements that are now in the works. State and Federal funding is slated to support $5.848 million in 2007 construction that includes new beach cottage housing, sewer system upgrades, a new bathhouse to support the RV park and a projected camp ground and motel unit repairs. The CMP is cooperating with the Ohio National Guard in the construction of a new facility to will provide expanded electronic skills training for Guardsmen and an 80-point air gun range for CMP programs. Some of this construction will be in progress while shooters are at Camp Perry for this summer's matches (detailed information about this exciting project will be released in the next few weeks).

<! Nested Table for picture>

The 2007 Camp Perry Postal Cancellation.
CAMP PERRY CENTENNIAL EVENTS. Lacarne, Ohio lies two miles from the Camp Perry main gate. In the pre-World War II National Matches, competitors often arrived by train and got off at the Lacarne train station. This year, the Lacarne Post Office will keep a postal station at Camp Perry in the In-Processing Center (Bldg. #3) and will offer a special "Camp Perry Station" National Matches postal cancellation. National Guard bands and Special Forces parachute jumps will be part of the special events plans. The NRA National Firearms Museum will have a display of firearms associated with the matches at the Camp Perry Clubhouse. Several other activities are in various stages of planning.

MAKING YOUR ENTRY. If you have not already done so, now is the time to make your plans to be at Camp Perry in July or August to be part of the Camp Perry Centennial National Matches. You can enter any of the CMP events by going to the CMP home page at http://www.odcmp.com. Click on either the 2007 National Matches logo icon or the pull-down tab telling you to "Click here for 2007 National Matches Information." From there select the programs you want to download or the entry forms you want to complete.