Aurora Sportsmen's Club Members Train College ROTC Cadets in Marksmanship
Submitted by G. Marty Black, Aurora Sportsmen's Club, a CMP affiliate club &
Gary M. Klein, University of Illinois, AROTC
Photos courtesy of Jerrill Janik

The following article is a story about an innovative training and public service program developed by the Aurora Sportsmen's Club, a large CMP-affiliated club in Northern Illinois. The ASC offers their range facilities and their members' marksmanship expertise to provide college ROTC cadets in the Chicago area with marksmanship training that features the types of weapons these military officer trainees will be expected to use in the Armed Services. This program is another example of how members of CMP-affiliated organizations are willing to donate their time and expertise to train members of the Armed Services in marksmanship and contribute to our national defense.
<! Nested Table for picture>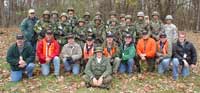 Members of the Aurora Sportsmen's Club work with college Army ROTC cadets.
Since 2004, the Aurora Sportsmen's Club (ASC) has been conducting firearms safety and marksmanship training for the "Chicago Fire" Battalion Army ROTC cadets, who span eight campuses throughout the Chicago area. This program started after two cadets attended a Civilian Marksmanship Program (CMP) rifle clinic at ASC, where they used the Club's Bushmaster AR-15 rifles. Realizing the value of their experience, they inquired if dedicated AROTC marksmanship training could be facilitated.

The members of ASC's CMP Department, most of whom are veterans and NRA instructors, were very enthusiastic about really doing something to support the training of our future military officers. The first three Army-ROTC-specific training sessions began in September and continued in October and November of that year.

<! Nested Table for picture>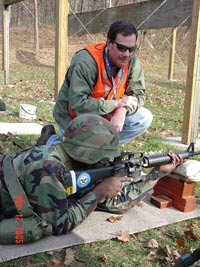 A member of the ASC provides on-the-line coaching to a member of the "Chicago Fire" Battalion Army ROTC.
Initially, emphasis was placed solely on firing the AR-15 rifle in the supported and unsupported prone positions, slow-fire and quick-fire. Since then, training has been expanded to include kneeling quick-fire and offhand (standing) with multiple targets. In addition to the evolving firing position instruction, the variety of firearms has expanded as well. The focus, however, will remain on the AR-15 because of its similarities to the M-16. ASC also provides basic familiarization firing with the M9-type Beretta pistol, semi-automatic AK-47 and M14 rifles, combat shotguns and the Barrett .50 BMG.

<! Nested Table for picture>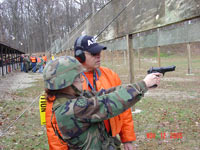 The college ROTC cadets also gain experience firing the M9 Pistol during their training along with other firearms.
"I was very excited to practice with an M9 Pistol. I know that I will be required to qualify with one as an officer and so far I have not received any formal training from the Army. I would have hated for qualification day to be my first hands-on experience," remarked Cadet Veronica Kool.

A typical training session starts with a two-hour safety and familiarization classroom course, followed by a 40-round course of fire. Then the cadet leaders complete a 40-round 25 meter silhouette qualification, with ASC instructors providing safety support. According to the ROTC Senior NCO Instructor, Master Sergeant Frank Hooper, the qualification rate averages 75 %, despite the fact that a large number of cadets have never fired a rifle before! "The creation of an AROTC Rifle Team, supported by the training cadre, equipment, and facilities at the Aurora Sportsmen's Club turned out to be the perfect solution to our training needs," stated Cadet Gary Klein.

After qualification, the cadets are given time to rotate through various stations of firearms familiarization before wrapping up the marksmanship training. At the conclusion of the three 2006 sessions held in January, February, and November, the Cadets were introduced to the shotgun, and had a very enjoyable and valuable experience with that firearm, the vast majority having never fired a shotgun or aimed at a moving target before. After all that fun, the cadets then disassembled and cleaned all the rifles. The typical Army ROTC training day starts at 7:30 a.m. and ends at about 3:30 p.m.

<! Nested Table for picture>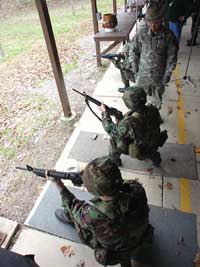 Members of the Army ROTC gain vaulable information during the hands on training conducted by members of the ASC.
The cadets feel that this training gives them a definite advantage over other ROTC Battalions' marksmanship programs because of the one-on-one coaching they receive from the dedicated and highly experienced instructors provided by the ASC. ASC Instructors and Range Safety Officers find the Army ROTC program extremely rewarding as well, and are very proud that they can do something to help these cadets prepare for their future as Army Officers.

Prior-service cadet Kurt Semon's opinion seems to represent most cadets, "I think the club offers excellent training for new cadets and those of us just trying to sharpen some skills. Their professional approach with one-on-one coaching for each cadet ensures a better understanding of how to improve our marksmanship … quality vs. quantity is much more productive."