The annual release of the CMP Competition Rules usually coincides with the release of National Matches programs and the opening of National Matches on-line entries, which were posted on the CMP website on 1 April. The 13th edition 2009 CMP Competition Rules are also now posted on the CMP website and can be viewed and downloaded at http://www.odcmp.com/Competitions/Rulebook.pdf.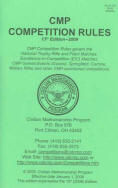 If you are a pistol shooter, not much has changed except that a couple of new rules could open the door for more Service Pistol match opportunities for you. If you are a rifle shooter, you will definitely need to study the new rapid fire loading procedures. In addition, many rifle shooters should benefit from several new competition opportunities made possible by this version of the CMP rules. If you are a match sponsor, your range officers must now follow range firing procedures and commands that are published in a new Annex to the Rules when conducting CMP sanctioned Service Rifle EIC or As-Issued Military Rifle Matches. And if you are a shooter who has not tried competition shooting before, a new Modern Military Rifle event may get you onto a competition range for the first time.

One significant 2009 rule change stems from the CMP's continued commitment to start rapid-fire stages from standing and a change in loading procedures designed to ensure that every competitor moves from standing to sitting or prone in rapid-fire stages with an empty chamber. In previous years, CMP rules regarding the conduct of Service Rifle and As-Issued Military Rifle rapid-fire stages were linked to NRA High Power Rules. Until this year, NRA range procedures could be used in CMP matches, but now that the NRA has eliminated the requirement to start rapid-fire stages from standing, NRA range procedures can no longer be used. As a result, the CMP had to develop its own rules, range procedures and commands.

<! Nested Table for picture>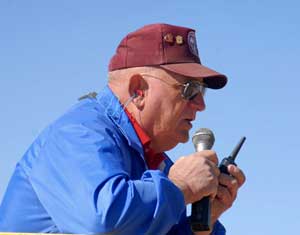 Range officers in CMP-sanctioned Service Rifle and As-Issued Military Rifle matches now must follow new CMP Highpower Rifle Firing Procedures and Range Commands that are published as an Annex in the 2009 CMP Competition Rules.
The overwhelming opinion of Service Rifle and military rifle shooters is that starting rapid-fire stages from standing is a unique challenge and vital component of highpower across-the-course shooting that the CMP should definitely retain. Thus, a foundation requirement in the CMP rifle rules (Rules 8.1.5 and 9.1.10) is that competitors who are able must start all rapid-fire stages from standing. To provide range procedures and commands to facilitate this, an "Annex" called CMP Highpower Rifle Firing Procedures and Range Commands now appears in the back of the 2009 CMP Competition Rules. This new Annex includes 1) 'Basic Safety Rules and Standards," 2) "Safety Definitions and Standards," and 3) detailed "Firing Procedures and Range Officer Commands" that match sponsors and range officers must use in conducting slow and rapid-fire stages of CMP-sanctioned matches including Service Rifle EIC, National Trophy Rifle and As-Issued Military Rifle (Garand, Springfield, Vintage Military Rifle, Carbine) Matches. Highpower rifle shooters who shoot in CMP matches will certainly also need to be familiar with these procedures.

According to these procedures, after the preparation period ends for all rapid-fire stages, shooters will be given the command, ON THE FIRING LINE STAND…WITH BOLTS CLOSED ON EMPTY CHAMBERS…LOAD.

Previous rules had competitors load for rapid-fire with bolts remaining open, except that M1 Garand shooters closed their bolts on a live round after engaging safeties and M1 Carbine shooters closed bolts on empty chambers before loading. Added to obvious concerns about having too many loading variations was a concern that a few Service Rifle shooters were abusing the bolts remaining open rule by closing their bolts on the way down into position. The 2009 CMP rapid-fire loading procedures are thus designed to make loading all rifles used in CMP-sanctioned matches for rapid-fire stages more uniform. They also are intended to completely eliminate any possibility of a shooter moving from standing to the firing position with a round in the chamber.

For M16/M14-type rifles, having a rifle with its bolt closed on an empty chamber with a loaded clip inserted is a standard military loading condition so the change from previous rules should be easy for most military shooters to master.

<! Nested Table for picture>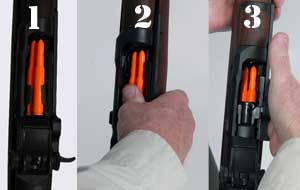 NEW M1 GARAND RAPID-FIRE LOADING PROCEDURE. Competitors with M1 Garands must "close bolts on an empty chamber" by 1) inserting the clip and two rounds in the magazine, 2) pressing the clip and two rounds all the way down to release the operating rod and 3) allowing the bolt to over-ride the top round and so the bolt closes on an empty chamber. The bolt may not be cycled to load the first round in the chamber until after the competitor is down in position.
The new procedures will require M1 Garand shooters to change the way they load. Previous procedures allowed them to chamber a round as they closed the bolt. Now, after they insert the clip and two loose rounds in the magazine, they must press the rounds and clip down to release the bolt and allow the bolt to over-ride the top round. The CMP already teaches this procedure in its As-Issued Military Rifle Clinics and finds this method of loading a clip and two rounds easier to master than the previous procedure of chambering one of the two rounds as the bolt was closed. Carbine loading already requires closing the bolt before inserting a clip. The lone exception to starting with bolts closed is for manually operated military rifles where bolts must still remain open after loading five rounds in the magazine.

When targets rise from the pits (or the command TARGETS is given on ranges without pit-operated targets), shooters must drop down into position, then cycle the bolts on their rifles to chamber their first round and begin the rapid-fire stage. "Down in position" is defined in the new rules as having the buttocks on the ground in sitting or one elbow on the ground in prone.

In developing these procedures, extensive consultation was carried out with many top civilian and military range operation experts. Consideration was given to having competitors do their complete rapid-fire loads after the time started and they were down in position, but there were serious concerns with this alternative. The CMP decision not to require loading after time started made special note of the difficulty inexperienced and left-handed shooters face in getting the first two rounds loaded in an M1 Garand while under time pressure. It was ultimately concluded that the best, safest and most uniform way to load for all CMP highpower rifle disciplines is to have competitors stand and load magazines with chambers remaining empty, but to allow competitors to chamber rounds only after they are down in position. Loading for rapid-fire while standing makes it easier for range officers to identify any shooters with loading problems and to resolve those problems more quickly.

Competitors who are not able to stand for the start of rapid-fire stages will remain in position and follow the same loading procedures. Competitors who do not stand to start rapid-fire in EIC or National Trophy Matches continue to be ineligible for EIC points or National Trophy awards, while competitors who are not able to stand before As-Issued Military Rifle (Garand, Springfield, VMR, Carbine, Rimfire Sporter) rapid-fire stages generally are eligible for awards. Since starting rapid-fire in position can be a big advantage, the CMP is continuing to study ways for these competitors to start rapid-fire. One possible option that will be tested at the Eastern CMP Games would require competitors who start in position to take their hands and forearm out of the sling and lay their rifles on the ground. The concept of any change that might be adopted is to require these competitors to re-built their positions and orient their natural points of aim just as shooters who start from standing must do this.

There are several other changes in the 2009 CMP Competition Rules. Here are the highlights:

NEW EVENTS. The rules define two new National Match events, a Service Pistol Warm-Up Match, which will take place at Camp Perry immediately after the Pistol Small Arms Firing School, and a National Trophy Junior Team Match that will take place during CMP highpower week at Camp Perry. The Service Pistol Law Enforcement Team Match that is part of the National Trophy Pistol Matches is changing from a four to a two-person event. CMP Games rifle categories now include an Unlimited Garand category (Rule 6.4.1) where shooters with National Match, .308, commercial and glass-bedded Garands can fire those rifles when match programs offer this special category. These Garands cannot be used in regular Garand matches, but they can be fired when the match program offers a separate Unlimited Garand category. The National John C. Garand Match will have both As-Issued and Unlimited Garand categories. The CMP Games event list also has a Modern Military Rifle class that allows local and club match sponsors to offer categories for these popular military–type rifles in their CMP-sanctioned matches (Rule 6.4.2).

STATE CHAMPIONSHIPS. CMP rules previously provided only for sanctioning Service Rifle and Pistol EIC matches and a variety of As-Issued Military Rifle "club" matches (Garand, Springfield, Vintage Military Rifle, Carbine, Rimfire Sporter). Several match sponsors requested that the CMP sanction state championships in CMP disciplines, especially for As-Issued Military Rifles. Some match sponsors wanted to offer championship aggregates in Service Pistol competition. Other sponsors want to run true Service Rifle state championships with rules that have no sighters and stand before rapid-fire requirements. The new rules provide for sanctioning state championships in all CMP disciplines and for longer aggregates to facilitate such matches. See Rule 3.0. State association approval or sign-offs will be required for state championships. Application forms and procedures for these competitions will be released in the coming weeks.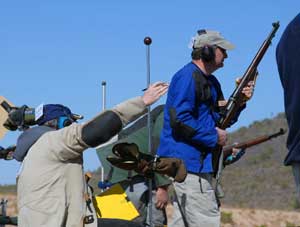 The scorer on the left is using the proper hand signal to indicate to the Range Officer that his competitor is loaded and "ready" for a rapid-fire stage in a John C. Garand Match to start.
INCREASED SCORER RESPONSIBILITIES. In a change intended to enhance safety on the firing line and support the modification of loading procedures for rifle rapid-fire, Rule 5.3.3 and the rifle firing procedures (Annex A) both stress that scorers are "match officials" who are responsible not only for the accurate scoring of their competitor's targets, but also for monitoring safe rifle handling on their firing points. Scorers in rifle events where pit-operated targets are used are now required to respond to the range officer when he/she asks IS THE LINE READY? or IS THE LINE CLEAR? Scorer hands directed downrange indicate YES; scorer hands pointed to the rear of the range indicate NO. During firing, scorers are also expected to monitor the competitor's muzzle control and safe loading (are bolts being closed on empty chambers while loading for rapid-fire), to count shots fired and report saved rounds in rapid-fire.

AS-ISSUED RIFLE SPECIFICATIONS. The new rules clarify which sights may be used on M1903 rifles; retrofitted USMC-type .100" posts and apertures are allowed on all M1903 and M1903A3 rifles. In a rule change intended to level the playing field for foreign military rifles, these arms may now be retrofitted with post front sights no wider than .100 and with sling swivels no wider than 1 ¼" at the six o'clock position. See Rule 6.3.6.

AWARDS. Updated Achievement Award Cut Scores and some changes in the point values for eligible competitions that count towards the Distinguished International Shooters Badge are included.

All 2009 rule changes are underlined so they can be identified. The 13th Edition 2009 CMP Competition Rules that govern CMP service and military pistol and rifle events is posted on the CMP website at http://www.odcmp.com/Competitions/Rulebook.pdf. Printed copies of the rulebook may also be purchased for $3.00 each from CMP Competitions, P. O. Box 576, Port Clinton, Ohio 43452.