ANNISTON, ALABAMA – It required setting two new national precision air rifle records to do it, but Heather Kirby, 16, of Kentucky's Shelby County High School U.S. Marine Corps JROTC, did just that as she edged her teammate and defending national champion Connor Davis, 19, by just five hundredths of a point in aggregate scoring, 1285.45 to 1285.40, respectively.
<! Nested Table for picture>
CMP Board Chairman Judith Legerski congratulates Heather Kirby on the range immediately following Day 2 competition when Kirby set two new national records for precision air rifle, winning the 2012 National JROTC championship.


Kirby set two new open/overall national records for individual three-position scoring in qualification-plus-final score of 699.0, topping the previous record of 697.5 set by Davis in last year's National JROTC championship. She also set the new open/overall national record for a final score of 105.0 (109 being perfect in computerized scoring). The latter record also belonged to Davis who set it with a 103.8 in the 2010 Gary Anderson Invitational. Kirby's performances were also new records for the USMC JROTC in precision air rifle and in her age group of 15 & 16. Both Marine Corps JROTC records formerly belonged to Davis as well.
<! Nested Table for picture>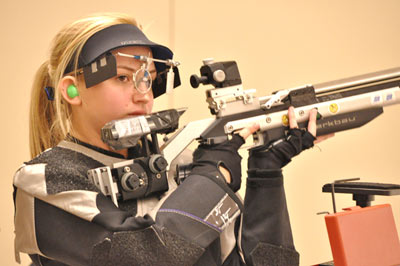 Heather Kirby prepares to send a sighter shot downrange in preparation for the Day 2 final of the JROTC championship. Moments later Kirby fired a 105.0, the highest score ever fired in an official 3P Air Rifle Council open class precision final in the U.S.


JROTC National aggregate scoring combines the scores fired in three positions on days 1 and 2 plus the average score of the two finals. Both days Kirby and Davis fired world-class scores and the outcome of the precision championship was not known until the final shot.
<! Nested Table for picture>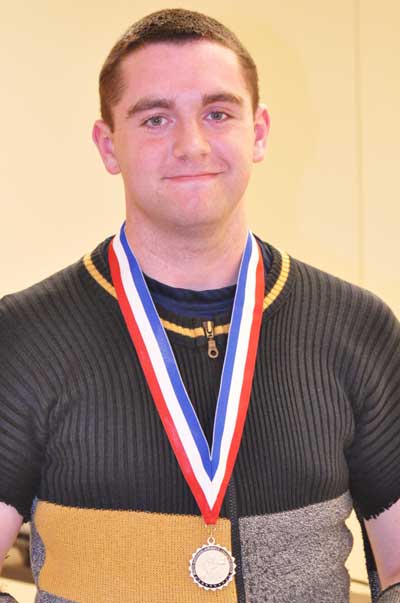 Connor Davis, the 2011 defending national champion in precision air rifle, fought valiantly to repeat in 2012 but came up five hundredths of a point short to teammate Heather Kirby. Davis fired a 104.2 final on Day 2 in a world-class performance by both competitors.


Coming into the Nationals, Davis had been nearly invincible since winning the Marine Corps JROTC service and national titles last year, and several events since, including a high junior finish in the U.S. Olympic Trials for Airgun in February. When Davis took a near six-point lead in Day 1 competition in the national championship, including an almost-perfect standing score of 199, it seemed like a repeat JROTC precision championship was within his reach.

In two days of shooting, Davis led in qualification scoring, 1183 to 1182 but neither he nor Kirby shot particularly high-scoring finals on Day 1. Davis started strong again on Day 2 with very good scores in prone and kneeling, but dropped six points in standing.

Kirby put on a clinic in clutch shooting on Day 2 as she made virtually every shot count. She erased almost all of her six-point deficit through qualifying and turned up the heat in the final, firing her national record-breaking 105.0.
<! Nested Table for picture>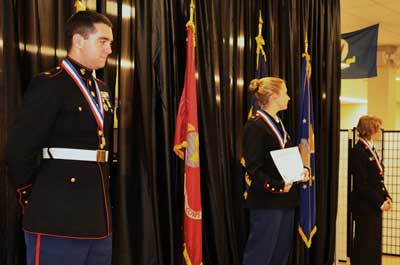 Connor Davis, Heather Kirby and Jodi Cull-Host reflect on their National Championship moment at the 2012 JROTC awards banquet at the CMP Anniston marksmanship center.


The match was so close; it appeared that Davis' 104.2 (a record that lasted for just seconds) in the Day 2 final could be the break-out he needed until Kirby trumped it with her 105. Since the advent of computerized targetry, no male or female has fired a perfect score of 109 in official competition, but 105 is a world-class final score.

Kirby's finals score average of 103.45 proved the difference to Davis' 102.4, making up the overall point she lost in qualifying and boosting her finals average.
<! Nested Table for picture>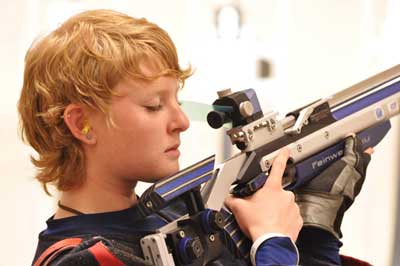 Jodi Cull-Host visualizes a shot en route to placing third in the National JROTC precision air rifle championship, representing Los Alamos High School Navy JROTC, New Mexico.


Jodi Cull-Host, 18, of Los Alamos High School U.S. Navy JROTC, New Mexico, placed third in the precision competition, just five points behind. Cull-Host fired three 199's and a 200 in prone and kneeling positions in posting her 1280.25 aggregate.
<! Nested Table for picture>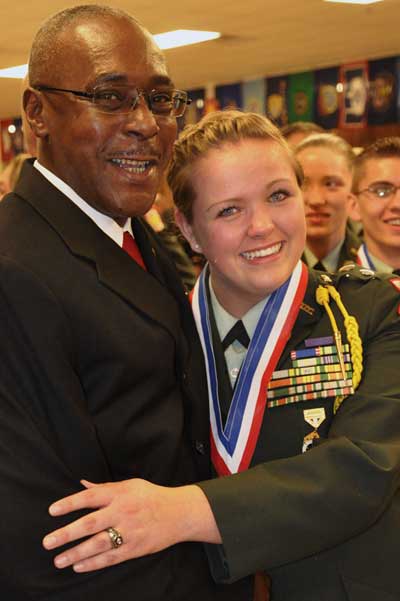 An emotional Tessa Howald, comforted by awards presenter Leon McMullen, Deputy Director of the U.S. Army JROTC and Ozark High School teammates, reacts to her team's victory in their first-ever precision air rifle national championship.


Tessa Howald, 18, of Ozark High School Army JROTC, Missouri, placed fourth in her first year of precision air rifle competition. Howald placed second in individual sporter air rifle competition in last year's championship. She shot her way into fourth place in the Day 1 final after a dramatic one shot shoot-off with teammate Makennon Doran, 17.

In the shoot-off, Doran fired first, scoring a 10.3. Howald studied her sight picture and was not satisfied. She regrouped and after an extended hold, fired a 10.5 to clinch the fourth spot.
<! Nested Table for picture>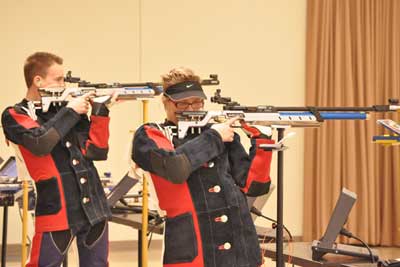 Makennon Doran, left, and Tessa Howald compete in a one-shot shoot-off for fourth place in the Day 1 precision air rifle final. Howald, trailing by three points after qualification shooting, shot her way back into a tie during the final. She topped her teammate 10.5 to 10.3 in the shoot-off. Howald placed fourth overall in the championship.


"I could not have told you where that shot went," she said with tear-filled eyes at the conclusion of the awards banquet. "It didn't feel good, but didn't feel bad. But to go up against a teammate too; I was just so proud of him. He did really well," she said.

Howald also reflected on her transition from shooting sporter to precision air rifle this season after years of sporter competition. "At first it was really difficult to transfer everything, but it's been one of the best things I think anyone could do, to start out in sporter and then transfer," she said.

In JROTC service competition in precision class, Kirby and Davis led the Marine Corps. Kelsey Moral, 17, of East Coweta High School USMC JROTC, placed third with a score of 1262.9.

Howald was the high Army JROTC competitor with an aggregate score of 1271.5. In second place was Doran, who fired a 1265.3 and Jasmine Juarez, 17, of Del Valle High School Army JROTC placed third with a total score of 1264.9.

In Navy JROTC competition, Jodi Cull-Host led the way, followed by Darren Kasl, 17, of El Dorado High School, Texas, who fired an aggregate of 1268.1. Briana Figueroa, 17, of Manzano High School, New Mexico, placed third with a total score of 1264.8.

Christopher Cottrell, 18, of Prairie High School Air Force JROTC, Washington, led the Air Force cadets with an aggregate score of 1159. DeArmond Lopez, 17, of Sandia High School AFJROTC, placed second in the precision class with 1151. It was only the second year of competition for the Air Force JROTC in the precision category. Lopez set the new Air Force JROTC individual precision air rifle national record in the kneeling position on Day 1 with a 197 and 16 center shots.
<! Nested Table for picture>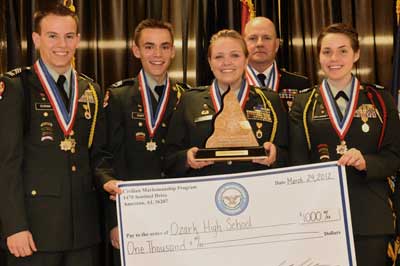 Ozark High School Army JROTC, Missouri, won the team championship in the precision air rifle class with an aggregate score of 4645. It was the first time Ozark has fielded a precision air rifle team. Team members are, Makennon Doran, Logan Hunt, Tessa Howald and Shelby Brummett.


In team competition, Ozark High School Army JROTC, Missouri, unseated defending champion Shelby County High School USMC JROTC, Kentucky, with a team aggregate score of 4645. It was the first time Ozark has fielded a precision air rifle team. Team members funded the majority of the cost of their own rifles and dedicated themselves to getting up to speed in the precision class with great success. Ozark team members are Tessa Howald, Makennon Doran, Shelby Brummett and Logan Hunt.
<! Nested Table for picture>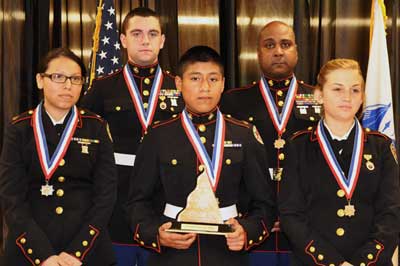 Shelby County High School USMC placed second with a combined score of 4637. Team members are Cristina Sanchez, Connor Davis, Miquel Batz and Heather Kirby.


Shelby County HS placed second with a combined score of 4637. Team members are Connor Davis, Heather Kirby, Miquel Batz and Cristina Sanchez. Del Valle HS Army JROTC, Texas, placed third with an aggregate score of 4607. Team members are Jasmine Juarez, Kevin Cruz, Jose Arras and Jaime Regis.
<! Nested Table for picture>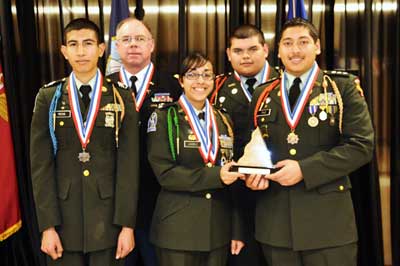 Del Valle HS Army JROTC, Texas, placed third with an aggregate score of 4607. Team members are Jasmine Juarez, Jaime Regis, Jose Arras and Kevin Cruz.


Los Alamos HS Navy JROTC, New Mexico, placed fourth with 4577 team match points. Team members are Jodi Cull-Host, Cory Aslin, Tessa Snyder and John Gibson. Walla Walla HS Army JROTC, Washington, placed fifth with an aggregate score of 4555. Team members are Kyle Jameson, Sarah Jameson, Karri Mickelson and Caitlin Lasseigne.

For complete results of the 2012 National JROTC Championships, log onto http://clubs.odcmp.com/cgi-bin/report_matchResult.cgi?matchID=8422. To view, download, print or purchase CMP photos from the event, log onto http://cmp1.zenfolio.com/.