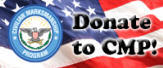 We want your feedback! Please let us know what you think about TFS. Do you have an interesting story or article that you would like to share? If so, please let us know!
SAFETY

The Civilian Marksmanship Program is dedicated to the respect for and safe handling of firearms, instilling patriotism and discipline in our youth participants. The CMP provides its constituents with the highest level of instruction in the proper control of firearms by highly-skilled coaches and veteran range safety officers in the classroom, at our ranges and wherever the CMP banner is displayed.
Upcoming CMP Events:

Tuesday & Thursday Night Open Public Shooting
CMP Marksmanship Centers,
Port Clinton, OH
Anniston, AL

Shooters, including aspiring new shooters are invited to take advantage of a new opportunity to do practice shooting. Both ranges consist of 80-point, 10-meter air gun range and are fully equipped with electronic targets that accommodate air rifle, air pistol or National Match Air Rifle shooting. Instruction and equipment are also available. Visit http://www.TheCMP.org/3P/
MarksmanshipCenters.htm for additional information.
---
Download a CMP Sales
Catalog Today
---
CMP Applications & Software

The CMP currently offers three Apps for shooting sports. Each download supports the Civilian Marksmanship Program. For more information, visit http://www.thecmp.org/
Comm/Apps.htm.
---
Please note the changes for the 2014 National Match Schedule posted at http://www.thecmp.org/nm/
2014nmcalendar.pdf.
---



CMP Offers Pistol Small Arms Firing School and
Warm-Up Match in July at National Matches

CAMP PERRY, Ohio – Those who have always wanted to try their hands at firing a real M9 Pistol in a safe and relaxed environment are encouraged to attend our Pistol Small Arms Firing School (SAFS), held Monday, July 7, during the Opening Day of the 2014 National Rifle and Pistol Matches at historic Camp Perry.

The Woodstock Rifle and Pistol Club

The Woodstock Rifle and Pistol Club (#018011) held a CMP Rimfire Sporter Match on April 12, 2014. A team from the Proctor Fish and Game Club of Proctor, VT, took the high honors for the day.

CMP Summer Air Rifle Camps Expand for 2014 to Accommodate Popularity

The Junior Air Rifle Camps have been a staple in the Civilian Marksmanship Program (CMP) summer program lineup for over a decade. The highly popular camps and clinics train high-school age (9-12 grade) junior shooters on intermediate and advanced air rifle marksmanship skills through various exercises and demonstrations.

Eight Is Enough as Osborn Sets Records
at CMP Regional Championships

LAYTON, UT; ANNISTON, AL; CAMP PERRY, OH – Setting even one National Record is an accomplishment that many shooters strive to achieve, but few are able to grasp. Though many are satisfied when they finally have their names added to the record books, for a certain young shooter at the second annual CMP Regional Championship, setting one record just wasn't enough. Or two. Or three.

Small Arms Firing School Offered at
2014 Eastern CMP Games

CAMP BUTNER, N.C. – The Eastern CMP Games held at Camp Butner will again host a Small Arms Firing School (SAFS) and M16 Match for new and experienced shooters. A staple event at the National Matches in Camp Perry, Ohio, since 1918, over 80 students received classroom and hands-on involvement in a safe, fun and engaging environment for the first time at the 2013 Eastern Games, with even more expected at this year's Games.

Nick Mowrer earns U. S . Distinguished International Shooters Badge –
Becomes him the 35th shooter to become Triple Distinguished

Nick Mowrer, who is originally from Ramsay, Montana, has been one of our successful highpower service rifle shooters during the National Matches. Nick won the CMP's National Junior Highpower Rifle Championship (Col. Bill Deneke aggregate; President's, NTI, National Trophy Junior Team) in 2008 (1270-36X). After his junior highpower career concluded, he took up international pistol shooting and has trained as a Resident Athlete at the Olympic Training Center in Colorado Springs.

How to make a folding Prone Mat for under $30 with supplies from Walmart

As a director and coach of a rapidly growing junior rifle team, I have been struggling to get equipment to suit all of my new shooters. During my indoor season, its easy enough to make ends meet with two different nights to split the team up. But with outdoor season upon us and 15 shooters moving to our outdoor 17 position range, we will have to find a way to get all of them shooting prone and I had only 6 mats on hand (5 shooters already had their own mats). Prone mats range in price from $70 to $120 + shipping. I had to quickly and economically get prone mats for all.

DCC'S Air Rifle Club Enjoys Successful First Year

DCC's first-ever Air Rifle Club had a memorable initial year of competition. Team members competed in the American Legion 2013-14 National Postal Tournament, where one of DCC's 4-member teams placed 16th out of the 44 schools entered in this national event. In the same competition but for individual scoring, another DCC team member placed 56 out of the 155 competitors, again quite an accomplishment for a first year Air Rifle Team, according to Head Coach Bernie Snyder.

Ozark, Cushman Hold Onto Championship Titles at 2014 JROTC Nationals

CAMP PERRY, OH – Third time is a charm, or just another win, for Ozark High School, MO, which overtook the overall precision team title for the third consecutive year at the JROTC National Championship, held March 20-22 at the CMP Gary Anderson Competition Center in Camp Perry, OH. Team members of the Army unit, Robert Broadstreet, Benjamin Estes, Brianna Sawyers and Sadie Evans, fired a combined score of 4660-291x to best the field by a margin of 20 points.

The Reel Story of Winter at Camp Perry

CAMP PERRY, OH – Looking out from the Civilian Marksmanship Program (CMP) Headquarters building during the first few frigid months of 2014, a parade of trucks and SUVs could be seen filling the parking lot of Petrarca Range, as a sea of people flowed from the vehicles. No, they weren't shooters anxious to get the National Matches underway. A LURE more so than the ALLURE of Camp Perry brought a wave of fishermen, hoping to plunge into an ice fishing dream vacation in the frozen wonderland of Lake Erie.

CMP to Host JROTC National Championship at Camp Perry

CAMP PERRY, OH – Top junior shooters from around the country will compete for the gold at the 2014 JROTC Three-Position National Championships, held March 20-22 at the new Civilian Marksmanship Program (CMP) Gary Anderson Competition Center. There, high school cadets from Army, Navy, Marine Corps and Air Force JROTC (Junior Reserve Officers' Training Corps) units will meet on the firing line to complete a journey that has been months in the making.

CMP's Gary Anderson Competition Center Becomes Venue for Young Man's Eagle Scout Dreams

CAMP PERRY, OH – Eagle sightings have been known to be a common occurrence at the ranges of Camp Perry. While most are seen flying outdoors around the highpower ranges, sources say they may have recently spotted one inside the air range at the Civilian Marksmanship Program's (CMP) Gary Anderson Competition Center – or, at least, an aspiring Eagle.

SGT Robert Evans: Defying the Odds, Single-Handedly

At the 2013 Western CMP Games, SGT Robert Evans accomplished what a lot of shooters strive for their entire shooting careers – a Distinguished Rifleman's Badge. For most riflemen, the feat of becoming Distinguished is so big that they must reach for it with both hands, but, for Evans, he only needed one.

Top JROTC Shooters Perform at Regionals to Earn Spot at Upcoming JROTC Nationals

ALBUQUERQUE, NM; ANNISTON, AL; CAMP PERRY, OH – Army, Marine Corps, Navy and Air Force JROTC units met on the firing line to compete in the 2014 JROTC Regional Championships the weekends of Feb. 14-16 and Feb. 20-22 to give their all and earn their places at the JROTC National Championships in March.

Register Now for CMP's First Online M1 Maintenance Clinic

Registration is now open for the CMP's online M1 Maintenance Clinic, for those wishing to learn more about assembly, disassembly, cleaning and other techniques used to ensure your rifle's peak performance. The clinic will be the first live online class ever offered by CMP.

Air Rifle and Pistol Juniors Collide at 2014 Camp Perry Open

CAMP PERRY, Ohio – The doors to the CMP North Marksmanship Center opened January 17-19 to a crowd that braved the snow and sub-zero temperatures to witness one of the most exciting CMP competitions of the season. Competitors and spectators traveled from around the country to take part in the dramatic finals the match promises and to observe the one-of-a-kind Super Final that can only be seen at the Camp Perry Open.

Super Finals Breaks the Silence of Competition at 2014 Camp Perry Open

CAMP PERRY, OH – For those who have never witnessed a Super Final, it can mostly be summed up in one word: FUN. But on top of that, it can also be described as chaotic, loud, surprising and, for the competitors, challenging.

New Opportunity for Prizes Offered at 2014 CMP Monthly Matches

CAMP PERRY, OH; ANNISTON, AL – The Civilian Marksmanship Program (CMP) has added a new Monthly Match League to this year's program, where shooters will have the chance to be ranked among Monthly Match participants across the country.

CMP Announces Rulebook Changes for 2014-2015

The CMP Rules Committee has approved the 2014-2015 18th Edition of the CMP Competition Rules for Service Rifle and Service Pistol and the 2014 2nd Edition CMP Rules for CMP Games Rifle and Pistol Matches. This is the earliest the CMP has released a new version of the Rulebooks, which previously were released in March or April. In another major change, the CMP Rimfire Sporter Rules, which were previously in a separate rulebook, are now included in the CMP Games Rules.