<! Nested Table for picture>

Range 4 at Camp Butner, North Carolina, with its 50 firing points and picturesque setting, hosted the 2nd Eastern CMP Games on 3-6 May.


<! Nested Table for picture>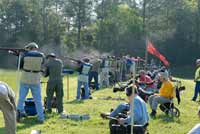 The 2008 Eastern CMP Games featured four days of shooting and 398 event entries.
The 2008 edition of the Eastern CMP Games saw a big jump in event entries and, with a break in the weather, some great scores. The first Eastern CMP Games Matches took place in May 2007 at Camp Butner, North Carolina. There were 267 event entries in those matches. This year the final event entry count ended at 398, a significant increase over the first year's participation.

Shooters who attended last year's inaugural event remember the cold, wind and rain that drove everyone's scores down, but this year was totally different. Warm Carolina spring temperatures, light winds and only one brief spell of rain created ideal shooting condition. As a result there were 12 Garand-Springfield-Vintage Military Rifle scores in the 280s and competitors in the three matches and two re-entry matches were presented with 103 Garand, 31 Springfield and 16 Vintage Military Rifle Gold, Silver and Bronze Achievement Medals.

<! Nested Table for picture>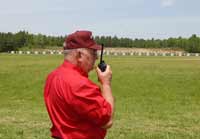 Richard Whiting, a CMP Senior Master Instructor from Bridgeport, West Virginia, was the Chief Range Officer for the Camp Butner matches.
The Eastern Games schedule began on Friday, 2 May, with a GSM Master Instructor Training Course for 14 students who were certified to teach As-Issued Military Rifle Clinics in their home clubs. This was followed by a New Shooter Clinic on Saturday morning, 3 May, that was attended by 50 shooters. After two hours of instruction on gun and range safety, rifle operation, match procedures, shooting positions and techniques, students moved to the range for a dry firing session where they could work out prone and standing positions.

The Games' schedule offered three opportunities to fire the 30-shot John C. Garand Course of Fire with either the M1 Garand, the M1903 Springfield or a Vintage Military Rifle on Saturday afternoon, Sunday morning or Monday morning. Competitors could shoot each event once or they could shoot one event a second or third time on a reentry basis. A key objective of the Regional CMP Games program is to give competitors multiple opportunities to compete in these fascinating events.

<! Nested Table for picture>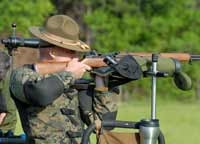 Marine Corps Rifle Team OIC CWO2 Peter Burns topped all competitors in two of the four Eastern Games Matches. His 288-6X that won the Vintage Military Rifle Match was the highest score fired over the four days. Burns' 375-6X was the match winner in the As-Issued M1 Garand EIC Match.
The best score of the Games was a 288-6X fired by CWO2 Peter Burns, USMC, in the Vintage Military Rifle Match. Burns is now the OIC of the Marine Corps Rifle Team, but he competed in the Camp Butner As-Issued Military Rifle Matches to "just shoot for fun." He fired a Swiss Schmidt-Rubin M1911 rifle in 7.5mm Swiss caliber. The Schmidt-Rubin is equipped with a barrel-mounted open rear sight so Burns' leading score is a challenge to all shooters who believe you can only shoot good scores with aperture sights. Burns fired all three rifles while also placing sixth in the Garand Match, third in the Springfield Match and first overall in the As-Issued M1 Garand EIC Match.

<! Nested Table for picture>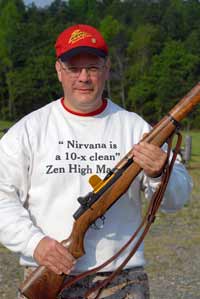 Sean Leighton, Mechanicsburg, PA won the John C. Garand Match at Camp Butner and placed second in the Springfield and Vintage Military Rifle Matches.
The second best score of the Games was a 287-5X posted by Sean Leighton in the Garand Match. Leighton is a Distinguished Rifleman from Mechanicsburg, Pennsylvania who won the Springfield Rifle Match at the National Matches at Camp Perry in 2006. Leighton was also second in both the Springfield and Vintage Military Rifle Matches. Future Eastern and Western Games plans call for adding a 3-gun aggregate to the award list. If there had been such and award this year, it would have been a close contest between Burns and Leighton, with Burns ending up with an 852-15X to 844-13X edge.

Robert Churchill from New Caledonia, Wisconsin was the victor in the Springfield Rifle Match. His 281-5X score just edged Leighton and Burns who both fired 280. Churchill also won the High Senior Plaque in this event. Clinton Mowery from Albany, Georgia was the High Senior in the Garand Match with 272-3X. Phil Randall from Ceresco, Michigan was the Vintage Military Rifle High Senior. 16-year-old James Beall from Concord, North Carolina was the High Junior in the Garand Match with a 256-2X total.

<! Nested Table for picture>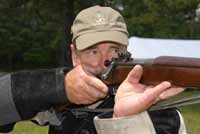 Robert Churchill, New Caledonia, WI won the Springfield Match. He also was high Senior in this event.
The fourth day of CMP Games competition was "Leg Day," the As-Issued M1 Garand Special EIC Match. Competitors in Special EIC Matches who have not yet earned any EIC credit points can earn four EIC credit points that count towards the 30 points required for awarding the prestigious Distinguished Rifleman Badge. 60 of the 70 competitors in this match had earned no previous EIC points so six total "4-point legs" were awarded. The course of fire for this match is a 40-shot event that also includes a sitting rapid fire stage in addition to the 10-shots prone slow-fire, 10 prone rapid-fire and 10 standing of the 30-shot Garand Course.

CWO2 Peter Burns had the top overall score in this match with a 375-6X, but was not eligible to earn credit points since he is already Distinguished. A unique special award was available for the top scorer who was eligible to win 4-point legs, a Bushmaster DCM XR rifle presented by Bushmaster Firearms. By firing a 374-13X total, Michael O'Neill from Belmont, North Carolina won the Bushmaster AR-type competition rifle. O'Neill was firing in his first CMP-sanctioned match.

<! Nested Table for picture>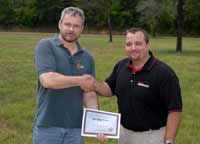 Jarrod McDevitt (r.) of Bushmaster Firearms was on had to present a certificate for the Bushmaster DCM XR rifle that was won by Michael O'Neill, Belmont, NC. The Bushmaster competition rifle was donated by Bushmaster for the highest scoring competitor in the As-Issued Garand EIC Match who eligible to win a 4-point leg. The 4-point leg is the first step in a series of EIC service rifle matches that could lead to earning the Distinguished Rifleman Badge.
In addition to O'Neil, the other winners of their first EIC points were Douglas Thompson, who flew in from Guinda, California; William Davis, Skaneateles, New York; Richard Williams, Kunkletown, Pennsylvania; Kenneth Lygren, Crouse, North Carolina and David Ficklin, Spartanburg, South Carolina.

The Eastern and Western CMP Games Matches are large regional events that not only offer a full program of As-Issued Military Rifle Matches, but that also offer a full array of special events. The Games are conducted by CMP staff and feature a Master Instructor Training Course, a New Shooter Clinic, a Shooters' Barbecue and CMP Rifle and Ammunition Sales. Staff from the CMP Distribution Center at Anniston, Alabama brought a truckload of M1 Garands, Carbines and .30-06 ammunition to sell each afternoon after the competitions ended.

The Eastern Creedmoor Cup Matches followed the CMP Games Matches on 7-11 May. Dates for the 3rd Eastern CMP Games have already been set. Mark your calendars to be at Camp Butner on 2-6 May 2009 for the Eastern CMP Games and 7-10 May for the 2009 Eastern Creedmoor Cup Matches. Plans call for the addition of both a Carbine Match and a Rimfire Sporter Match in 2009.

Complete results for the 2008 Eastern CMP Games Matches are posted on the CMP website at http://clubs.odcmp.com/cgi-bin/report_matchResult.cgi?matchID=2950. A full collection of photos from the Eastern Games Matches are posted on the CMP website at http://www.odcmp.com/Photos.htm.
| | |
| --- | --- |
| CMP .30-06 ammunition was an especially hot seller at the Eastern Games. The CMP brought six pallets of ammo and it was all sold out by the second day. A line of shooters waiting to purchase ammo is shown here. | CMP Staff from the CMP Distribution Center in Anniston, AL were at Camp Butner with a truckload of M1 Garands and Carbines that competitors and customers could inspect and tag for purchase. |
| JJ O'Shea from Huntersville, NC, leads the highly successful M1 for Vets program. During the Games O'Shea presented their 125th M1 to CWO2 Bert Schultz, USMC. O'Shea is shown here coaching CWO2 Schultz as he fires his new rifle in the Garand Match. The Garand was built by Isaac McCaskill of Cassett Gun Works, Cassett, SC. | David Ficklin, Spartanburg, South Carolina, won three Gold Achievement Medals while shooting the M1 Garand in the Garand Match and two Garand Reentry Matches. Ficklin also won four EIC credit points in the As-Issued M1 Garand EIC Match. |
<! Nested Table for picture>