The 2010 Eastern CMP Games were the fourth and by far the largest in this relatively young series of Regional CMP Games Matches. Each year, there are two Regional CMP Games, one at Camp Butner, North Carolina in May and one at Phoenix, Arizona in October. The 4th Eastern CMP Games Matches were just concluded at Camp Butner on 8-11 May. They featured another big increase in entries, the testing of a possible new CMP rifle event and lots of excellent marksmanship highlighted by David Thompson's double win in the Carbine Match and the As-Issued Military Rifle 3-Gun Aggregate. More than 300 CMP Games competitors earned 334 Gold, Silver and Bronze CMP Achievement Medals in five different As-Issued Military Rifle Matches. In addition, 17 of those competitors won EIC credit points that count towards the earning of Distinguished Rifleman or Pistol Badges. <! Nested Table for picture>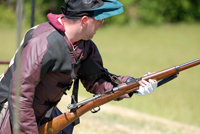 A Vintage Military Rifle Match competitor waits for his rapid-fire target to come up, with five rounds loaded and "with bolts remaining open."
In four years, overall participation in the Eastern Games rifle events has grown from 265 event entries in 2007, to 327 in 2008, to 577 in 2009 and up to 764 this year. The 2010 total is a 32 percent increase over 2009. If the 83 entries in the two service pistol events and 72 entries in the new Vintage Sniper Test Match that were also conduced this year are also counted, the 2010 event entry count was a whopping 919. As a result, the capacity of the three Camp Butner ranges used for the CMP Games Matches was stretched to the limit. For the 30-shot As-Issued Military Rifle Match on Saturday, an absolute maximum of 200 shooters were squadded in four relays on a 50-point range. The 32-point Rimfire Sporter range was also filled to capacity for its two scheduled relays on Sunday afternoon. <! Nested Table for picture>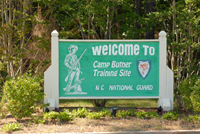 The Eastern CMP Games take place at Camp Butner, North Carolina. Camp Butner is a North Carolina National Guard training site. Three different Camp Butner ranges were used for the 2010 Games.

The first Games event was a New Shooter Clinic, taught by retired CMP Director Gary Anderson, that kicked everything off on Saturday morning. Over three-fourths of the 50 plus attendees at the clinic said they had never fired in a rifle competition before. The Sunday morning schedule featured a Pistol Fundamentals class that was designed for newcomers to service pistol shooting. Indeed, a major emphasis in the Regional CMP Games Matches is education and doing as much as possible to make them "new shooter friendly." <! Nested Table for picture>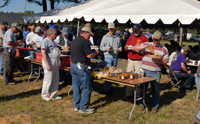 Competitors in the Eastern Games Matches were guests at a Sunday afternoon barbecue provided by the CMP after the day's matches were over.


The foundation matches of the Eastern and Western CMP Games are the "GSM" As-Issued Military Rifle triad. Three different 30-shot Garand, Springfield and Vintage Military Rifle Matches were fired on Saturday afternoon, Monday morning and Tuesday morning so competitors could have an opportunity to fire all three rifles. Most of the 71 competitors who did this did it for the experience of shooting these different, historic and fascinating rifles. For the best shooters, however, there was also intense competition for the "Top Gun" or High 3-Gun Aggregate award. <! Nested Table for picture>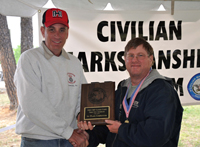 David Thompson, Keyser, WV (on right), won the Eastern Games 3-Gun Aggregate for the second consecutive year. Thompson also won the 2010 Eastern Games Carbine Match. He is shown here being congratulated by Eastern CMP Games Match Director Dennis DeMille.

David Thompson from Keyser, West Virginia won the first 3-Gun Aggregate ever offered during in the 2009 Eastern Games with a 856-22X total. This year, Thompson repeated in winning the Top Gun aggregate and a Gibbs Rifle Company replica M1903-A4 Sniper Rifle. His 2010 score was two points higher at 858-19X. Competition for this award was close with only ten points separating the top four competitors. The top five in this year's 3-Gun Aggregate were:
| | |
| --- | --- |
| David Thompson, Keyser, WV | 858-19X |
| Sean Leighton, Mechanicsburg, PA | 851-13X |
| Douglas Armstrong, Lexington, NC | 850-16X |
| Glendale Rutherford, Tallapoosa, GA | 848-19X |
| Forrest Woody, Hendersonville, NC | 844-14X |
Of the three Garand, Springfield and Vintage Military Rifle matches, the Garand Match was the most popular with 213 shooters. The match winner was Randy Ent from Russell, Pennsylvania, who had an excellent 291-8X total. Sean Leighton from Mechanicsburg, Pennsylvania, posted a 290-5X to win the Springfield Match in a very close contest where the top four shooters were separated by only two points. Robert Pestridge from Marathon, New York won the third match of the triad, the Vintage Military Rifle Match. Pestridge fired a 6.5 x 55mm Swedish Mauser in compiling his winning score of 284-7X.

121 competitors fired the second match on the Eastern Games schedule, the As-Issued M1 Garand Special EIC Match, on Sunday morning. Phillip Randall from Ceresco, Michigan received the award plaque for the top score in this match, a 379-7X. The big prizes in this match, however, were "introductory" 4-point legs that were awarded to the top ten percent of all competitors who had earned no previous EIC points. Randall won a 4-point leg in this same match at the 2009 Western CMP Games so he was not eligible to earn any additional 4-point legs. The second place shooter, Dan Warren from Raleigh, North Carolina, however, was eligible. His 377-10X placed him on top of the 100 competitors who were eligible to earn 4-point legs. This means ten shooters went home with their first EIC points in what hopefully will become their successful quests to earn the full 30 points they need to become Distinguished Riflemen.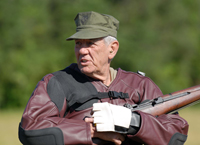 TV star Gunnery Sergeant Lee Ermey won a 4-point leg in the Eastern Games As-Issued M1 Garand Special EIC Match.

The fact that two of the ten new leg winners have noteworthy relationships to the shooting sports provided a unique highlight for this match. Gunnery Sergeant R. Lee Ermey (http://en.wikipedia.org/wiki/R._Lee_Ermey), retired Marine Corps drill instructor and later a Golden Globe Award-nominated actor and star of the History Channel's Mail Call and Lock N' Load shows, won a 4-point leg in this match. Another 4-point winner was Dave Emary, Chief Ballistician at Hornady Manufacturing. Emary was the lead developer of the Hornady .30-06 M1 Garand Match Ammunition that was issued to all Garand and Springfield competitors in the 2009 and 2010 Regional and National CMP Games matches.
| | | |
| --- | --- | --- |
| Dan Warren, Raleigh, NC | 377-10X | 4 EIC points |
| David Price, Taylorsville, NC | 376-9X | 4 EIC points |
| David Emary, St. Paul, NE | 369-5X | 4 EIC points |
| Kyle Cook, Waynesville, NC | 367-7X | 4 EIC points |
| Michael Curran, Kensington, MD | 367-4X | 4 EIC points |
| GySgt R. Lee Ermey, Palmdale, CA | 367-4X | 4 EIC points |
| Troy Beatty, Auburn, AL | 364-4X | 4 EIC points |
| Richard Williams, Stroudsburg, PA | 363-5X | 4 EIC points |
| Thomas Powell, Lumberton, NC | 363-3X | 4 EIC points |
| John Powell Jr., Birmingham, AL | 362-3X | 4 EIC points |
The Eastern CMP Games Program included two other individual rifle events, a Rimfire Sporter Match fired on Sunday afternoon and an M1 Carbine Match fired on Monday afternoon. The Rimfire Sporter event was added to the Eastern Games program in 2009 to introduce shooters in the Mid-Atlantic region to this fast growing discipline. 32 shooters shot the inaugural event last year. This year, participation nearly doubled with 58 competitors filling two full relays on a 30-point range.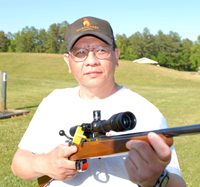 Ron Villanueva, Parma Heights, Ohio, fired a 595-41X T-Class score in the Rimfire Sporter Match. This is the highest score ever recorded in a CMP-sanctioned Rimfire Sporter event.

William Flagg, Jr. from Ashland, Virginia, fired 590-33X in his very first competition to win the 2009 Eastern Games Rimfire Sporter T-Class. This year, Flagg shot two points better with a 592-29X, but this score was not enough to defeat veteran Rimfire Sporter competitor Ron Villanueva from Parma Heights, Ohio. Villanueva fired an all-time Rimfire Sporter best of 595-41X. Villanueva used a CZ 452 rifle in posting his winning score. Richard Sauer from Pennellville, New York had the other winning score in the Rimfire Sporter Match when he totaled 562-14X to win the High O-Class (open sighted rifles) award.

<! Nested Table for picture>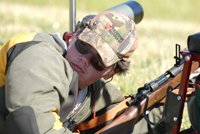 Rimfire Sporter competitors had an opportunity to win two rifles based on their best center shots on their last standing rapid-fire targets. 14-year-old Robert Hudson from Halifax, VA (shown here shooting in the Springfield Match) had the best center shot in the T-Class and took home a Remington M597 rifle.
101 competitors fired the M1 Carbine match on Monday afternoon. 3-Gun Aggregate winner David Thompson posted the top score of 365-1X. 51 Carbine Match competitors fired CMP Achievement Medal winning scores of 318 or higher to go home with Gold, Silver or Bronze Achievement Medals.

The Sunday afternoon "military pistol" events were an Eastern Games program feature for the second year. They began with a Pistol Fundamentals Clinic taught by Double Distinguished shooter Steve Huff from Hardy, Virginia. 32 students took advantage of this special instructional program.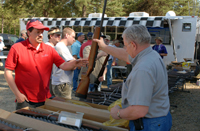 Another highlight of the Regional CMP Games Matches is the opportunities competitors and visitors had each day after shooting concluded to inspect a large selection of CMP rifles that could be tagged for purchase. Here CMP COO Orest Michaels hands a Kimber .22 rimfire rifle to a potential customer.

The first pistol event was an As-Issued Military Pistol Match where competitors could fire any military-type single-action semi-auto in 9mm caliber or larger. Pistols in these matches had to have fixed sights, a 4-pound trigger pull and no special accurizing. This match was fired at 25 yards, with shooters having the option of firing one or two-handed. Clinic instructor Steve Huff had the top score with a 271-6X score. This match was also a Special EIC Match where the top 10 percent of shooters who had won no previous EIC points were awarded "introductory" 4-point legs. 4-point leg winners were:
| | | |
| --- | --- | --- |
| Dewey Hales, Jr., Morrisville, NC | 270-6X | 4 EIC points |
| Kyle Defoor, Virginia Beach, VA | 263-0X | 4 EIC points |
| Charles Nothom, Springfield, VA | 256-3X | 4 EIC points |
The second military pistol event was a regular Service Pistol EIC match fired over the 30-shot National Match Course. Christopher Roberts from Charlotte, North Carolina won this match and 10 EIC points with his 265-4X score. Four EIC legs were awarded.
| | | |
| --- | --- | --- |
| Christopher Roberts, Charlotte, NC | 265-4X | 10 EIC points |
| Christopher Hudock, Raleigh, NC | 257-2X | 8 EIC points |
| Richard Pickard, Monroe, NC | 252-3X | 6 EIC points |
| Dewey Hales, Morrisville, NC | 248-5X | 6 EIC points |
Both Hales and Roberts took home M1911 award pistols donated by Springfield Armory and Colt Firearms. The 10 points Christopher Roberts won gave him the 30 points needed to earn his Distinguished Pistol Shot Badge and become a Double Distinguished shooter. Roberts earned his Distinguished Rifleman Badge in 2001. He also won the National Garand Match during the 2008 National Matches. Hudock has already established himself as one of the best junior service rifle shooters in the country. He earned his Distinguished Rifleman Badge in 2008. He has now won the National Springfield Rifle Match at Camp Perry two years in a row. Last summer at the National Trophy Rifle Matches he was a member of the winning Junior National Trophy Team. Hudock is also working hard on becoming Double Distinguished. He earned a four-point leg when he won the Special M9 EIC Match at the 2009 National Matches. The 8-points he won at Camp Butner now give him 12 pistol EIC points. Hales won 4 points in the Special EIC match and 6 additional points in the Service Pistol EIC Match to give him 12 total points as well.

One of the most interesting and anticipated events of the four-day 2010 Eastern CMP Games was an experimental Vintage Sniper Rifle Match. The match objective is to test the long-range sniper skills of two-person teams who fire vintage sniper rifles that were deployed during the Korean War, World War II or earlier. Match rules stated that all rifles used must have been issued in 1953 or earlier. Rifle could be equipped with as-issued or replica optics. Any safe ammo was allowed, including handloads.

The Vintage Sniper Match was fired at 300 and 600 yards on 300 and 600-yard highpower targets. Each team member fired 15 shots at each range while taking turns as the spotter and firer. After an initial sighter period at each range, the targets were raised for 20-second exposures and then were withdrawn for 30 seconds when the shots were scored and marked. Firing was done from the prone position; sandbag rests could be used<! Nested <! Nested Table for picture>.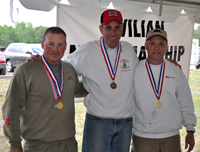 Eastern Games Match Director Dennis DeMille (center) congratulates Team Hornady members Joe Thielen (left) and Dave Emary (right) for winning the Vintage Sniper Rifle Test Match at Camp Butner.

Team Hornady that paired Dave Emary, the Chief Ballistician at Hornady Manufacturing, with Joe Thielen, Project Engineer at Hornady, won the inaugural Vintage Sniper Rifle Match with a 576-17X total. A U. S. Marine Corps team of GySgt James Otto and CWO3 Peter Burns was just three points back at 573-16X. Dennis DeMille and GySgt Lee Ermey placed third at 571-18X while firing as Team SOG (SOG Knives). Overall, 36 teams and 72 individuals shot in this new match.

In winning this new match, Emary fired a Gibbs M1903-A4 replica with an original Weaver 330C scope and Hornady .30-06 Garand Match ammo. Emary's teammate Thielen shot an original Russian 91/30 PU with a PU scope and handloads using Hornady .312" 174 PTHP bullets. There were a wide variety of rifles brought to the match including 1903 A4s, 91/30 Pus, M1Ds and K98s.

Subsequent to this event's successful test in the Eastern Games, a report on it can now be prepared and presented to the CMP Programs Committee where it can be considered for permanent inclusion in the CMP Competition Rules and for making it a formal part of CMP shooting programs.

In addition to the many Gold, Silver and Bronze Achievement medals that were presented each day after firing concluded, High Overall, High Senior, High Junior and High Handicap awards were presented for each of the four military rifle matches. Winners in these events were:
M1 Garand Match
High Overall
Randy Ent, Russell, PA
291-8X
High Senior
James Adams, Hickory, NC
285-8X
High Junior
James Beall, Concord, NC
254-2X
High Handicap
Michael Hendrickson, Williamsburg, VA
325-3X
Springfield Rifle Match
High Overall
Sean Leighton, Mechanicsburg, PA
290-5X
High Senior
Ira Jones, Hubert, NC
286-5X
High Junior
Christopher Hudock, Raleigh, NC
288-5X
High Handicap
Kristian Jensen, Smithfield, PA
306-1X
Vintage Military Rifle Match
High Overall
Robert Pestridge, Marathon, NY
284-7X
High Senior
James Adams, Hickory, NC
282-7X
High Junior
Christopher Hudock, Raleigh, NC
283-4X
High Handicap
Donald Schneider, Jr., Ridgeley, WV
307-2X
Carbine Match
High Overall
David Thompson, Keyser, WV
365-1X
High Senior
Leonard Lapato, Greensburg, PA
359-5X
High Junior
Christopher Hudock, Raleigh, NC
348-2X
Rimfire Sporter Match T-Class
High Overall
Ron Villanueva, Parma Heights, OH
595-41X
High Senior
Phillip Randall, Ceresco, MI
588-29X
High Woman
Jessica Hudson, Halifax, VA
544-8X
High Junior
Robert Hudson II, Halifax, VA
580-23X
Rimfire Sporter Match O-Class
High Overall
Richard Sauer, Pennellville, NY
562-14X
High Senior
Robert Crumb, Tecumseh, ON, CAN
558-13X
High Junior
Cameron Covington, Alton, VA
558-11X
Complete scores for the 2010 Eastern CMP Games rifle events are posted at http://clubs.odcmp.com/cgi-bin/report_matchResult.cgi?matchID=4865. Complete results for the new Eastern CMP pistol events are posted at http://clubs.odcmp.com/cgi-bin/report_matchResult.cgi?matchID=4866. Photos taken during the 2010 Eastern CMP Games are posted at http://cmp1.zenfolio.com/p19276360.

The next Eastern CMP Games Matches will take place at Camp Butner, North Carolina on 7-10 May 2011. Be sure to place these dates on your calendars now and make plans to attend. Some matches were at or near capacity this year so making an early entry after the match program is released in early 2011 is advised.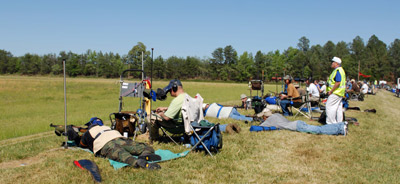 Every one of the 50 firing points on Camp Butner's Range #4 was filled with four relays of shooters when the Eastern CMP Games As-Issued Military Rifle Matches kicked off on Saturday, 8 May 2010.
NEXT ARTICLE