CAMP BUTNER, NC – It was an unlikely sight – two ponytailed girls walking onto the firing line at the first official CMP Vintage Sniper Rifle Team Match on 10 May; and they weren't there to get a sun tan while watching grandpa shoot. They came to compete shoulder to shoulder with some of the grittiest veteran rifle shooters in the country in a new match that requires excellent marksmanship, wind-reading experience and decisive communication skills.

<! Nested Table for picture>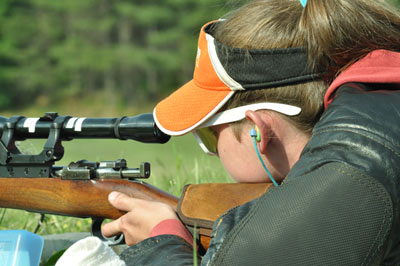 Jessica Hudson, 12, of Halifax, Virginia prepares to send a sighting shot downrange in the opening relay of the inaugural CMP Vintage Sniper Rifle Team Match at Camp Butner, N. Carolina on 10 May.


When Jessica Hudson, 12, of Halifax, Virginia, and Beth Hodges, 14, of Nathalie, Virginia, arrived in pink t-shirts and white-framed sunglasses, some may have thought it was a lark. But once they uncased their bolt action 6.5mm Swedish Mauser and rocked some sighter shots into the black at 300 yards, it was clear that they were for real. They didn't come with plans of winning the match, but wanted to prove to themselves, and anyone who questioned their abilities, that they could compete favorably in a challenging rifle match, fired at long distances.

<! Nested Table for picture>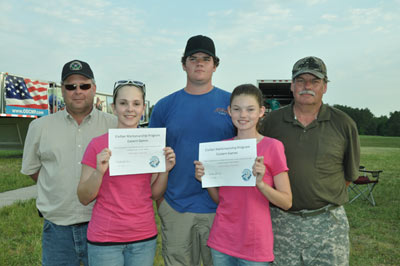 Team Pink members Beth Hodges, 14, of Nathalie, Virginia, left center, and Jessica Hudson were recognized as the top junior team in the Vintage Sniper Rifle Team Match. Also appearing in this photo are Beth's dad, George Hodges, left, Jessica's brother Robert Hudson II, center, and father Robert Hudson, the coach of Team Pink. Robert Hudson II also fired in the match on Team Blue with Ira Jones of N. Carolina, placing 20th.


Team Pink turned some heads when southpaw Hudson opened with a 93 in her half of the team string and Hodges followed closely with a 92, giving them 185 points, placing them 21st out of 47 teams at the completion of the first stage. Then it was off to the pits to pull targets for two relays before hiking back to the 600 yard line, where they yielded somewhat to the experience of some of those gritty veterans.

As anyone who has fired long distance knows, there are many factors that affect the flight of a bullet at 600 yards and Team Pink had plenty of notes to enter in their Vintage Sniper Rifle Match data book.

Still, Hudson and Hodges kept their composure and finished ahead of seven other teams with a second half score of 135-2X and an overall aggregate of 320-3X.

<! Nested Table for picture>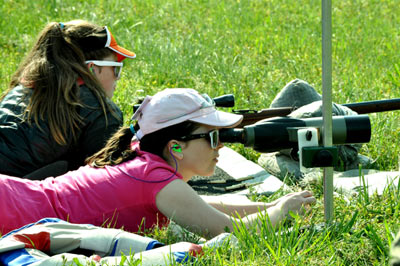 Beth Hodges spots Team Pink's target for Jessica Hudson at the 2011 CMP Vintage Sniper Rifle Team Match at Camp Butner.


"We've kind of taught them not to look at the Wailing Wall too much," Jessica's dad and team coach Robert Hudson said afterward, referring to the results bulletin board.

After the girls had time to reflect on the experience, they expressed their excitement.

"It was awesome and it was fun," Hudson and Hodges said simultaneously. Both commented that the actual firing of the match was the most fun. Hodges had never fired in a highpower match of any kind prior to the Vintage Sniper Rifle Team Match. In fact, she had never fired a highpower rifle, period. Jessica has shot service rifle with an AR-15 and was staying at Camp Butner to shoot in the Creedmoor Cup matches.

"She (Hodges) stepped up last week. We were desperate for a female shooter to pair with Jessica. She took her first highpower shot a week ago at 600 yards," Coach Hudson said. "We didn't have time to shoot the entire course of fire, so we decided to get set up at 600 yards," he said.

<! Nested Table for picture>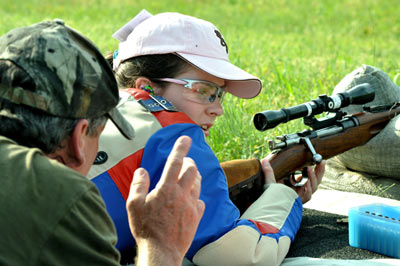 Coach Robert Hudson offers some words of encouragement to Beth Hodges as she readies for a sighting shot. It was Hodges' first ever highpower match.


"It took her two shots to get on paper with the scope. I knew we had something going when that happened," Hudson explained.

"Can you imagine how incredibly brave you have to be to step up and take that shot at 600 yards," he asked rhetorically. "I think it's incredible."

<! Nested Table for picture>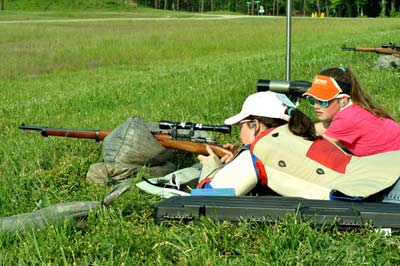 Beth Hodges fires while Jessica Hudson provides feedback and direction. The teammates attend school together in Virginia and are members of 4-H Shooting.


Team Pink chose to shoot the 6.5mm Swede because of its relatively low recoil, Hudson said. "We didn't want to beat up the girls, so it was the best choice."

The girls both got started in shooting with the 4-H program. "The 4-H is a great way for youngsters to learn discipline and the values that we want all of our kids to have. The CMP and the military assistance they provide demonstrates the extreme discipline you need to have in this sport," Coach Hudson said.

Complete scores for the 2011 Eastern CMP Games rifle events are posted at http://clubs.odcmp.com/cgi-bin/report_matchResult.cgi?matchID=6477. Photos taken during the 2011 Eastern CMP Games are posted at http://cmp1.zenfolio.com.