CAMP PERRY, Ohio – Learn how to fire an AR-15 rifle in a safe and relaxed environment at the Civilian Marksmanship Program's (CMP) Rifle Small Arms Firing School (SAFS), held Wednesday, July 16-17, during the National Rifle and Pistol Matches at historic Camp Perry.
The school is structured toward teaching new shooters, so no past firearm experience is required. Students will learn basic instruction and firing practices, competition skills and live range firing, as well as compete in a real EIC Match at the conclusion of the clinic. Intermediate shooters are also welcome to participate in this fun and exciting opportunity.
The SAFS courses have been a staple at the National Matches since 1918, with the involvement of over 1,000 pistol and rifle participants continuing each year. The school is conducted by members of the U.S. Army Marksmanship Unit and sponsored by the CMP.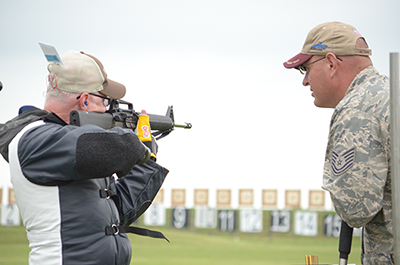 The Small Arms Firing School is designed for new marksmen hoping to learn more about rifle safety and competition. Experienced marksmen are also welcome to better hone their skills. All participants will be instructed by members of the U.S. Army Marksmanship Unit and coached by Military Rifle Team Members or CMP Rifle Master Instructors on the firing line.
For those already familiar with rifle shooting, an Advanced Rifle Course will also be held to provide additional class instruction and the chance to fire in a special Excellence-In-Competition (EIC) Match.
Whether an experience shooter or picking up a firearm for the first time, come enjoy a day of fellowship and fun in one of America's oldest pastimes with the security and knowledge of some of the best marksmen in the country!
For more details on the Small Arms Firing Schools, visit http://thecmp.org/NM/SAFS.htm. Registration information can be found at http://thecmp.org/NM.htm.