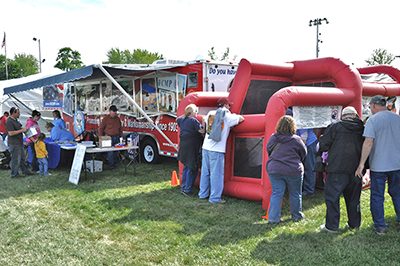 CAMP PERRY, OHIO – The Civilian Marksmanship Program (CMP) will once again offer free BB-Gun demonstrations at the 34th Annual Walleye Festival at Port Clinton's Waterworks Park. Kids of all ages, including supervised kids under 18, are welcome to visit the CMP's portable BB Gun range on the festival grounds and try their hand at some old-time marksmanship fun. Dana Bacak-Lynd, CMP Assistant General Manager and Walleye Festival Chairman, said the CMP is looking forward to participating in the parade again and opening its mobile BB-Gun range to festival patrons. "It's a pleasure to join with our local friends from Ottawa County and to see so many visitors from outside the area at the Walleye Festival," Bacak-Lynd said. "We are also extremely proud to have our name associated with the 2014 Walleye Festival Grande Parade. The CMP staff has always enjoyed being in the parade with our vehicles and this year's parade is no different." The CMP once again is the lead sponsor of the parade and will participate with vehicles and staff.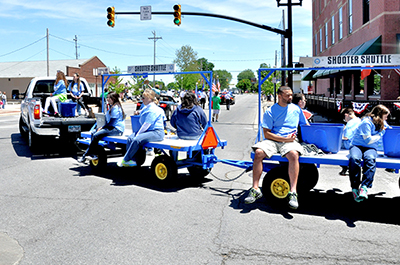 The portable range will be open to festival-goers all Memorial Day weekend long, with hours of operation 5-7 p.m. on Friday, 11 a.m.-7 p.m. on Saturday and Sunday and 11 a.m.-5 p.m. on Monday. The range is completely enclosed and has two firing positions with target runners. Instructors work with shooters one-on-one to teach them shooting safety rules and marksmanship techniques using Daisy youth BB guns such as the famous Daisy Red Ryder. The CMP hopes that some of the families who experience the BB Gun range at the festival will be encouraged to visit the organization's 80-firing-point indoor airgun Marksmanship Center at Camp Perry, site of the 2012 U.S. Olympic Trials for Airgun.

CMP's Marksmanship Center is a family-friendly facility and will reopen for public shooting on Tuesdays and Thursdays at the conclusion of the 2014 National Matches which are fired in July and August. The CMP also holds monthly airgun matches for sporter and precision air rifle shooters. The CMP is also pleased to announce that the expansion of the airgun center, renamed the CMP Gary Anderson Competition Center, is now complete. The expansion includes a new check-in and reception area, a CMP retail store, expanded changing rooms for competitors, common areas with tables and chairs and two large classrooms. The center will be dedicated to CMP Director Emeritus, Gary Anderson, at a ceremony on Monday, July 7, the opening day of the 2014 National Matches.