<! Nested Table for picture>

Navy shooters from the East and West coasts recently completed the Fleet and All Navy rifle and pistol championships. The Pacific matches were held 28 April -11 May at MCB Camp Pendleton, CA. The Atlantic matches were held 18 May - 1 June at NAS Oceana Dam Neck Annex, VA. The All Navy Rifle matches are held the second week of competition and PAC and LANT sailors compete for the All Navy titles via a postal competition.

<! Nested Table for picture>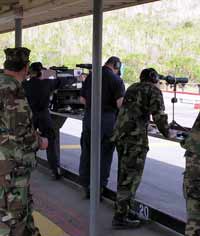 LCDR Mike Overfield, USNR, as a line official observes (from left to right) LCDR James Knapp, USCG; AET2 Dan Ramsey, USCG; and EN2 Ken Franckowiak, USNR. Taken at PAC matches by USNMT Public Affairs.
The matches are run by a dedicated, experienced, and all-volunteer staff of active, reserve and retired Sailors who are committed to assisting new shooters learn more about long and short-range small arms marksmanship in these one or two weeks than they may have had since entering the Navy. The Fleet matches begin with hands-on training and practice with .45 caliber competition pistols shot in the standard Bullseye format. This is the first-time many have ever shot one-handed. Rifle training and competition follow once the pistol competition is complete. The rifle phase is shot with match-grade AR-15/M16s following standard national highpower rifle rules. Again, for many this is their first experience shooting three positions - standing, sitting, and prone - and engaging targets at up to 500 yards.

Regardless of their initial experience level, all sailors learn something to take back to the fleet and to pass on to their fellow watch-standers aboard ships and at other commands. "A lot of it (the training) was about learning the fundamentals," said Seaman Brad Cook, a reservist with Naval Operation Center Columbus, Ohio, who competed in the LANT matches. "It's a great training evolution," said Master–at-Arms 1st Class John Nagazyna, Naval Support Activity (NSA), Las Vegas, Nevada, and assistant PAC pistol match director. In all of these events, sailors are given the chance to earn Navy marksmanship medals and badges.

Commands may enter the team competition and shoot for the title of Fleet Champion. This year's Pacific Fleet champions are Naval Base Kitsap (Pistol) and Navy Region Southwest (rifle). This year's Atlantic Fleet Champions are First Naval Construction Division in both rifle and pistol.

<! Nested Table for picture>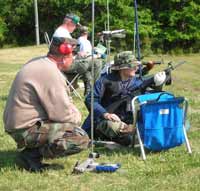 BUC Kevin Lee, USNR, provides instruction on rapid fire sitting CTI1(AW/NAC) Heather Hand, USN. Taken at LANT matches by USNMT Public Affairs.
The high scoring competitors from the Fleet matches are invited to stay the second week and compete in the All Navy matches. These matches follow a similar format of the Fleet matches. This year, via postal competition, the All Navy Pistol Champions are the West Coast and the All Navy Rifle Champions are the East coast.

The top shooters from each Coast and in each discipline are invited via Naval message to participate as a member of the U.S. Navy Marksmanship Team (USNMT) at the Interservice and National Championships (rifle and pistol).

Complete competition results and more information can be found at the USNMT website at http://www.usnst.org.