Marine Corps shooters from all over the world have met at Stone Bay to face off to see who could put more lead on target at the Marine Corps Rifle and Pistol Match Championships April 23-25.
<! Nested Table for picture>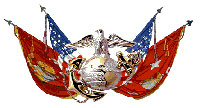 The competitors competed in three different categories. The Individual Rifle Match, the Individual Pistol Match and the Team Rifle Match.

The Individual Rifle Match and the Team Rifle Match are shot from the 200-yard line, the 300- yard line and the 600-yard line using National Match M-16s, according to Staff Sgt. John J. Godwin, an instructor and competitor on the Marine Corps Shooting Team. The match rifles vary from regular M-16A2 service rifles in several ways. The match rifles weigh more to make them more stable. It also has a customizable trigger and a customizable rear sight aperture and front sight post.

"A regular M-16 will shoot about a 12-inch group," said Godwin. "At 300 yards, these can shoot a one and a half inch group."

The pistol competition is set up in much the same way, but the shooting is more difficult with the .45 caliber competition pistols that it is with the standard 9 mm Beretta. Competitors must also fire on the targets using just one hand unlike the Marine Corps pistol known distance course where the other hand can be used for support.

After three days of competition shooting, the dust settled and the winners of the 2007 Marine Corps Marksmanship Competition were decided.

Gunnery Sgt. Timothy Hamler, with the Marine Corps Shooting Team, won first place in the Individual Rifle Match and ended the competition with a score of 1164-31. Staff Sgt. Jason C. Benedict, with the Marine Corps Shooting Team, won first place in the Individual Pistol Match and received the Lauchheimer Trophy for having the highest aggregate score of the Individual Rifle Match and the Individual Pistol Match. This is the second year Benedict has received the award.

The Inter-Division Team Rifle Match winner was the Western Division Shooting Team, which is made up from Marines from the West Coast. The team consisted of Staff Sgt. Troy L Allenbaugh, team captain, Sgt. Adam C. Pepper, team coach, Cpl. Kyle J. Hoelscher, Sgt. James C. Flint, Staff Sgt. James M. Hicks Jr. and Staff Sgt. John C. Frost. They won with a total aggregate score of 3356-66.

<! Nested Table for picture>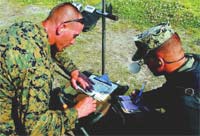 Gunnery Sgt. Scott Peck, a member of the Eastern Division shooting team, tells Sgt. Michael Mullane, a fellow teammate, where he is shooting and how he might be able to improve. Mullane and Peck also competed in the Inter- Division Pistol Team Match and were on the winning Eastern Scarlett Division Team.
The Eastern Scarlet Division took the Inter-Division Team Pistol Match. The team included Sgt. R. J. Powell, team captain, Sgt. Nathan Karlson, team coach, Gunnery Sgt. Scott J. Peck, Sgt. Joe D. Watkins, Chief Warrant Officer 2 Ray E. Hench Jr., and Sgt. Michael Mullane.

From this competition, 10 rifle competitors and eight pistol competitors will be chosen to shoot with the Marine Corps shooting team, said Chief Warrant Officer 3 David Dutton, chief range officer for Weapons Training Battalion, Marine Corps Base and the match executive officer for the Marine Corps Championships. The shooters might not be the best shooters at the competition, because shooters are selected not only for their level of skill but also selected based on their eagerness and motivation to learn.

Those chosen will compete with the team in inter-service matches and national competitions.

Awards were presented April 27 at a ceremony attended by Col. Brant Bailey, Director of Training and Operations, II Marine Expeditionary Force. "What can be more fundamentally Marine than aiming, shooting, hitting and killing the enemy," said Bailey.