CAMP BUTNER, NC – Mike Barletta needed a little push from his son to make it to the firing line at the Eastern CMP Games in May. It wasn't nerves of competition or the fear of failure that made it hard for him to approach it, but rather, it was the grass. It's tough to maneuver through when you're in a wheelchair.
But just like every other aspect of his life, Mike found a way to keep rolling forward – sometimes with a little help from those around him.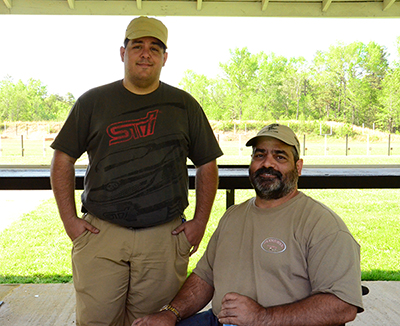 Mike (sitting) and Patrick (standing) Barletta competed in the 2014 Eastern Games together after Mike decided he needed someone to help him during competition. Patrick was more than happy to support his dad on the trip.
Mike Barletta, 51, has been shooting ever since he was 9 years old. It was then that he begged and begged his parents for a BB gun nearly forty times a day until they finally gave in. From there, his passion for firearms took hold and grew.
"The gun I really learned how to shoot on was the M1 Carbine," he said. "I was hooked from the first time."
Growing up in New Jersey, he didn't have a lot of places to fulfill his lust for shooting. Luckily, his father had a vacation spot where Mike could take his rifles and shoot skeet, snakes and even frogs. In 1980, Mike joined the Air Force, where he became a sergeant and shot competitively.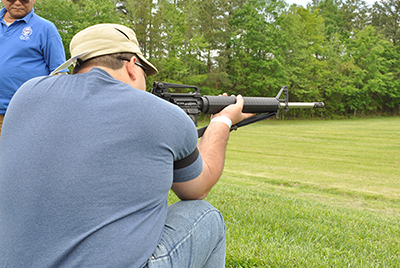 Patrick fired in the Small Arms Firing School M16 Match for the first time. Though unhappy with his own performance, he still managed to have a great time.
"I was on the cusp of making a career out of it, but I couldn't afford it," he said as he smiled.
Four years later, he retired from the Air Force to join the family business at Barletta and Sons Disposal, where he served as a manager. His job took him to 46 states, including Alaska and Hawaii. Within that time, he and his wife Patrice, or Dede, as she's called, had three children: two daughters and a son, Patrick.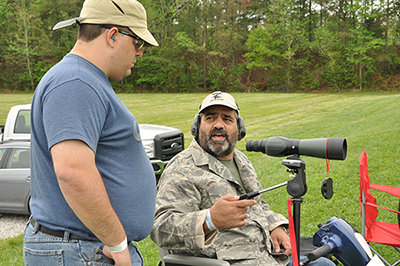 Mike played the role of spotter for Patrick during the M16 Match. As an NRA certified instructor, Mike is accustomed to giving shooting tips.
Then, it was during a hunting trip 21 years ago that his life changed forever. Mike fell from a tree and slammed into the hard ground, severing his spine and losing all function in his legs. He was in the hospital for about six weeks, with his wife by his side. In almost a thankful way, he says his children have a hard time remembering the incident – all except Patrick, that is.
"The kids were kind of young. Patrick probably had the hardest time dealing with it. I think it affected him more because he was old enough to know better," said Mike. "My youngest daughter doesn't remember me when I wasn't like this, and the other can barely remember that. Patrick knows."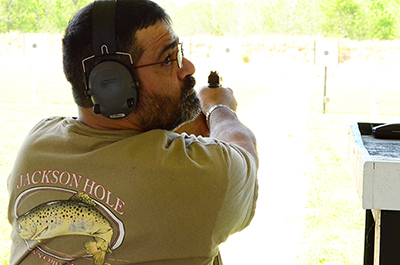 Twenty-one years ago, Mike severed his spine during a hunting accident – forcing him to live the rest of his life in a wheelchair. Despite the setback, he has still managed to find a way to participate in one of his favorite pastimes: shooting.
Now 27, Patrick has many recollections of heartache from that time. But, one unique memory he has from the accident isn't about the accessory his father suddenly needed beneath him, but rather the accessory his sister no longer needed beneath her.
"My youngest sister was potty trained by the neighbor who was watching us while my mother was at the hospital with dad," Patrick said, with a laugh.
"My wife literally threw the baby at the neighbor across the street, went to the hospital, and by the time she got back to the baby, she wasn't in diapers," Mike added. "It was only a few days, three or four. But the neighbor had had enough of diapers I guess."
Once back home, his life, understandably, changed. He could no longer drive a truck in the company business and had to settle for deskwork. He had to relearn how to do the every day tasks most would take for granted. And it wasn't always easy.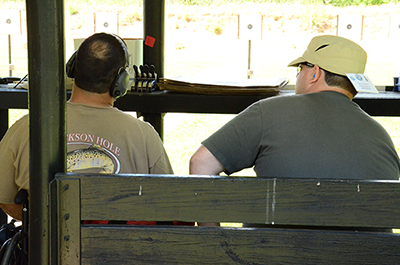 Patrick and Mike both happen to be avid gun enthusiasts, making the Eastern Games a perfect getaway for the father and son duo. Patrick enjoyed being able to help his dad with the things that were difficult for him, but was even more thrilled to be able to watch him compete.
"It was several years of adjustment – learning how to do things new, and moving on," he said. "I didn't let it stop me from doing a lot of things, but it certainly made things different or harder."
Though he occasionally had his periods of discouragement and frustration, he reeducated himself on his surroundings by creating a new, more positive, approach to life.
"I just kept moving forward. I focused more on the things I can do, or what I can do and how to do it, more than the things that I can't do. You know, 'Can I do this? No. OK – move on.' And then I go from there."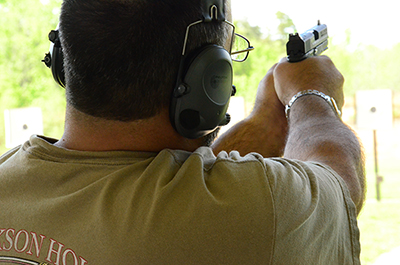 Mike fired in a pistol competition for the first time in his life during the Military and Police Service Pistol Match.
Luckily, his accident didn't affect his passion for shooting. His hands are still in working condition, as well as his arms and his shoulders. The competitive shooting world does come with its challenges, like needing a designated scorer and someone to perform pit duty, but the sport is still relatively friendly for those in wheelchairs.
"As far as shooting the rifle, there are some accommodations that are for people in wheelchairs," he said. "And they're reasonable. I still enjoy it."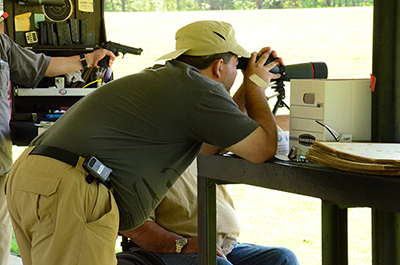 As his dad did for him in the M16 Match, Patrick served as spotter during the pistol competition.
Last year's Eastern Games was his first CMP event. He came by himself, with no accomplice to help carry his gear, score or anything else that comes along with competing. Luckily, Mike was at a CMP event, where the competitors are always willing to lend a helping hand – or leg – if needed.
"The people I was squadded with were more than helpful," he said. "I shot with the modern military rifle and I think I did better last year than I did this year."
His return to the Eastern Games in 2014 marked his third organized match. He wanted to try something different than what he had shot the previous year, so he tried his skill with the Garand in the Garand-Springfield-Military (GSM) Match.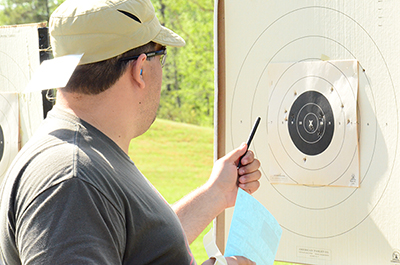 Because it would be difficult for Mike to wheel back and forth from the firing line to the targets, along with the difficulty of being able to see the shot holes, Patrick was in charge of collecting scores downrange.
"I didn't do terribly. I felt pretty good with most of it," he said. "I had a couple of misses that I wasn't happy about, but other than that, I was pretty satisfied."
He also took a shot with his most recent challenge – pistol – during the Military and Police Service Pistol Match. The match was the first pistol competition he's ever entered in his lifetime.
"I had a fair showing. I did what I wanted to do," he said. "I think I'll shoot service pistol next year."
Besides bringing his pistol to his second Eastern Games, Mike also brought his son. A gun enthusiast as well, Patrick was more than happy to make the drive from Hillsborough, NJ, to support his dad.
"He came to help, he came to shoot. He wanted to see what it's all about," Mike said.
"I'm used to watching him shoot anyway, and he's always outperforming me, so it's better to watch him score well than to watch me score poorly," Patrick said, jokingly.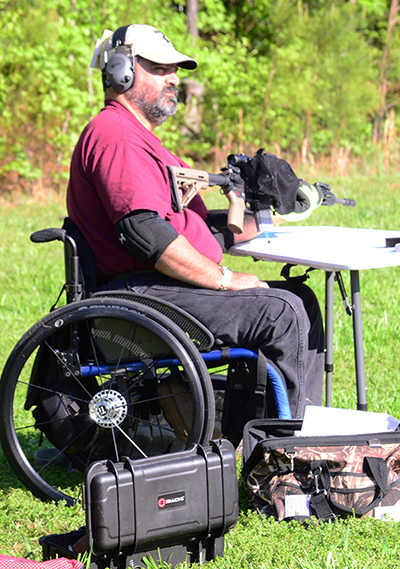 Mike admits that, at times, being in a wheelchair has been discouraging. But, he has realized that if focuses on what he can do rather than what he can't do, he'll be able to keep a positive outlook on life.
His first trip to the Eastern Games, Patrick fired in the M16 Match during the Small Arms Firing School. Though excited to shoot a highpower rifle, he wasn't completely satisfied with his performance.
"I did not do acceptably well, but I'm not going to be happy with myself until I've scored 400 out of 400," he said with a smile.
"He'll probably start participating in it more now that we're doing it on a more regular basis," Mike added. "We'll be here next year."
With the Eastern Games behind him, Mike, a recent retiree, is now on a much-needed break with his wife of 28 years in their Goose Creek, SC, home. He encourages those who may be discouraged with a disability to continue on with their passions – especially those who love to shoot.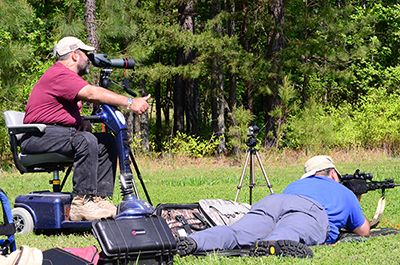 Mike and Patrick also both shot in the Rimfire Sporter competition. As seen here, Mike was able to use a motorized scooter to get around on some of the ranges.
"Set a reasonable goal and work towards it," he said. "Nothing comes easily, and [people with disabilities] know that. This is something they certainly can do, and everyone is going to be friendly and accommodating. "
As for packing up his firearms again and heading north to the National Matches at Camp Perry in July, Mike gave a grin and said, "I might show up."