<! Nested Table for picture>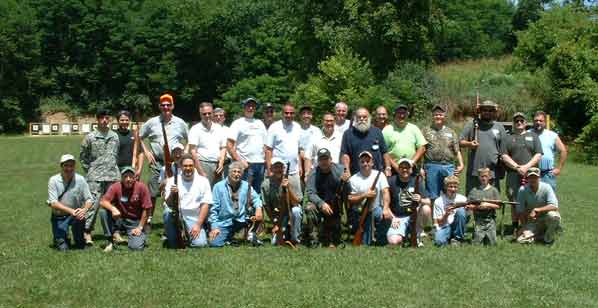 There were 36 shooters, including 11 soldiers from the Howell Armory, attended the G-S-M Clinic in Howell, MI.
The Howell National Guard Armory, home of the 1462nd Transportation Company, was the site recently of the first Master Garand-Springfield-Military Rifle Clinic in the Howell area conducted by CMP-certified Master Instructors. This one-day event far surpassed initial expectations by attracting 36 participants for its inaugural clinic held on July 15, 2006. Eleven participants were National Guard troops, and 25 were civilians.

Civilian Marksmanship Program Master Instructors Steve Larson and Mark Brandli organized the Howell clinic. This CMP-sanctioned clinic was a complete success judging by the number of people interested in improving their knowledge and use of vintage military rifles, the quality of classroom instruction, and the outstanding performance of participants in the 100-yard match held afterward at the nearby Howell Gun Club.

<! Nested Table for picture>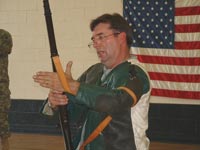 The G-S-M Clinic covers many topics during the classroom portion of the clinic including the proper use of a sling.
Logistics were coordinated by NRA Instructor and sponsor Dave Dieball from Howell Gun Club who supervised registration and classroom materials, and obtained use of the Armory and range. Additional classroom instruction was given by Dan McSorley III, Highpower Master shooter, and photography was provided by Kay Lockwood.

Beautiful blue summer skies greeted participants eager to sign in and get started at the Howell National Guard Armory, which very graciously offered use of its cafeteria for the classroom session. Steve Larson opened the clinic by going over basic safety rules and giving a brief overview of the history of the CMP. He then gave descriptions of the various military rifles covered in the clinic, which included the M1 Garand semi-automatic rifle, the Springfield 1903 and 03A3 bolt-action rifles, and other vintage military bolt-action rifles used in WWI, WWII, and the Korean War. Primary focus of this clinic was on the M1 and 1903 rifles, and the M1 Carbine.

<! Nested Table for picture>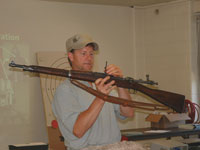 Dan McSorley III, a Highpower Master shooter, gives a demonstration with an 1903.
Steve's teaching style is easy-going and very friendly, using his deep knowledge of the subject punctuated with plenty of humor and expressions of delight in what he is teaching. In minutes, everyone was relaxed and felt comfortable asking questions. His excitement for the subject was contagious and smiles were pervasive. More than once, Steve pronounced that something about a rifle is "a beautiful thing," or that shooting, especially at Camp Perry, is "a hoot!"

Students viewed a slide presentation with printed handouts provided by the CMP, and immersed themselves in learning the finest details of the rifles. They were shown how to open and close the actions of the M1 Carbine and bolt-action rifles, and learned the proper way to close an M1 Rifle to prevent the notorious "M1 Thumb." Trigger pull weight, first and second stage trigger movement, and dry firing were explained. The use of Empty Chamber Indicators, or ECIs, was emphasized at all times.

Interspersed throughout the instruction, Larson and Brandli gave examples of how this knowledge would be put to use at a Camp Perry match. Range rules and layout, match commands, and firing sequence were described. Students were guided through procedures for working the target pits. An actual 200-yard target was used to show how shots are scored and marked using spotters and value markers. Copies of the official scoring sheets were used to show the new scoring procedures.

Dummy 30-06 cartridges and M1 en-bloc clips were handed out to the students, who were taught how to correctly load the 8-round clips, and three different ways to load two rounds. Brandli taught breathing and trigger control, and gave everyone tips on how to acquire the proper sight picture with an M1 Garand using the 6 o'clock with a "line of white" hold to achieve that "fuzzy pumpkin on a fence post" effect.

Larson demonstrated the five main support hand positions for offhand shooting, and noted that each person should use the one that works best for him. Advice given to Steve during an early match when he just missed earning an award was to "find 12 ways to gain one point, rather than one way to gain 12 points." That suggestion has evolved into Steve becoming a master instructor and teaching others to find those 12 ways to gain one point.

Brandli explained how to determine one's "natural point of aim" and how to adjust it. He also showed students the proper way to position the rifle butt against the shoulder, and demonstrated the best prone position chambering techniques for both the M1 and bolt-action rifles. Next, students learned how to properly attach leather and web slings, how to fit the sling on the support arm, and mark for each shooting position.

McSorley, a left-handed Master shooter, offered helpful advice and techniques on using rifles designed for right-handers. He gave tips on the best way to accomplish many functions on each type of rifle. Several left-handed shooters in the class were able to pick up some valuable pointers. One of those left-handers was 11-year-old Jack from Allegan, MI who has already learned to shoot the M1 Rifle and Carbine, and the AR15. Jack planned on shooting the Carbine in the afternoon match at the range.

<! Nested Table for picture>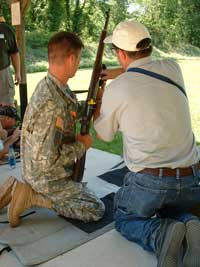 Another junior, 15-year-old Adam from Marne, attended the clinic with his dad. Adam had previously shot an M1 Carbine and an AR15. Adam would be firing an M1 Carbine at the match.

Eleven participants in the clinic were troops from the Howell Armory, whose unit returned from a year-long tour in Iraq in February 2005. MSG William Bain stated that while there, unit members received 25 Purple Hearts and 13 Bronze Stars, and that they had been shot at "a lot." The 1462nd is a transportation company that logged 1.2 million miles in Iraq moving materiel and equipment.

The class then relocated to the gym where Master Instructor Brandli gave a comprehensive demonstration of each firing position, with variations. The instructors demonstrated how a shooter can dry-fire the M1 Rifle using dummy rounds and have a friend assist by drawing back the op-rod after each trigger pull, for more realistic rapid-fire practice.

Following a wonderful lunch provided by the Armory, students and instructors caravanned to the Howell Gun Club just a few miles away for some real shooting. Juniors 11-year-old Jack and 15-year-old Adam were treated to a ride to the range in a Humvee driven by one of the troops. At the range, experienced riflemen shot first, then paired off with the second relay of novices. This enabled the new shooters to have one-on-one instruction from experienced shooters, and help with any problems. Those not shooting were spotting, and they also scored and pasted targets.

Range Safety Officers kept a watchful eye, and were available to render assistance if needed. Camaraderie and cold water flowed, as the temperatures were heading into the 90s.

After four relays were fired, scores were totaled and the top five shooters were announced.


Bob Anderson 265-0

Lance Burr 250-2

Dave Hazen 248-1

Jonathan Kremers 241-1

Roger VanRaaphorst 239-1
Juniors:

Jack P. 225-1

Adam D. 214-1
After the match, students received a Certificate of Achievement from the CMP stating that they had participated in a sanctioned match and clinic, signed by the sponsoring official Dave Dieball, Howell Gun Club, and by Gary Anderson, CMP Director.

By the end of this day-long clinic, students felt they had learned many valuable skills and techniques for using these rifles, and had participated in a real military rifle match from beginning to end. Judging by the big grins on everyone's faces, they had a great time, too.

Pictures from the G-S-M Clinic can be viewed at http://www.odcmp.com/Photos/06/GSM_MI/index.htm.

For more information on future Master G-S-M Clinics in Michigan, contact Steve Larson at M1Guy@talkamerica.net.