CAMP PERRY, OHIO – Entering the service pistol events at the 2008 National Matches, three US Army Marksmanship Unit members held spots in the top five Civilian Marksmanship Program national rankings with two former military shooters in the mix.

<! Nested Table for picture>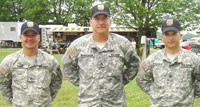 USAMU Pistol Shooters Robert Park II, James Henderson and Adam Sokolowski are listed in the top five in the CMP's National Ranking system.
USAMU's James Henderson, Robert Park and Adam Sokolowski, retired US Marine Corp shooter Brian Zins and retired US Army reservist Steve Reiter recently commented about what it takes to become a pistol champion, what they recommend to stay sharp and how they reflect on their successes.

At the close of pistol competition on Sunday, 13 July, Henderson and Park had solidified their overall competitor ratings and either won or scored extremely well in several individual and team events. Zins won his ninth NRA Pistol Championship while Reiter and Sokolowski also took high honors in individual and team matches.

Hardly a surprise, all five competitors credited long hours of practice to succeed in pistol competition, mixed with a little bit of fun.

<! Nested Table for picture>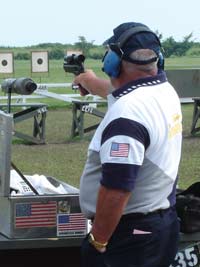 Steve Reiter, of Tucson, Arizona, is currently listed as #4 in the National Ranking.
"Practice shooting 10s," said Reiter. "When you practice, practice making good shots," he added, stressing the importance of not wasting practice time. "Make every shot count in practice and that habit will transfer to the match," he said.

Reiter, whose fondest achievement in shooting was selection to the1980 US Olympic team, said he shoots in approximately two matches per month beginning in February of each year. Reiter earned his Distinguished Pistol Badge in 1972 and his Distinguished International Shooters Badge in 1973 and has participated in hundreds of match events over the past 26 years.

Henderson, who normally shoots in eight to 10 events per year but is shooting in 14 in 2008, highly recommends the Small Arms Firing School to new shooters.

"The SAFS is going to give you excellent instruction and get you off to a great start," he said. "You'll get an opportunity to take what you've learned in class to the range the same day – you can't beat it for one-on-one instruction either," Henderson added.

<! Nested Table for picture>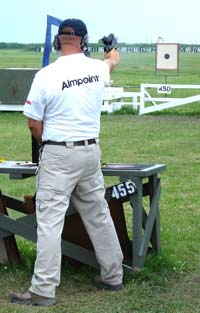 Brian Zins recently retired from the Marine Corps and is now the National Manager of Pistol Programs for the NRA.
Retired USMC gunnery sergeant Zins, 39, now residing in Centerville, Virginia, says shooting has to be enjoyable.

"Do it and have fun. Shoot because you enjoy it. You don't stand out here in the rain like these guys did for the Harry Reeves match and come here and do it again unless you enjoy the sport," Zins said.

"Win or lose, we have fun. Shooters are the greatest people – they're a lot of fun to be around," Zins added.

Sokolowski, 29, of Lewistown, Pennsylvania, was a junior shooter who attended several National Matches with his dad prior to joining the military, first as a U. S. Marine and later jumping to the Army to shoot with the USAMU.

He recommends consistent training throughout the year and to always strive to get better because "good" isn't always good enough.

"Many shooters are used to shooting a regular score and then when they leave their comfortable environment, conditions change and their scores fall off," Sokolowski pointed out.

"I fight for every point because when you come to Camp Perry you never know what the conditions will be. At Fort Benning, the weather is pretty consistent – calm wind, clear skies. It would be easy to get complacent – you have to be prepared to overcome changes in order to shoot a good score," Sokolowski added.

"Stay aggressive," says Park, 29, of Lake Jackson, Texas. "I keep an aggressive hand and stay focused.

"We have a mentorship program in the USAMU and an important part of that is record-day training where we stress shooting in match conditions – we practice like we're shooting in a match."

<! Nested Table for picture>
Park insisted that new shooters should not get discouraged if they don't shoot well at Camp Perry at first.

"Ask questions, as many questions as possible," he said. "Shooters are a small community and we help each other out – if I give advice to a guy and he beats me, I'm all right with that."

Sokolowski advocates getting the right advice.

"I looked to my dad for advice starting out. It's important to get advice from knowledgeable shooters, not just anyone. Up here you can pick the brains of top shooters and then develop your own system," he said.

When asked what helps keep him sharp for a match, Zins snapped right back.

"I juggle," he said. "That's right, I juggle.

"You never actually see the ball hit your hand, so it's great for hand-eye coordination."

Upon retirement from the Marine Corps, Zins accepted the position of National Manager of Pistol Programs for the NRA's Competitive Shooting Division.

Reiter advocates participating in the National Matches. "This is a great experience for all shooters. Camp Perry is the Mecca of shooting. Everybody should come here, except for some of the ugly ornaments they have here," he said jokingly to Zins, his sometimes team member and sometimes nemesis.

When asked to zero in on his fondest achievement, Zins answered without hesitation.

"Being called Dad", he said. "When I had kids, that's actually when I started shooting better. Because I realized that no matter how I shoot out here, my kids are still going to love me."

Henderson, who enjoys playing golf, X-Box and spending quality time with his fiancée, said his greatest personal achievement was winning the "triple crown" in service pistol in 2002 – President's Pistol 100, high shooter and winning the military police match.

"Sometimes you get lucky in a match – you may beat the guys next to you one day and the next day may be different," Henderson explained.

He said shooting consistently high aggregate scores in all matches, particularly that year, made him feel he was at the top of his game.

Henderson and Park were both "pick-up" shooters - military teams regularly pick up an extra shooter from outside the unit and the shooter gets an opportunity to participate in high-profile matches.

"It's a relationship-builder," Henderson said. "Because those guys will go back to their unit and take some of our methods and discipline with them – it's good program."

Henderson was picked up from Fort Sill, Oklahoma and Park was a pick-up from Marine Corps Base Hawaii at Kaneohe Bay when shooting with the Marines.

To view the current Pistol National Rankings, visit http://clubs.odcmp.com/cgi-bin/nationalRanking.cgi?type=EICPISTOL.