ANNISTON, ALABAMA - Because the CMP mission is so heavily service-oriented, without an income stream from the rifle sales program, there simply would not be enough funding to develop, support and execute the many marksmanship and firearms safety programs CMP carries out each year without charging participants considerable fees. <! Nested Table for picture>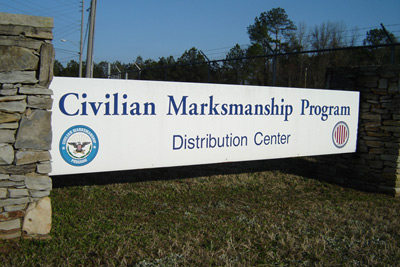 Entry sign in front of the CMP South Store and Anniston Distribution Center.
Most non-profit organizations earn money directly, through mechanisms such as membership dues, fees for service, or in the CMP's case, the sale of surplus rifles and accessories. Under non-profit rules, CMP's proceeds must be used to pay for operating costs including staff salaries, leases, insurance, materials and supplies, advertising, and any additional expenses involved in providing services. Any surplus is held in an endowment fund to sustain future operations.

CMP South plays a critical income generation role by acquiring, reconditioning, warehousing and selling deactivated military rifles to its customers - U.S. citizens and shooting associations that meet CMP requirements.

Rifles for sale include the M1 Garand, M1 Carbine, 1903 and 1903A3 Springfield, 1917 Enfield and the Kimber Model 82 .22 caliber target rifle. Other vintage U.S. military rifles such as the U.S. Krag rifle, the Mann Accuracy Device and others are made available in small numbers on an "as-come" basis. <! Nested Table for picture>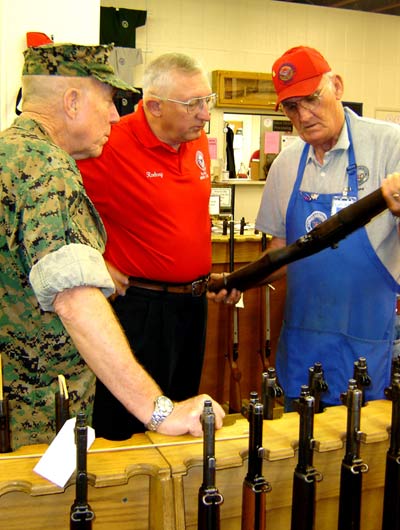 Leon Rutherford, CMP South Store associate and armorer, explains the finer points of M1 Garand grading to visiting guests.
CMP does not sell pistols through the program nor is it permitted by law to sell any automatic or "selective fire" rifles such as the M-14, BAR or M-16 for example. CMP only sells rifles the military provides and deems obsolete and therefore no longer actively issued for U.S. military use.

By law, the CMP can sell surplus military firearms, ammunition, parts and other items only to members of CMP affiliated clubs who are also U.S. citizens, over 18 years of age and who are legally eligible to purchase a firearm. Buyers must provide a copy of a U.S. birth certificate, passport, proof of naturalization, or any official government document that shows birth in the U.S. or states citizenship as U.S. <! Nested Table for picture>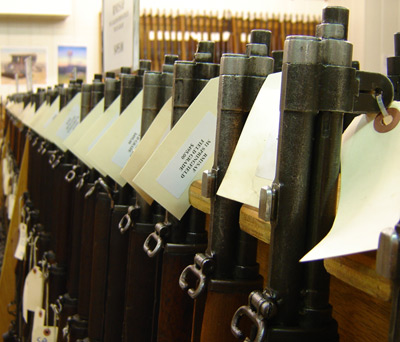 M1 rifles ready for sale on the CMP South Store rack. Both CMP Stores in Ohio and Alabama have over 400 military surplus rifles on display for customers to handle and inspect.
Buyers must provide proof of age and must provide a copy of their current club membership card or other proof of membership, a requirement that cannot be waived. The CMP currently has over 2,000 affiliated organizations located in many parts of the country. To find a CMP club near you, visit http://clubs.odcmp.com/cgi-bin/clubSearch.cgi.

Prospective buyers must provide proof of participation in a marksmanship related activity or otherwise show familiarity with the safe handling of firearms and range procedures. Marksmanship related activity does not have to be with highpower rifles; it can be with smallbore rifles, pistols, air guns or shotguns.

The information the buyer provides is submitted by the CMP to the FBI National Instant Criminal Check System (NICS) to verify the buyer is not prohibited by Federal, State or Local law from acquiring or possessing a rifle.

Of all the rifles the Army has provided to CMP, the United States Rifle, Caliber .30, M1 or M1 Garand is the most numerous and most popular seller. With a proud military history, the M1 remains one of the most sought-after battlefield rifles of all time.
While the generation that first used the M1 to defeat the Axis powers in Europe and the Pacific is declining in numbers, its children and grandchildren are now collecting and shooting what General George Patton called "the greatest battle implement ever devised."

Like all rifles in the CMP inventory, each bears a serial number on the receiver stamped by manufacturers under contract to the U.S. government. The majority of M1s were built in the U.S. by the original Springfield Armory, Winchester Repeating Arms, Harrington & Richardson and International Harvester. <! Nested Table for picture>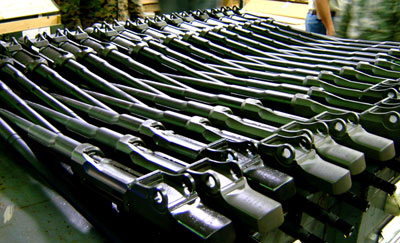 Barreled M1 receivers, fresh from the degreasing station.
The M1 was introduced during World War II and helped turn the tide for the American foot soldier as the first semi-automatic infantry rifle. Its ability to cycle eight rounds of .30-06 ammunition in seconds gave it a huge advantage over the enemy who were primarily equipped with bolt-action weapons.

In all there were upwards of six million M1 rifles produced during the war years through the late 1950s when the U.S. military began replacing it with the M-14. By the mid-1960s, the M1 was now a main battle rifle. It continued to see service in some National Guard units into the 1970s and around the world as late as the 1990s. Many still remain in service by drill teams and veterans' organizations.

During World War II, the U.S. shipped M1s to a number of allies, including a small number to Great Britain as part of the Lend-Lease program. After the war, the majority of M1s used by U.S. GIs were returned to arsenals for reconditioning and many were retained for service in the Korean War. As the M-14 superseded the M1 in U.S. military use, a surplus of M1s began to grow.

In the 1950s and 1960s, a significant number were loaned to allies around the world to help maintain defenses and to enforce peace-keeping efforts. Hundreds of thousands of loaned rifles remained in foreign hands throughout the Cold War years.

As years passed, many countries who had accepted loaned rifles began taking them out of service through lack of use or replacement by more modern shoulder arms. Many warehoused them and those loaned rifles still serve as the primary pool from which the CMP firearms come. As the Army identifies countries who still have supplies, the rifles slowly make their way back to U.S. shores and end up at the Anniston Army Depot (ANAD) and finally, CMP warehouses.

Today, the processing of surplus rifles for sale through the CMP program looks much different than it did even 10 years ago when Building 110 at ANAD was the hub.

The acquisition and sales process begins when a foreign country reports these rifles as surplus to their needs. At that point, the U.S. Army contacts the CMP for funding for the return of the rifles to the U.S.

All incremental costs related to acquiring, insuring, transporting and securing surplus rifles for sale are borne by CMP. In some cases, they are shipped to ANAD or when practical, they are delivered directly to CMP's AY (Anniston-York) large receiving facility.

Rifles typically arrive in the U.S. in shipping containers via ocean freighter and are trucked to Anniston. Crated rifles are stored in a secure area and are individually transferred to CMP boxes. Then each rifle is identified by serial number and manufacturer. <! Nested Table for picture>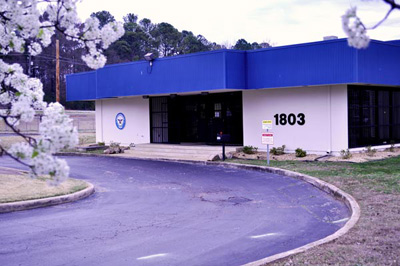 The CMP's Anniston York building front entrance.
It's at that point that an experienced group of CMP armorers gives rifles a cursory grade. A rifle may appear in excellent, good, fair or poor shape but its true condition emerges only after careful inspection, gauging and documentation further down the line. <! Nested Table for picture>

CMP's Anniston York building is the first point of entry for all rifles, ammunition and accessories for sale.
Once the rifle's serialization is documented, its ownership is transferred from the Army to CMP. It's a daunting process, particularly when tens of thousands of rifles show up on CMP's doorsteps at one time. Some are completely coated in Cosmoline. Some are in relatively pristine condition. Some are rusted metal banded to rotting hardwood.

In the best case scenario, a rifle may appear to be a collector grade. If so it goes to the head of the class and is scrutinized for correct part numbers, high quality walnut stocks and handguards and excellent metalwork. Armorers will check for muzzle wear, chamber throat erosion, receiver, bolt and trigger group wear, operating rod wear and sight function, etc. Experienced CMP staff can determine the potential of an entire shipment by spot-checking a sampling of crates. <! Nested Table for picture>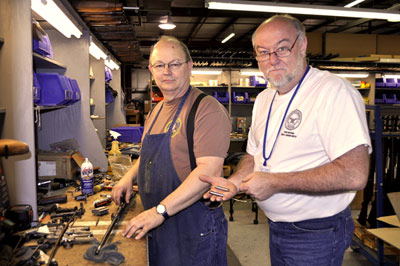 Bob Bell, left, a CMP North Store associate, recently spent a week with CMP South armorers to get a better understanding of CMP South operations. He is flanked by Phil New, CMP South lead armorer.
In the worst case scenario where a crate of unprotected rifles has been sitting in a leaky storage facility, a batch of rifles may be completely worthless.
<! Nested Table for picture>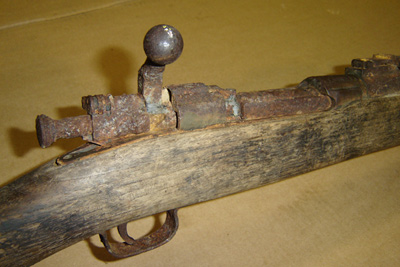 Some surplus rifles are beyond salvaging whole or for parts.
But in most cases, rifles remain in fair to good condition and by adding a few new parts and after a thorough cleaning, they make their way through the documentation process and into the sales area.

When a batch of rifles arrive coated with Cosmoline, they are routed immediately to the degreasing area. Cosmoline is a waxy, oily petroleum-based product formerly used by the military to preserve firearms and machinery. Today, the military uses a polyester shrink-wrap film for the same purpose.

Prior to degreasing, buttstocks are removed and rifles are then racked and given a hot water and detergent solution bath in an ultrasonic tank at 120 degrees and at least two or three rinses prior to moving to a drying area. <! Nested Table for picture>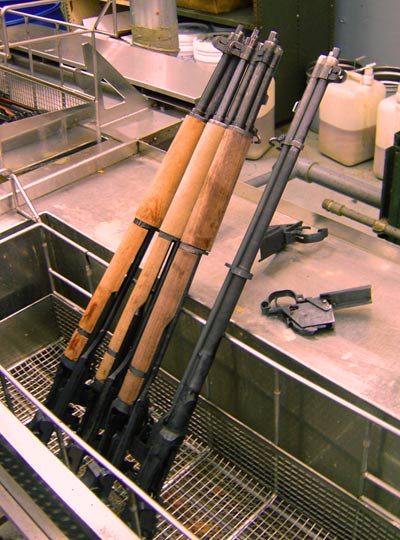 Rifles in the CMP Degreaser Station.
Cosmoline remnants from the wastewater are trapped and extracted for disposal and no contaminants are discharged into the sewage system.

One pallet of rifles, or working stock, next makes its way to the AM (Anniston Maintenance) facility where rifles undergo complete disassembly, inspection, gauging and documentation prior to reassembly. It's at this point that M1s are designated one of following grades - rack, field, service, correct, collector and CMP special grade.

It's important to note that rifles are sold by CMP-assigned grades and also by manufacturer. For a description of grades, log onto http://www.thecmp.org/m1garand.htm. <! Nested Table for picture>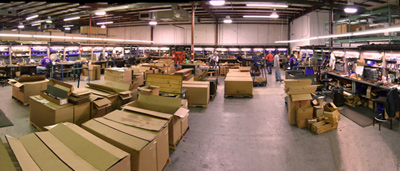 The armorers' room at the CMP's Anniston Maintenance building is where rifles are disassembled and reassembled by grade and made ready for transfer to the CMP South shipping department.
When grading is complete, all rifles are test-fired for function in a specially-designed, environmentally-safe test firing chamber adjacent to the maintenance building. One rifle at a time is secured in a rig inside a firing chamber where ammunition is loaded. The chamber is locked and the rifle is fired by a remote trigger switch until empty. Each rifle is then inspected one last time and boxed for transfer to short-term storage at AT (Anniston Training) or sent directly to AD (Anniston Distribution) for CMP South store sales, CMP North store sales or shipping to customers. <! Nested Table for picture>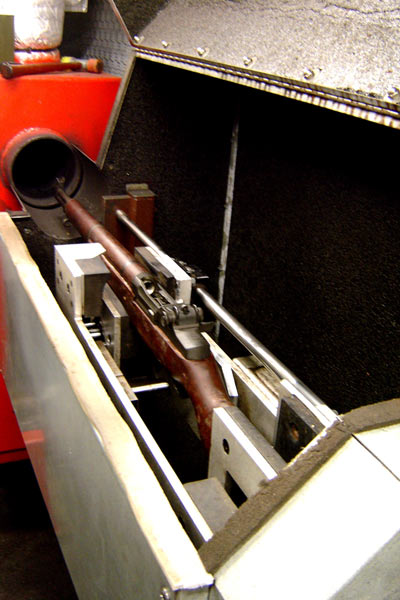 An M1 rifle locked in the test-firing chamber prepared for function testing. The overhead door is closed and locked and the rifle is fired with a remote switch until empty.



<! Nested Table for picture>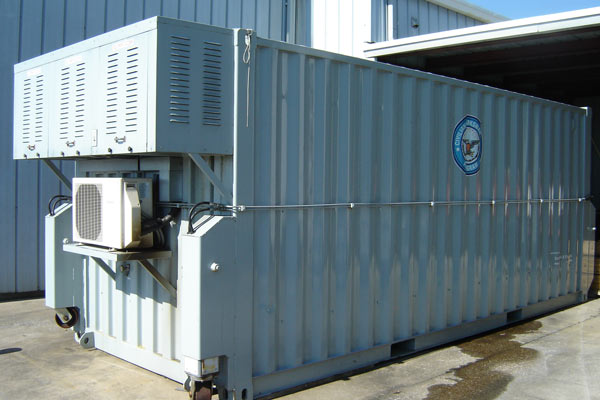 The exterior of the environmentally-controlled test-firing chamber. All lead dust particles and fragments are captured and do not enter the atmosphere.
In the next article in our series, we'll discuss the future of CMP's rifle sales and what CMP South means to our program participants in the southeastern U.S.