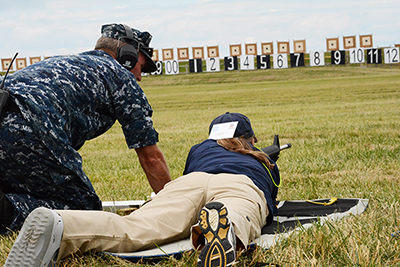 Christine Humber of Nashua, NH, managed to take the entire course in her casted leg. Though somewhat uncomfortable at times, she still enjoyed the class.
CAMP PERRY, OH – Under sunny skies and pleasant conditions, the extremely popular Small Arms Firing School (SAFS) was held July 16-17 during the National Trophy Rifle Matches at Camp Perry. More than 460 new and experienced marksmen attended the course.
Melissa Alexander, 35, of Hillsboro, OH, chose to take part in the SAFS course after her son, Jacob, 13, decided he wanted to attend the National Matches. Though she was apprehensive at first, she said she now feels signing up for the course was a very worthwhile decision.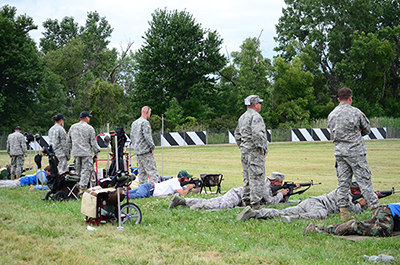 Members of the Army Marksmanship Unit and other military shooting teams served as instructors for the course.
"It's my first experience with highpower, and I learned all kinds of things on technique and how to be more accurate," she said. "I was very nervous at the beginning, but once you get into it, you find that the rifle isn't nearly as bad as you might think. It's very easy to use."
2LT Daniel Chappell, 23, of Dexter, MO, took the SAFS course for the second year in a row. As a member of the rifle team at Arkansas State University, he uses the opportunity to participate in SAFS as a way of earning some extra practice from top instructors.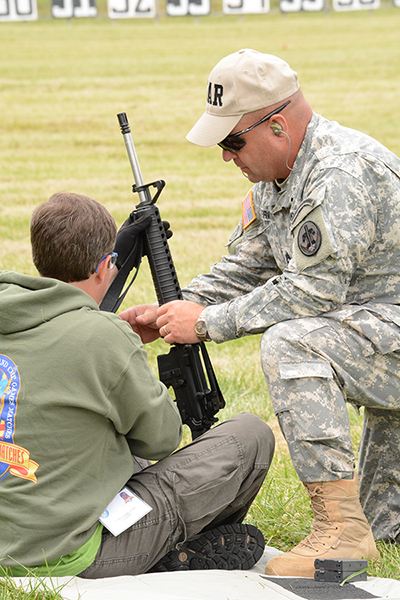 Instructors led with hands-on coaching on the firing line.
"There's a lot of good experience here, and a lot of good learning," he said. "The one-on-one instruction is some of the best I've ever received."
Students in the course learn basic instruction and firing practices, as well as competition skills on the firing line with the AR-15 service rifle. Highly qualified instructors from the Army, Navy, Air Force, Marine Corps and other military shooting teams educate participants with classroom and hands-on training.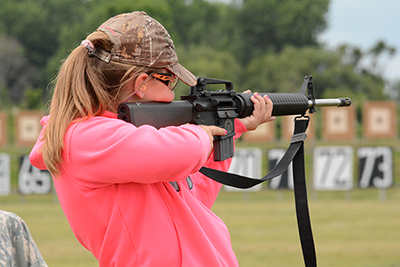 Participants in the school had the opportunity to fire real AR-15 rifles to practice handling the firearm. Students also competed in a true M16 Match.
"I was on the first relay, and I was scared. I was petrified," said Pat Modrich, 57, of Tyngsboro, MA. "But the guys there were absolutely phenomenal coaches. You could not have asked for any better. I cannot say enough about that. They deserve a lot of Kudos."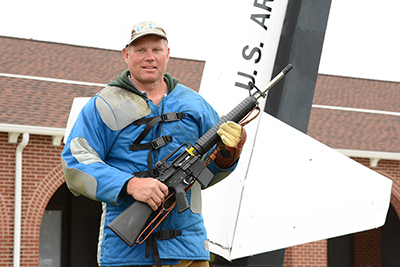 Mark Skeels
Modrich shot alongside her friend, Christine Humber, who was also taking SAFS for the first time. Not only was Humber, 47, of Nashua, NH, a newbie to highpower shooting, but she also had to complete the entire course with a cast she was forced to wear on her leg from a recent injury. Though a little less spring in her step, she didn't allow her accessory to stop her from competing.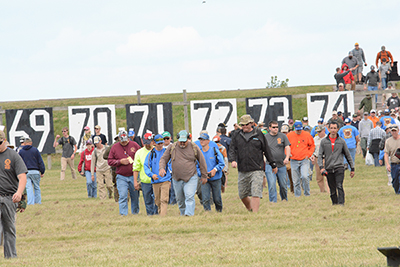 Besides work on the firing line, students also learned how to score and pull targets in the pits.
"And have my son ridicule me? Are you kidding me?" she said as she smiled. "The standing didn't feel great, but it was still enjoyable. I think I did pretty well considering."
The conclusion of the school features a true Rifle Excellence-In-Competition (EIC) match, where competitors have the opportunity to earn introductory 4-point legs towards an esteemed Distinguished Badge.
With their first EIC match behind them, Modrich and Humber were only left with reflection on their new experience – and their scorecards to compare who shot the best.
"She beat me," said Humber as she pointed to Modrich. "But next year, when I don't have this boot – game on!" she added, with a laugh.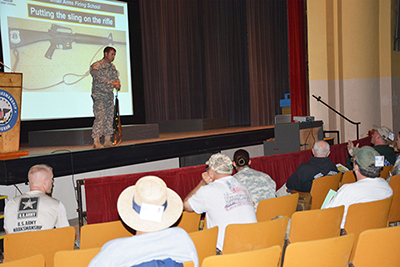 Members of the Army Marksmanship Unit led classroom instruction in Camp Perry's Hough Auditorium before participants handled rifles on the range.
Olivia Fabrizio, 19, of Lynn, MA, was the overall winner of the Rifle EIC competition with an aggregate score 393-16x. She had an outstanding performance during the match, recording perfect scores of 100 in both slow and rapid fire prone, 98 in rapid fire sitting and 95 in slow fire standing.
Following closely behind Fabrizio was Mark Skeels, 51, of Helena, MT, with a score of 393-14x. Mark was the top competitor for awarding EIC points. Brian Appel, 25, of Holyoke, MA, finished in third overall with a score of 387-18x.
The cut-off score for EIC points was 372-11X. Forty-four eligible competitors received their first 4 EIC points.
For more information about the Small Arms Firing School, visit http://www.thecmp.org/NM/SAFS.htm. A complete list of results of the SAFS Rifle EIC Match can be found at https://ct.thecmp.org/app/v1/index.php?do=match&task=edit&match=11024. View photos of this and other National Match events on our Zenfolio page: http://cmp1.zenfolio.com/.
NEXT ARTICLE