<! Nested Table for picture>

CAMP PERRY, OHIO – For wounded military veterans returning from the Global War on Terror in Iraq and Afghanistan, the idea of picking up a rifle again might seem like it would be the furthest thing from their minds.

But John "JJ" O'Shea, founder of M1 for Vets, an organization founded in 2005 to reintroduce wounded vets to highpower rifle shooting, sees the connection between their plight and the rifle range, and says it's not a stretch.

<! Nested Table for picture>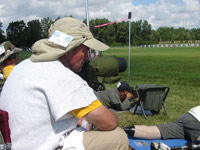 JJ O'Shea, founder of the M1 for Vets Program, coaches during the John C. Garand Match.
The reality is many military veterans have an affinity for target shooting. It was part of their training and for many, the most enjoyable part of their training. Either naturally or by vocation, many veterans become proficient at shooting and it's a skill and recreation that stays with them, O'Shea said.

M1 for Vets, a not-for-profit organization, with the help of private and corporate contributions, donates reconditioned M1 Garand semiautomatic rifles to wounded veterans and encourages them to bring them out to rifle matches and CMP Games events around the country to fire them. The M1 Garand rifle became the standard battlefield weapon during the latter portion of World War II and the Korean War.

"What began as an idea to provide one returning veteran with an M1 Garand as a way of showing our support and appreciation for his or her service, has grown into a nationwide project," O'Shea said.

"These guys are absolutely amazing - I cry every day," O'Shea said in admiration of the wounded veterans he watched assemble on the firing line during the John C. Garand Match on Saturday, 2 August, the most recent M1 for Vets outing.

"I am humbled. There's no other way to describe it," he said.

<! Nested Table for picture>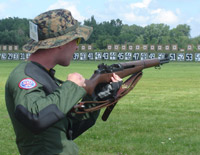 Shawn Seeley, a Vet from Washington, shot a 99-3X with no thumb. Seeley earned Bronze Achievement Medals in both the Springfield Rifle Match and John C. Garand Match.
O'Shea looked down the line and described the wounds of veterans firing in the current relay.

"There's a fella with no thumb on his trigger hand and he just shot a 99-3X. That guy lost the sight in his right eye, so he's learning to shoot left-handed. This guy left his legs in Iraq, but look at his scorecard," O'Shea said as he pointed to a string of 10s and Xs.

"This program is really starting to take off. People are coming out of the woodwork to help out, contribute money or to host benefit matches," O'Shea said. "We would really like to begin bringing teams up here to shoot in the President's 100 or National Trophy Individual match," O'Shea said.

<! Nested Table for picture>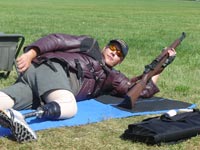 Dale Beatty pauses between phases Garand Match. Beatty competed in the CMP Games Events at the National Matches.
Dale Beatty, 29, of Statesville, North Carolina lost both of his legs below the knees when the Humvee he was driving in northern Iraq struck an anti-tank mine on 14 November, 2004.

Beatty was the most severely wounded of the four guardsmen aboard. He was serving full time with the North Carolina National Guard running an armory prior to deployment with an artillery unit.

"Over there we were basically infantry and I was a squad leader," Beatty said.

Married for seven years and the father of two sons, Beatty was eventually transferred to Walter Reed Army Medical Center where he underwent treatment and rehabilitation for a year.

After returning to North Carolina to build a new home, O'Shea contacted him and eventually presented him with an M1.

"JJ has been coaching me ever since," Beatty said.

<! Nested Table for picture>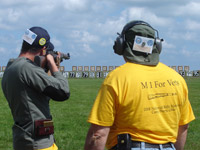 Volunteer coaches offered assistance to the twenty veterans who participated in this year's National Matches.
He said seven veterans came to Camp Perry in 2006; 15 attended last year and 20 attended this year's matches. It was Beatty's second trip to Camp Perry for the Springfield and Garand matches. He said he now belongs to an M1 for Vets club near home that already has 41 members.

Beatty said the M1 Garand rifle was a very special gift.

"I have a military tradition in my family that dates all the way back to the Revolutionary War. A member of my family has been in every major war since then, except maybe Desert Storm."

"So these are the rifles that my family used – my great grandfather shot the '03 in World War I. My grandfather had a Garand in World War II and my uncle carried a Carbine in China.

"The historical aspect and connection between that and my family is what really made that gift mean something to me," Beatty added.

"As a veteran, we get a lot more respect than the guys from wars past. Somebody might buy you dinner if they see you out, but getting a rifle is special. That's something that I can pass on to my kids."

Regarding his disability, Beatty was upbeat. "When the newer guys come in and see how well we're doing, it's easier for them get over it and get on with their lives, even with a disadvantage, even with the prosthetics."

"I can't be as physical as I used to be, but I can still come out here and enjoy this sport. I'm hoping to grow it and I think we are. Two of the guys that were in my squad in Iraq are members of our club," Beatty said.

"Camp Perry started as a military training post and a lot of our guys are getting beat up and now they're coming back here to do some of the things they enjoy – and that's what it's all about."

<! Nested Table for picture>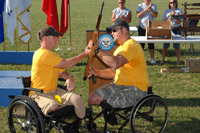 At the CMP Games closing ceremonies on Saturday, 3 August, Cpl. Neil Frustaglio presented an M1 to Cpl. Steve Kiernan. .
Recipients of M1 rifles are not self-selected but are instead nominated by "brothers-in-arms" and those familiar with wounded veterans through treatment in military hospitals. Candidates are predominantly combat-wounded from the Middle East Theater.

Criteria for receiving an M1 through the program served in either Operation Enduring Freedom or Operation Iraqi Freedom. They must have a desire to continue in shooting sports such as hunting, trap/skeet, or rifle marksmanship, and they must be willing to accept the gift.

At every M1 for Vets match, a major portion of the match fee is donated to the purchase of a rifle for a pre-selected veteran, O'Shea said. Sometimes their travel expenses, lodging and even food are paid.

Almost every state is represented in the M1 for Vets donor list. O'Shea credits The Walter Reed Society, Operation Second Chance, and the Wounded Warrior Project in addition to countless civilians, soldiers and fellow veterans for making the program operate.

The mailing address for more information and to make donations is JJ O'Shea, P.O. Box 876, Huntersville, N.C. 28070. His e-mail address is jjoshea@msn.com.