CAMP PERRY, OHIO – There is a growing trend among U.S. shooting organizations to increase participation in competitive pistol shooting to both to educate the public about proper firearms safety and proficiency, and to strengthen competition numbers.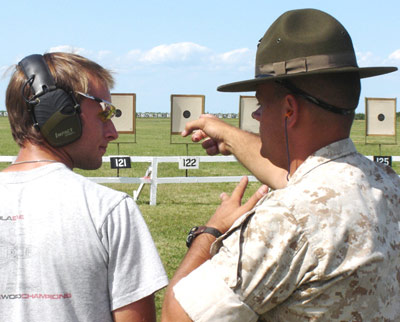 Students were instructed on the range as well as in the classroom. After the two instructional sessions, students fired an M9 EIC Match.
So it is no surprise that the U.S. Army Marksmanship Unit (USAMU) stepped up its efforts to enhance programs like the Small Arms Firing School (SAFS) Pistol at this year's National Matches.

The USAMU, in conjunction with the Civilian Marksmanship Program and assisted by Army, Air Force, Coast Guard, Marine and Navy Active, National Guard and Reserve shooting team members, intensified SAFS Pistol by consolidating a two-day program into one, and adding an advanced shooters course.

The program featured an intensive classroom session in the Camp Perry auditorium conducted by some of the nation's top shooters. This classroom instruction was followed with a session on the range; then the shooters completed the day by firing of and Excellence In Competition (EIC) match.

According to the Marksmanship Unit's NCOIC SFC Jason St. John, the 2009 USAMU team sharpened its focus to improve one-on-one training between participants and instructors, concentrating more on the fundamentals of pistol shooting. The unit wanted to get back to the basics of sharing knowledge with the civilian population.

"We met last fall with CMP and agreed to make SAFS a one-day program, keeping the materials basically the same, although we made vast improvements to our slide show presentation," St. John said.

By consolidating SAFS to one-day it enabled CMP to run a service pistol warm-up match on Tuesday, which is normally the second day of SAFS. In addition, the USAMU conducted an Advanced Small Arms Firing School which was attended by nearly 70 experienced shooters.

"Our original program covered five basic areas including familiarity with the M9 service pistol, introduction to fundamentals, introduction to competition, mental management and training plans," said St John.

"The mandate of the Small Arms Firing School is to introduce the civilian population the military sidearm, in our case, the M9 service pistol. So for the basic program we decided to cut off the competition and mental management side of it, and kept to familiarity, fundamentals and training plans. That gave us an additional 45 minutes to include an actual hands-on training session before students even fired," St. John said. "It is essentially an extension of the fundamentals class."

On the range students fired Beretta M9 ball guns at 25-yard targets. The course of fire during the range training included five sighters in two and a half minutes, a slow-fire stage of 10-rounds in five minutes, a timed-fire stage of two-strings of five-rounds in 20 seconds each and a rapid-fire stage of two-strings of five-rounds in 10 seconds each.

St. John said the hands-on segment allowed students to gain familiarity with safety and firing functions of the M9 prior to firing on the range. Combining the hands-on portion of the program with practice firing, then immediately moving to the EIC match, added continuity to the program.

"In the past at the end of the first day we would have a 30-round practice fire, then come back the next day for the competition. This created a big gap and a 'synapse' in their day, which can cause a student to lose their sighting, knowledge of function and familiarity with the sidearm, (this year) we kept it all together," he added.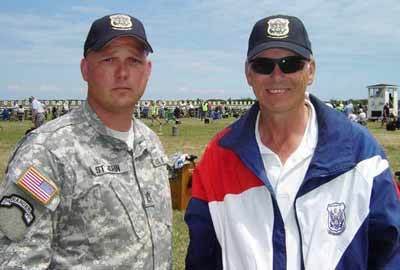 NCOIC SFC Jason St. John with USAMU Pistol Coach Rick Hawkins on the firing line.
St. John said coaches could be more effective without a break because they kept focus on their students' needs. "Students got immediate feedback from the coaches after practice firing and were able to take that knowledge directly to the line for the introductory EIC match. Now they have it all at one time with the same gun and the same instructor, then they roll right into their match."

"In the advanced course, we wanted to do everything we could to give back to the competitive public. We wanted to tell the advanced students what we focus on to get our shooters to the next level," St. John explained.

"It was matter of exposing to the class our mantra to marksmanship, what we focus on. It all comes down to fundamentals really," he said. "It is about efficient application of marksmanship fundamentals."

The advanced course centered around four basic areas; equipment, fundamentals, training plans and mental preparedness.

St. John explained that the discussion about equipment was less about specific types of equipment to acquire, but more about what the competitor should do with the equipment they already have. "We want to stress that there is a lot of room for improvement by most shooters before moving up to better equipment. Once you have proven that you have gone as far as you can go with existing equipment, then you may consider upgrading."

"Then we get right back to fundamentals of how we train, and lastly to the mental side of shooting; being positive, limiting expectations and staying focused. In the Army we have what we call a shot plan that every shooter comes up with to focus on the fundamentals. What happens to shooters is they allow themselves to have multiple distractions. They may have an expectation that they will shoot a 95 in rapid fire and they go out and shoot a 91. Then when it is time to fire again they are still thinking about that 91 when they should be thinking about approaching their next string," St. John explained. "Instead shooters should be thinking, 'keep the sights in the center, pull the trigger'," he said.

St. John said the 2009 SAFS exceeded expectations in terms of attendance and response of the participants. "Our unit's mission is to enhance combat readiness with lessons learned in competition, research and development. A second part of that mission is to enhance the image of the Army through a proactive public relations campaign."

"So realistically, we gave to the civilians everything we could possibly give in our basic and advanced courses. We accomplished our mission with the increase in attendance from about 380 people to over 500," said St. John.

All participants in the SAFS Pistol were awarded a certificate of completion, and some earned credits toward their Distinguished Pistol badge as part of the EIC Match.