CAMP PERRY, OHIO – The Bearkat Battalion Army ROTC rifle team from Sam Houston State University (SHSU) rolled into the 2010 National Trophy Rifle Matches as the only collegiate entry and came away with valuable experience and high expectations for their growing highpower program. <! Nested Table for picture>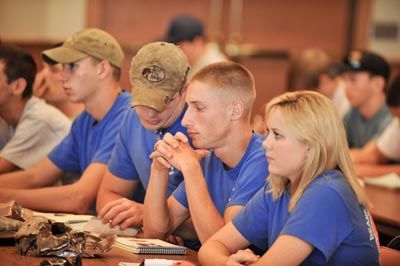 Sam Houston State University ROTC cadets Roland Travis, Charlie Bransom, Jacob Hagood and Lauren Conner participated in the 2010 CMP-USMC Junior Highpower Clinic as part of their first-ever Camp Perry experience.


The Bearkat Marksmanship Unit, as they're known on their home campus of 16,000 students in Huntsville, Texas, is a two-year-old shooting team that was formed at the request of ROTC cadets. Its mission is to train old and new cadets to shoot as experts in local, state and national competitions and at the Leadership Development and Assessment Course (LDAC). LDAC is the centerpiece of the U.S. Army's ROTC program and is also known as Advanced Camp, Camp Adventure or Warrior Forge held each summer at Ft. Lewis, Washington.

With several freshman and sophomore cadets, Maj. Andrey Tymniak, 47, an Assistant Professor of Military Science at SHSU, he said his team is young and growing and will benefit from its first Camp Perry experience. Along with Cadet Senior Clayton Ivey, 21, of Houston, Maj. Tymniak said they were feeling their way around Camp Perry for the first day or two.

"This was our first time here," Maj. Tymniak said. "But it won't be our last," Ivey followed.

"Neither of us have been here before – I didn't know anything about "huts" for example," Maj. Tymniak said. "TSRA (Texas State Rifle Association) gave us the info and helped us a lot. They've been very supportive of us - those are some great people out there."

When the Bearkat Battalion arrived, most of their seven shooters attended the CMP-USMC Junior Highpower Rifle Clinic. Immersed with more than 100 other junior competitors, the three-day program gave the cadets an opportunity to learn from fellow clinic attendees and the elite Marine Corps Rifle Team in the classroom and on the range. <! Nested Table for picture>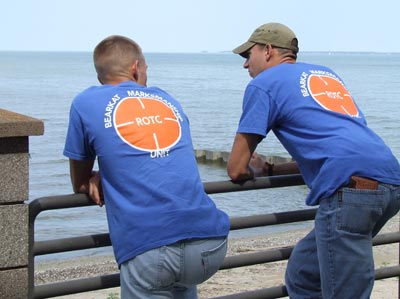 While on a break from the USMC junior clinic, a pair of Sam Houston cadets enjoy the view of Lake Erie from the Camp Perry Conference Center deck.



"We had only shot in three to five matches this year, so it was a great opportunity for us," Ivey said. When we began, we were firing a lot of 60s and 70s and we watched our scores come up from there each day."

As a senior under contract with the Army, Ivey will be commissioned as an officer upon his graduation in the spring of 2011. He said he's grateful to be a part of the Bearkats' fledgling program.

"It's one of those things I will greatly miss. Like playing high school football – once it's over, I'll always have these memories," Ivey said. As Team Captain, Ivey has helped Maj. Tymniak mentor a young team.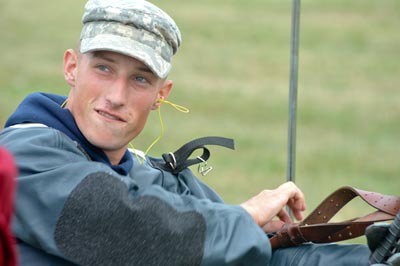 Jacob Hagood prepares to fire in one of several highpower matches Bearkat cadets took part in during the 2010 National Trophy Rifle Matches.


"The majority of the team is new shooters and they are going to go back to Sam Houston as much better shooters than when they came here. Our scores got better every day," Maj. Tymniak said.

"Because we have so many freshmen and sophomores I've got some of them for another three years. If I can keep them coming to Camp Perry and use what we've learned here at home station, our scores will continue to improve and we'll be a force to be reckoned with," he said.

"It's a big learning curve but they're improving for a bunch of new shooters."

Sam Houston State's two teams finished in the middle of the pack of 88 teams in the National Trophy Junior Team Match at 40th and 54th and their National Trophy Team Match six-person squad finished 39th out of 53 teams.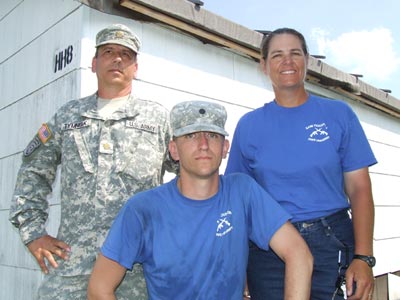 Maj. Andrey Tymniak, cadet Clayton Ivey and SHSU Coach GySgt. Michelle Boyd were the driving force behind the Bearkat Battalion at Sam Houston State ROTC in 2010. Cadets enjoyed none of the comforts of home in Camp Perry's hutments during highpower week.


The start-up Sam Houston squad is coached by GySgt Michelle Boyd, USMCR, 45, of La Feria, Texas, who calls the Sam Houston team "A great bunch." In addition to coaching, GySgt Boyd is a mom with sons participating in the program.

The Bearkats were also assisted at Camp Perry by the U.S. Army Marksmanship Unit who provided the coaching services of National Highpower Rifle Champion SGT Sherri Gallagher.

In addition to the coaching, several fellow competitors offered advice and assistance to the SHSU cadet team.

"You've got to love a sport where you actually help your competitors," Ivey said in regard to the assistance his team received at the matches.

"We also have to thank Sam Houston State and its ROTC program. The university gave us a lot of support – bought all of our rifles and 90 percent of our equipment. The university and ROTC have a great relationship," Maj. Tymniak said.

"Many people on the line were asking us how we got Sam Houston State to sponsor us," Ivey said. "They just believe in what we're doing," he followed.

"Most of these kids are under contract with the Army and shooting will be a skill that many of them will take with them, whether they're in a combat role or not. It's a skill that will stay with them far into the future," Maj. Tymniak said.