My quest for the Distinguished Riflemanís Badge began in 1973 at Camp Perry during the Nationals, and ended in 1976 at Camp Perry again during the Nationals. In 1973, when I shot my first EIC match, I was squadded on target 89 on Viale, but during the Leg match I was resquadded to target 87. My third shot was a 10, but I shot it on target 89. I ended up 7 Xs out of the cut off. I never got over that, and have never understood why they keep changing targets on shooters during the Championships. But all in all, it was not too bad for a beginning Expert.

<! Nested Table for picture>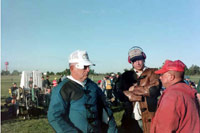 Dick Whiting (left) at the 2000 National Trophy Team Match with teammate Fritz Hemplemann and team coach Don Bartlett prior to going on the line for Standing.

I returned to Camp Perry to compete in the Spring Regional on Memorial Day, 1974. I was a bit better trained and looking forward to the Leg match. I placed well in the standings, earning 8 points toward my Distinguished award. Not too bad and at this point I concluded that this game was not all that difficult. Not like most were willing to tell this, or that new shooters would even believe them if they did.

However, from that point until the Spring of 1976, my experience with Leg matches would be less than desirable. I cross fired in two more matches, once at Quantico, Virginia putting me out of the cut off by 8 points. But during all this, I managed to progress to Master. I shot in the high seventies on a consistent basis, and won a few awards along the way, all using a DCM M-14.

<! Nested Table for picture>

Distinguished Stories Wanted!
In an effort to better preserve this history and honor of the distinguished badge, the CMP is collecting individual stories and pictures for every distinguished badge earned. If you, or a close family member, is distinguished and would like to submit the story of how you became distinguished, please email competitions@odcmp.com with your story and pictures. The CMP will record this information and display it on the Distinguished Badge website.

In 1975 my mentor, William A. Cooney, continued to encourage me, and I suppose it finally sunk in that all I had to do was shoot my average in Leg matches. In 1976, I returned to Perry and shot in the Spring Regional. I again placed in the silver medal bracket, earning another 8 points. Now I had 16 points, and was rolling. This was my year.

At Quantico, later that year, my teammates told me that they wanted me to win the match to go Distinguished just as my predecessors on the team had done. So with that in mind, I proceeded to shoot a good score and ended the day in second place. My score of 477 for 2nd place Gold was second only to a US Army team member who shot a 478. That satisfied my teammates who said that was good enough for them.

<! Nested Table for picture>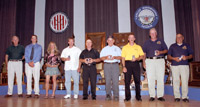 Dick Whiting (4th from right) at the 2004 National Trophy Rifle Awards Ceremony. Dick's score of 484-14X in the National Trophy Team match earned him a spot on the National Civilian Rifle Team.

Whew, there for a minute I thought it might be difficult to win a match against military shooters! Now with 26 points under my belt, the last 4 points could come at Camp Perry during the 1976 Nationals. What pressure would there be during the Nationals? I was prepared and proceeded to place high in the cut off, and earned another 10 points to complete my Distinguished Riflemanís Badge requirements.

From that point on I shot in several EIC matches, never missing the cut off. What magic is there in winning that Gold Medal? It must be something, because everyone kept coming over and asking me to spread a bit of my good fortune on their efforts. It didn't work very well, but they too found the magic when they earned their Distinguished Riflemanís Badge.

In all, I have always held the Distinguished Rifleman badge in high esteem. It is the highest honor a service rifle shooter can win. Indeed, all of the medals awarded by CMP are very prestigious. Over the years, I placed in the President's Match four times, participated as a firing member on two winning Soldier of Marathon Trophy Teams from Maryland, and won eight Elihu Root medals. I won my most recent Elihu Root medal in 2004, as a member of the National Civilian Team. I took second place on a very windy day with a score of 484.

<! Nested Table for picture>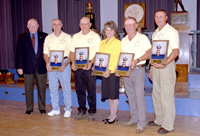 Dick Whiting (3rd from left) with his team, West Virginia State Rifle & Pistol Association, which won the Oglethorpe Trophy during the 2003 National Trophy Pistol Team Match.

In 2003, I had the honor of participating as a firing team member on the winning Oglethorpe Trophy Pistol Team from West Virginia. This was another highlight in my shooting career.

In 1974, I was the High Civilian in service rifle. I missed the Nathan Hale trophy in 1979, as I recall, by only two points. I fired a 485, while William Cooney and Bert Rollins fired 487s. Bert won by a single X.

My shooting carrier now spans some 33 years, with 21 trips to Camp Perry to compete in the Nationals. As I wind down my shooting career, though I am not done just yet, I will say that much has changed over the years. With the recent improvements to Camp Perry, it looks promising for the future. My quest now is to earn the Distinguished Pistol Shot Badge to become one of the few Double Distinguished civilians in the nation.

The things that have impressed me most are the changes to the AR platform, the number of juniors now attracted to highpower shooting sports, and the outstanding success of the CMP Springfield and Garand matches. Who would have thought these two matches would have the ability to fill the ranges at Camp Perry?

If this trend keeps going, the future for the shooting sports is indeed bright.