CAMP PERRY, OHIO – Fredric Fadeley, 18, of Phoenix, Arizona capped the 2011 CMP-USMC Junior Highpower Clinic by leading all eligible competitors in the Excellence-In-Competition service rifle match. He ranked fifth out of all shooters which include Distinguished shooters and those who have already earned introductory points.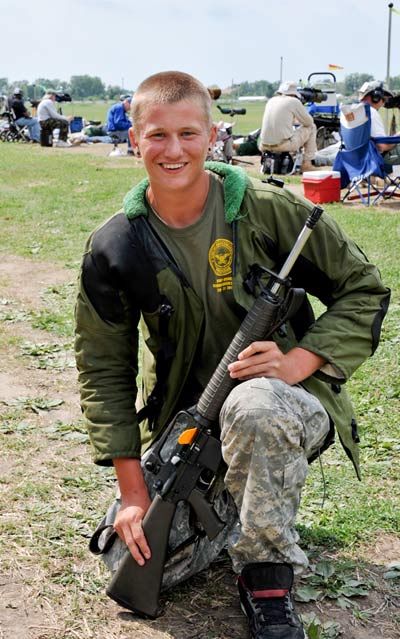 Fredric Fadeley takes a break from firing during the 2011 CMP-USMC Junior Highpower Clinic and Championship at Camp Perry. Fadeley was one of more than 130 juniors from across the U.S. who participated in the annual clinic.

Fadeley fired a 472-7X aggregate score in the match on 31 July and earned four introductory "leg" points toward his Distinguished Rifle Badge. The match followed the annual junior clinic offered by the CMP and U.S. Marine Corps service rifle team.

<! Nested Table for picture>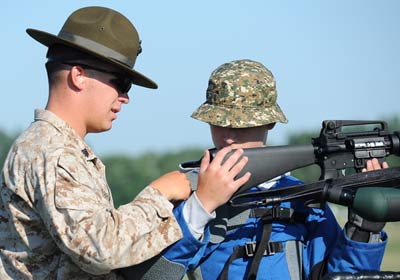 A Marine Corps instructor explains the importance of consistent, tight placement of the rifle buttstock in the pocket of the shoulder in the standing position. Members of the U.S. Marine Corps service rifle team dedicate valuable time to the clinic each year.


The clinic is one of the most popular CMP youth marksmanship programs during the National Matches that was created for a growing number of juniors who participate in highpower service rifle shooting, usually as members of state association junior highpower teams.

Fadeley fired an 89-0X in standing, a 99-1X in sitting, a 98-4X prone rapid-fire and a 186-2X in the 20-shot prone stage.

<! Nested Table for picture>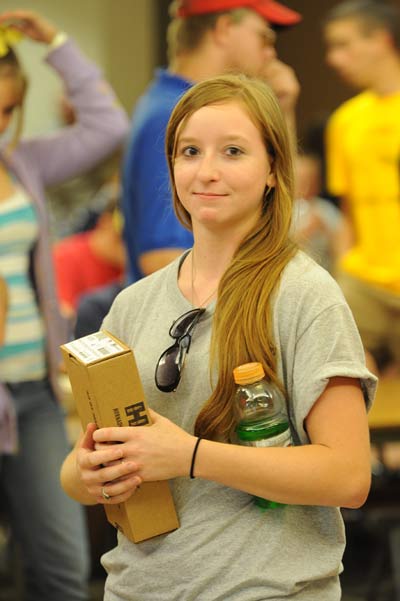 Corey Wiegand gathers her ammo during a break at the CMP-USMC Junior HP Clinic. It was her second appearance at the clinic.


Joseph Kendrick, 16, of Gilbert, Arizona placed second in the EIC points race with a 471-12X aggregate. Lane Ichord, 17, of Waterford, California placed third, tying Kendrick but following with a lower X-count with a score of 471-5X.

<! Nested Table for picture>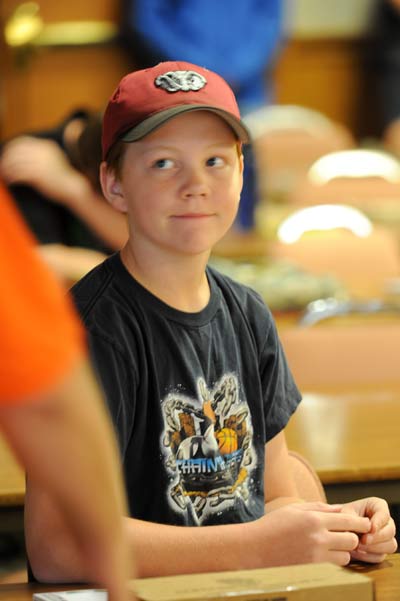 Sloan Sobieski, 13, of Amherst, Ohio, participated in the Small Arms Firing School last year and said he was ready for more advanced training in 2011.


The top 10 percent of competitors in an EIC match are eligible to win points toward their Distinguished Rifle Badge. With 102 eligible participants in this year's match, the top 10 earned introductory points. The cut score was 463-2X – here are the 2011 CMP-USMC EIC points winners:

2011 CMP-USMC EIC points winners:
• Fredric Fadeley Phoenix, AZ
• Joseph Kendrick Gilbert, AZ
• Lane Ichord Waterford, CA
• Donnie Smith Payson, AZ
• Steven Paci, Jr. Centereach, NY
• Kayla Swenson Mi Wuk Village, CA
• Paul Kalman Jr. Mandaville, LA
• Daniel Hall Green Bay, WI
• Lee Greenwood Ceres, CA
• Blake Earnes Lafayette, CA

The overall match leader was Sagen Maddalena, 17, of Groveland, California, with an aggregate score of 482-13X, which ties her with last year's record-setter, Travis Burian, for the highest overall score fired in the match. Morgan Fadeley, 16, of Phoenix, was second overall (481-12X) and Adam Swint, 18, of Portland, Oregon was third (475-8X).

<! Nested Table for picture>
Clinic participants must have some previous highpower rifle competition experience and must have attended the Rifle Small Arms Firing School or the Eastern Junior Highpower Clinic at Butner, North Carolina. The CMP organizes the clinic and members of the U.S. Marine Corps Rifle Team provide instruction.

The clinic lasts three days and includes both class instruction including effects of the weather, how to properly use and modify equipment, the rulebook requirements for shooting positions and juniors will compete in an Introductory EIC leg match.

<! Nested Table for picture>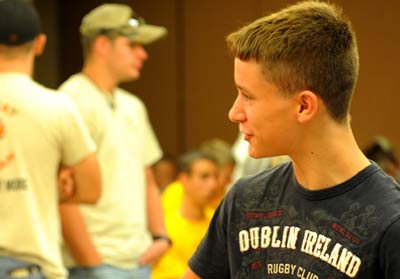 Andy Hornback, 15, of Cardington, Ohio, attended his first CMP-USMC clinic this year. He said he's been shooting his whole life and is considering a career in the military.


Days two and three are spent shooting on the range firing at 200, 300 and 600 yards where juniors fire while being coached by a Marine Corps Rifle Team shooter. All students who complete the clinic receive a CMP-USMC Highpower Rifle Clinic T-shirt, certificate and school handout materials.

Bushmaster provided a pizza party at the conclusion of the event where certificate and achievement awards were distributed.

<! Nested Table for picture>
For complete results of the CMP-USMC EIC Match, log onto http://clubs.odcmp.com/cgi-bin/report_matchResult.cgi?matchID=6544.