ANNISTON, ALABAMA - The future of CMP South remains bright as evidenced by increased attendance at marksmanship events on the programs side and sustained interest in rifle and ammunition purchases on the sales side.
Anniston Marksmanship Center Upcoming Events

Tuesday and Thursday evenings Open Public Shooting
16 Oct Monthly Match
12-13 Nov Dixie Double
20 Nov Monthly Match
3-5 Dec Gary Anderson Invitational
The Anniston Marksmanship Center continues to attract a growing spectrum of shooters to matches and clinics ranging from 4-H club beginners to Olympic hopefuls. Like its Camp Perry cousin, the MEGALink-powered, 80-firing point indoor range is among the premier shooting venues worldwide. It's the newest of its kind in the southeastern US.


On the heels of a series of successful events including the JROTC National Championships, the Gary Anderson Invitational, the Dixie Double and several monthly matches, the center is gaining momentum in its second season.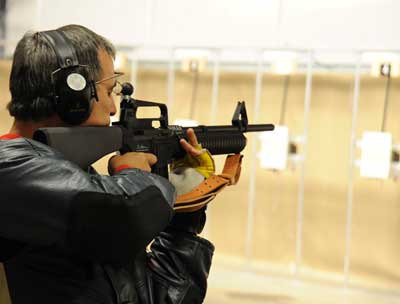 National Champion highpower shooter Carl Bernosky fires the National Match Air Rifle (NMAR) in an airgun competition at Camp Perry's Marksmanship Center. The NMAR is an air-powered, pellet-firing clone of the popular highpower .223 caliber AR15 service rifle.

The 10-meter range accommodates air pistol and air rifle competitors. Air rifle is broken into three standard divisions - precision, sporter and now NMAR. As the name implies, the precision division is the most accurate airgun and is fired in high level competitions including Olympic and World Cup matches.

Sporter air rifle is an entry-level, lower cost platform and for those reasons it is the most common air rifle found among junior shooting clubs, but also enjoys a significant competitive following. Most matches consist of precision and sporter divisions.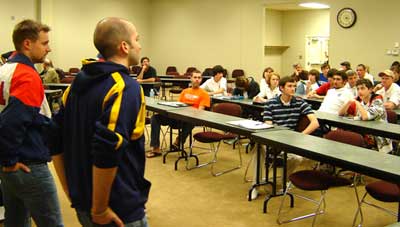 U.S. Olympic medalist Matt Emmons and Italy's Nicco Campriani discuss the finer points of precision air rifle shooting during a 2009 clinic in the large classroom at the CMP Anniston Marksmanship Center.
In a new development, highpower shooters, not normally accustomed to shooting airguns, are discovering the National Match Air Rifle (NMAR) built by Anschutz and marketed by Creedmoor Sports. AR shooters now have a low-cost, climate-friendly alternative to outdoor practice and the well-balanced, highly-realistic AR15 style airgun is available to rent on the range during public shooting sessions and is available for purchase. NMAR is growing in popularity and likely will join the ranks of precision and sporter in competition. <! Nested Table for picture>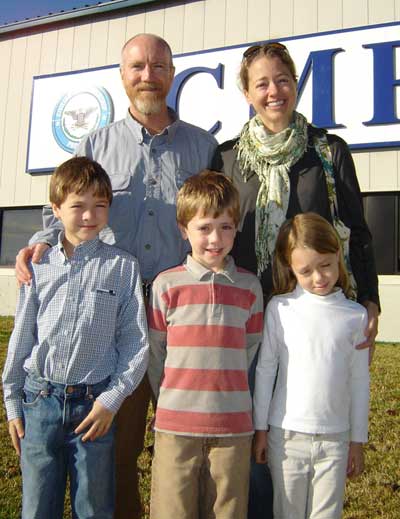 The Leverett family of Bainbridge, Georgia regularly competes at the CMP South's Anniston Marksmanship Center. Parents Jack and Ashley coach their two sons and daughter in supported air pistol competition


Shooting sports have always been a family affair, and a number of families, particularly those living in the southeast, are discovering the convenience and user-friendliness of the CMP South center.

The Anniston venue has already played host to the youngest of junior shooters and Olympic hopefuls alike. At the Dixie Double in Anniston in November 2009, six-year-old Abbie Leverett and her brothers Henry, 8, and Jackson, 9, fired on the same range, at the same time as US Olympic gold and silver medalist Matt Emmons.

The Leverett children, of Bainbridge, Georgia competed in the supported air pistol class and were coached by their parents, Jack and Ashley. On the opposite side of the range Emmons was battling Italy's Nicco Campriani in a precision air rifle masterpiece. Both shooters competed in the 2008 Beijing Olympiad.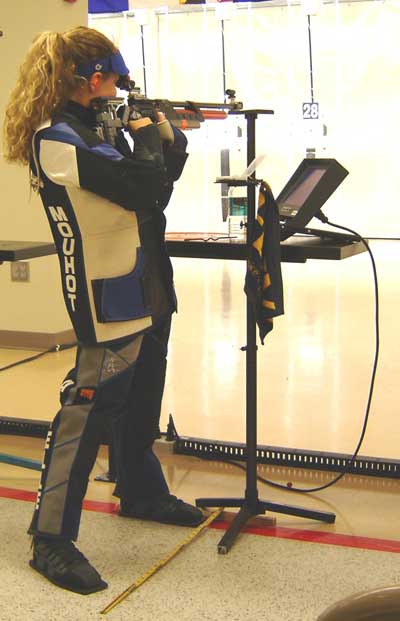 Arielle Mouhot, a member of the Ft. Benning Junior Rifle Club, is a great example of Southeastern U.S. junior shooters who have made the CMP Marksmanship Center a regular stop on their match schedule.

Arielle Mouhot, 17, of Columbus, Georgia is a member of the Ft. Benning Junior Rifle Club and is completing her senior year of high school. An accomplished junior precision shooter who began in sporter class, Arielle and her mother Deborah moved from Sarasota, Florida to Georgia for greater shooting opportunities.

"Shooting here at the new facility is great - it's an awesome place to compete," Arielle said.

For collectors and M1 Garand enthusiasts, CMP suggests there may be enough rifles on hand and in foreign armories to last another several years. There are currently over 100,000 total rifles on hand in the CMP system. But the reality is there are only so many GI-issued M1 rifles left in existence and the condition of rifles yet to be returned to the US is uncertain.

Since 1968, approximately 600,000 M1 rifles have been sold through the DCM and CMP programs. Documentation of rifle sales prior to 1968 is not available. Of the total of rifles handled by CMP, approximately 85 percent have been M1s, five percent 1903/A3 Springfields, five percent carbines and the remainder .22 target rifles and others.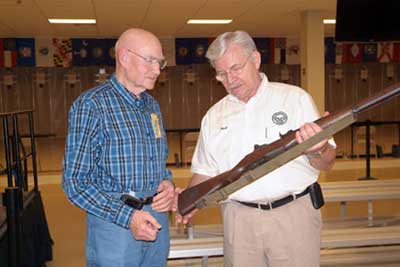 Ken Tobias, a member of the Garand Collectors Association is presented with an M1 Garand rifle by CMP Chief Operating Officer, Orest Michaels as part of last fall's GCA National Convention.

The Garand Collectors Association routinely assists CMP with research and information about the M1 rifle. The GCA, founded in 1985, was organized to exchange information and expand knowledge of the M1 rifle. Among its 13,000 members are recognized M1 authorities including members of the Garand family, the Springfield Armory National Historic Site staff and the full spectrum of members from beginner to advanced.

The GCA is the largest CMP-affiliated club. Last year 49 GCA members fired their M1 rifles or supported teams at the National Matches at Camp Perry. GCA also entered five teams in the National Trophy Team Match and the National Trophy Infantry Team Match. For more information, log onto www.thegca.org.

The good news is CMP continues to find ways to extend the lifespan of M1 sales by combining reconditioned parts with new hardware and wood. A great example is the CMP Special Grade M1 which incorporates the best of the old and new. Because several rifles returning to the US are not whole when they arrive in the US due to bad wood, metal wear or missing parts, CMP is finding ways to get the best mileage out of usable M1 Garand components.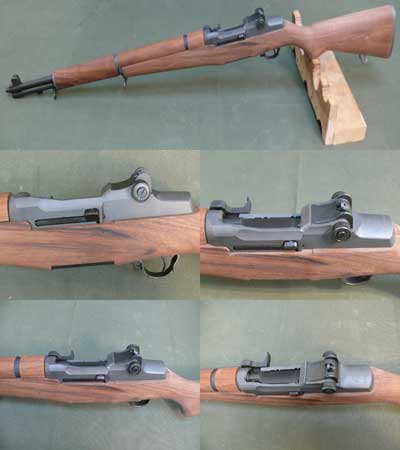 Starting with a refinished GI-issue receiver and metalwork, the CMP blends the best of the old and new with its CMP Special M1 Garand Rifle. A new web sling is the finishing touch to a thoroughly-rebuilt M1.

The CMP Special Grade M1 features a Springfield Armory receiver, a new production stock and handguard set with CMP cartouche, a new production barrel and new web sling. The receiver and most other parts are refinished USGI, but some parts may be new manufacture.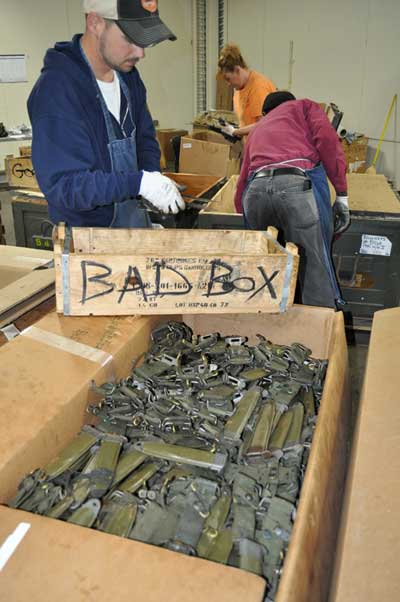 CMP Anniston employees sort through thousands of M1 bayonets and scabbards so they may be prepared for sale at the CMP's stores – the perfect complement to the M1 Garand rifle.

Recently CMP took shipment of nearly 200,000 M1 bayonets and scabbards, many dating back several decades. CMP warehouse staff went through the process of sorting bayonets and scabbards and combining pieces to make complete sets. The sizes of bayonets range from 10 to 16 inches and many have broken Bakelite handles and are coated in Cosmoline. They are onsale at the CMP Store and CMP E-Store.
For shooters seeking ammunition to cycle through their CMP rifles, it's available through CMP South and North stores and it's e-store.

Since the US Army does not provide ammunition to the CMP, it is purchased from commercial distributors or other countries. Hornady provides .30-06 and .223 caliber ammo to CMP and Aguila supplies .30 caliber M1 Carbine and .22 caliber ammunition to CMP through its distributor, Centurion Ordnance.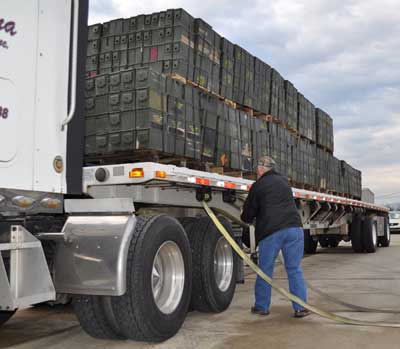 A trucker secures a load of empty ammunition boxes taken from a CMP warehouse in Anniston.

A large shipment of Greek Pyrkal HXP .30-06 ball began arriving at CMP South in March and should sustain ammunition sales well into the foreseeable future, says CMP chief operating officer, Orest Michaels. Pyrkal, now known as EBO-Pyrkal or Hellenic Defence Systems, is the largest manufacturer of ammunition in Greece and its ammunition heritage dates back to 1874.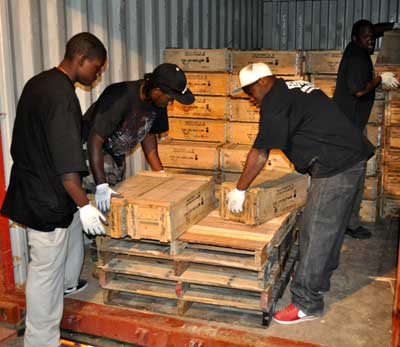 Workers stack crates of loose ammunition onto pallets for storage at a CMP warehouse in Anniston.

"The Greeks have been good to us," said Mark Johnson, assistant chief operating officer, referencing both surplus rifles and ammunition sales. Tens of thousands of returned M1 rifles that are now being cycled through CMP South's operation are of Greek origin.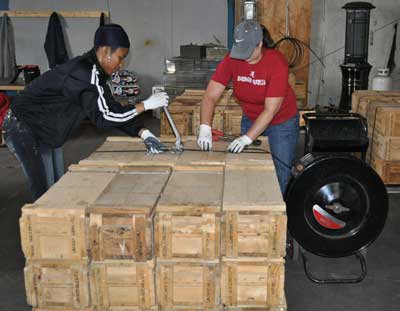 CMP workers band ammo crates onto pallets to stabilize them for storage.

While it's difficult for CMP to determine, there may still be a quantity of rifles that have not yet been returned to the US. More than 20 countries were loaned rifles after World War II by the army.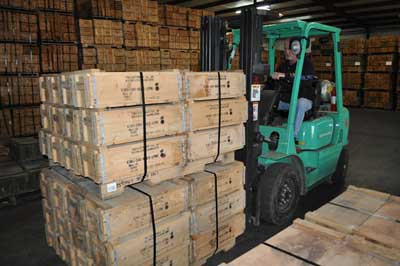 Completed pallets of ammunition are shuttled by tow motor for proper warehousing.

According to public sources, those countries included Argentina, Austria, Brazil, Denmark, El Salvador, Ethiopia, France, former West Germany, Greece, Haiti, Indonesia, Iran, Israel, Italy, Japan, Jordan, Laos, Norway, Pakistan, Panama, Paraguay, Philippines, Saudi Arabia, South Korea, former South Vietnam, Thailand, Turkey, Uruguay and Venezuela.

Millions of rounds of .30-06 ammunition fill a CMP warehouse in Anniston.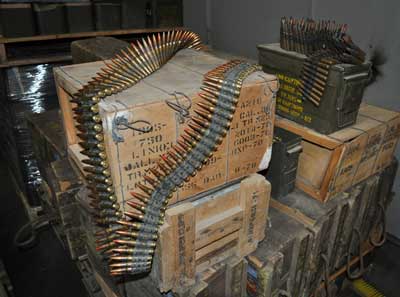 Ammunition of all kind stream through the CMP warehousing system and must be sorted by condition and type. Some ammunition is scrapped due to deterioration and empty ammo cans and crates are discarded or sold.

While CMP has not always been informed of the source of each rifle it has received from the US Army, since 1996 Austria, Denmark, Greece, Paraguay, Uruguay, El Salvador and Italy have returned M1 Garands and carbines to the US. For more information about the M1 Garand sales program log onto http://www.thecmp.org/

NEXT ARTICLE