<! Nested Table for picture>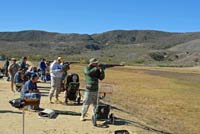 Over 200 competitors took their M1 Garands, Springfields and a variety of other military rifles to the firing lines during the 3rd Western CMP Games at Camp Pendleton's Wilcox Range.
Shooter entries were up at the 3rd Western CMP Games Matches that took place on 4-5 November 2006 at Camp Pendleton, California as over 200 competitors and clinic attendees participated in a full six days of training and competitions. The Western Games competitions, which were conducted by the CMP in cooperation with Creedmoor Sports Inc. and the Santa Margarita Gun Club, benefited from excellent weather and a smooth-running match organization. Competitors had plenty of opportunities to enjoy the camaraderie of CMP Games events, experience the challenges of firing World War I and II battle rifles in a unique series of rifle matches and take part in the gun buying and social activities that are part of these matches.

<! Nested Table for picture>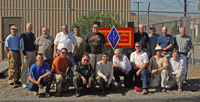 17 new GSM Master Instructors were certified in a training course completed just before the Western Games started. The new Master Instructors then acted as coaches for students in the Garand Clinic that opened the Western Games.
The Western Games events began with the first CMP Garand-Springfield-Military Rifle (GSM) Master Instructor Course that was conducted outside of Camp Perry, where the CMP program staff is based. 20 Master Instructor students completed classroom and practical work on Friday and Saturday morning, 3-4 November. The new Master Instructors then served as assistant instructors during the big competitor clinic that opened the Western CMP Games on Saturday afternoon. The GSM Master Instructors who completed the GSM course at Camp Pendleton joined the roster of GSM Master Instructors who are now certified to conduct GSM clinics and matches at their home clubs and ranges.

The Western Games' Garand Clinic is offered free of charge and is especially recommended for new shooters. In fact, over half of the 100 shooters who attended the clinic reported that they had never fired any competition events before. The CMP's GSM clinic is designed to prepare new shooters to fire their first matches. Clinic topics include gun safety, range procedures, shooting positions, the fundamental techniques for firing accurate shots, the John C. Garand Match course of fire and how to pull and score targets. These topics are taught through a classroom slide presentation, demonstrations and dry fire practical work.

<! Nested Table for picture>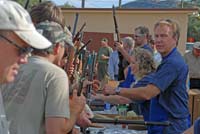 After the day's firing was completed M1 Garand and other rifles brought from the CMP Distribution Center in Anniston, Alabama, were laid out for shooters to inspect and tag for purchase. In this photo, CMP staff members are on the right, with shooters inspecting rifles on the left.
The Western Games schedule continued with two days of competition on Sunday and Monday. Shooters could fire two of the three events on the program, the John C. Garand Match, the Springfield Rifle Match and the Vintage Military Rifle Match, one each day. Five relays of competitors were squadded each day with firing ending in the early afternoon. When the day's shooting ended, special activities followed. These included a Sunday afternoon barbecue, CMP government rifle and ammunition sales and the awarding of achievement medals earned during that day's competition. The government rifle sales at Camp Pendleton offered competitors and non-competitors alike opportunities to inspect and tag M1 Garand and other rifles brought from the CMP Distribution Center at Anniston, Alabama by CMP Armorers and staff.

One competitor in the match encountered an Antique Road Show-type revelation when he brought his M1 Garand to the CMP Armorers for a mandatory pre-match trigger weighing and inspection. There he was told he had brought a very rare collector rifle worth several thousand dollars to the match. It was so valuable, in fact, that he might not want to shoot it. The shooter reconsidered his plan to fire that particular rifle and ended up using a borrowed rifle to complete the match.

<! Nested Table for picture>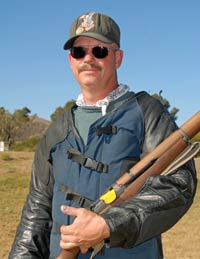 Pete Jend from Denver, CO was the top shooter in the Western Games Garand Match with a 286-7X.
The Western Games competitions concluded on Tuesday, 7 November, with a Special As-Issued M1 Garand EIC Match where the top 10 percent of competitors who had not previously earned any EIC points that count toward the awarding of the Distinguished Rifleman Badge could earn "introductory" 4-point legs. There were 323 event entries in the four 2006 Western CMP Games events, compared with 283 total event entries in the 2005 Games; overall entries were up about 15 percent.

Pete Jend from Denver, Colorado fired a Springfield on the first match day and earned a bronze achievement medal with his 271 score, but he turned in a truly outstanding score on the second day of competition when he fired his M1 Garand. He posted a 286-7X total with his Garand to earn a gold achievement medal and the Garand Match winner's plaque for the high overall score in that match.

<! Nested Table for picture>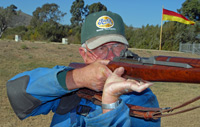 Santa Margarita Gun Club President David Jordan won the High Senior award in the Garand Match.
David Jordan, President of the host Santa Margarita Gun Club, from nearby Escondido, California, elected to fire his M1 Garand twice. His first score of 280-5X earned a gold medal and the High Senior Plaque in the Garand Match. His second score of 288-7X counted in the Garand Re-entry Match where competitors could earn achievement medals. Re-entry scores did not count for Garand Match awards. Jordan's 288 was the highest score fired with any rifle during the two days of competition.

<! Nested Table for picture>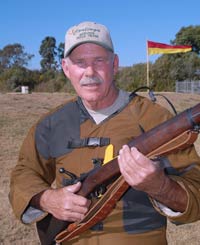 Mike Miller from Downey, CA has won the Western Games Springfield Match two out of three years.

Dennis Santiago, from Hawthorne, California, had the only other gold medal score in the Garand Match when he fired a 281-2X on the second day. In one of the more remarkable achievements of the matches and a demonstration of how shooting truly can be a sport for all ages, 83-year-old Robert Vangene from Minneapolis, Minnesota fired a 279-5X with his M1 Garand to earn a silver medal. Vangene's score was the fourth highest overall in the Garand Match.



Michael Miller from Downey, California, won the Western Games' Springfield Match for the second time in three years. Miller fired a 286-1X with his Smith-Corona M1903A3 to lead that match in both the open and senior categories. Miller won the Springfield Match in the 1st CMP Western Games with a 280-3X.

<! Nested Table for picture>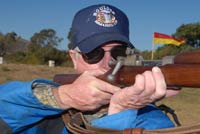 William Harty from Las Vegas, NV fired a 6.5mm Swedish Mauser to post the top score in the Vintage Military Rifle Match.
In the Vintage Military Rifle Match, William Harty from Las Vegas, Nevada, fired a 283-8X with his 6.5 X 55mm Swedish M38 Mauser to win the award for high score in the Vintage Military Rifle Match. Robert Rousseau, who is also from Las Vegas, was the High Senior with the Military Rifle with a score of 263-2X. The rifles used in this match included Mausers, Russian and Finnish Moisin-Nagants, M1917 and British Enfields and Swiss K31s.

<! Nested Table for picture>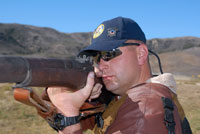 LTJG Richard Ray, who is stationed at North Island Naval Air Station, San Diego, topped the list of shooters who earned 4-point EIC credits during the As-Issued M1 EIC Match.
The final event of the Western CMP Games Matches was the As-Issued M1 Garand EIC Match. LTJG Richard Ray, U. S. Navy, won this match and one of the five 4-point legs that were awarded in the match. LTJG Ray fired a score of 374-8X in the special EIC 40-shot course that also includes a rapid fire sitting stage. Ray has already earned the Navy Distinguished Pistol Shot Badge, but this was his first EIC award in rifle. Ironically, the rifle he fired in this match was an M1 Garand rifle presented to him for a winning performance in the Navy Pacific Fleet Pistol Matches. Ray's Navy occupational specialty is submarine rescue; he is attached to the deep submergence rescue vehicle (DSRV) Mystic that is based at the Naval Air Station, North Island, San Diego.

<! Nested Table for picture>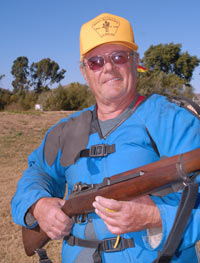 Robert Rousseau, also of Las Vegas, NV took the High Senior award in the Vintage Military Rifle Match.
The other four shooters who earned their first rifle EIC points in this match were Nile Ragusin, Thousand Oaks, CA, 363-5X; Stephen Cook, San Diego, CA, 359-9X; Pete Jend, Denver, CO, 358-6X; and Maury Krupp, Tucson, AZ, 357-5X.

With the conclusion of the Western CMP Games Matches on 7 November, the 2006 Creedmoor Cup Matches began and continue through Sunday, 13 November. A report on those matches will be posted in the next edition of The First Shot On-Line. Complete results for all Western Games and Creedmoor Cup Matches are posted on the CMP website at http://clubs.odcmp.com/cgi-bin/report_matchResult.cgi?matchID=1643.