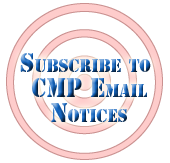 We want your feedback! Please let us know what you think about TFS. Do you have an interesting story or article that you would like to share? If so, please let us know!
Upcoming CMP Events:
Tuesday & Thursday Night Open Public Shooting

CMP Marksmanship Centers,
Port Clinton, OH
Anniston, AL
Shooters, including aspiring new shooters are invited to take advantage of a new opportunity to do practice shooting. Both ranges consist of 80-point, 10-meter air gun range and are fully equipped with electronic targets that accommodate air rifle, air pistol or National Match Air Rifle shooting. Instruction and equipment are also available. Visit http://www.odcmp.com/
MarksmanshipCenters.htm for additional information.
---

CMP iPhone App - CMP is the official app for keeping score at Civilian Marksmanship Program sponsored shooting events. It features an easy to use interface that allows for quick recording of your score after each string. The CMP app calculates your shooting percentages automatically to let you know how you are doing throughout the event. You can also enter notes and record conditions so that you have a permanent record of details of each event. This application is sponsored and endorsed by the Civilian Marksmanship Program and a portion of the proceeds from the sale of this software are donated to the CMP. The CMP app is designed for both the iPhone and iPad. This application is sponsored and endorsed by the Civilian Marksmanship Program and a portion of the proceeds from the sale of this software are donated to the CMP. Visit http://itunes.apple.com/us/app/cmp/
id379873392?mt=8# to view and purchase the CMP app.
---
2010-2011 JROTC Air Rifle Postal Competition Now Open for Registration. The 2010-2011 JROTC three-position air rifle competition program starts in September with Army, Navy, Marine Corps and Air Force postal competitions. All JROTC units that offer rifle marksmanship training for their cadets are encouraged to shoot in these popular matches. Indeed, a major objective this year is to increase participation by JROTC units and individual cadets. All firers in the open postal competitions will fire a 3x10 air rifle course of fire. The deadline to enter the JROTC Postal Competition is 12 November. Visit http://www.odcmp.com/3P/JROTC.htm for additional information and on-line registration.

---
Air Rifle and Air Pistol Marksmanship Competitions - Camp Perry, Ohio and Anniston, Alabama. The Civilian Marksmanship Program (CMP) invites you and your club rifle team to participate in the CMP's Monthly Matches. The matches will take place on the above dates at the CMP's Marksmanship Centers North and South. The competitions will feature a Junior Air Rifle 3x20, 60 Shots Air Rifle Standing, 60 Shots Air Pistol, a 20 shot Novice Prone stage a National Match Air Rifle 20 Shot Standing, Garand Course and 3x20 events. Monthly Match Date is 20 November. Visit http://www.odcmp.com/
MarksmanshipCenters.htm to view the CMP Monthly Match Program or to register for the Match.
---
Dixie Double, Anniston, AL. The Civilian Marksmanship Program (CMP) invites you to participate in its second annual Anniston Marksmanship Center Dixie Double. This match offers 60-shot international air rifle standing and 60-shot air pistol events for open men and women and junior men and women. USA Shooting is sanctioning this match as a PSA/PSI match sanctions; it is also sanctioned as a PTO. Members of the National Rifle and Pistol Teams will attend. National Rifle Coach David Johnson will present a coaching clinic for all interested persons on Saturday afternoon, 13 November. The match is a two-day event where competitors will fire one 60-shot event on each of two days, 13 & 14 November 2010. Visit http://www.odcmp.com/3P/
DixieDouble.htm for additional information.




2010 Dixie Double Event Provides Airgun Shooters Opportunities for Improvement

By Steve Cooper, CMP Writer




ANNISTON, ALABAMA – The 2010 Dixie Double Precision Air Rifle and Pistol Event gave junior and veteran shooters alike an opportunity to improve their game in a challenging environment at the 80-firing point CMP Marksmanship Center, 13-14 November. <! Nested Table for picture>


Selina Curren contemplates her next shot during her 2010 Dixie Double debut at the CMP Marksmanship Center 13-14 November. Curren, 14, has quickly graduated from BB gun to precision air rifle.


Selina Curren, 14, of Pelham, Alabama picked up a BB gun for the first time a year ago and began shooting competitively with her 4-H club and has shown rapid improvement. At the 2010 Alabama Sports Festival she placed first in the 13 to 15-year-old class BB gun championship, second in the .22 rifle silhouette match and third in three-position .22 rifle match.

A member of the Magic City Gun Club, coached by Perry Mitchell, Curren jumped to precision air rifle in September 2010 and made her first appearance at the Dixie Double this year.

"I'm learning things quickly," she said after firing a second day score of 532 of a possible 600 in her second 60-shot precision air rifle standing match in two days. She improved by 30 points over her Saturday score of 502.
<! Nested Table for picture>

Selina Curren's biggest fan, her mother Lora, left, described how quickly her daughter is learning the precision air rifle game with a little help from coaches and fellow shooters.


Curren's mom, Lora, tried her best to stay out of her daughter's line of sight during the competition. "I didn't want her to feel any more pressure than she already did." She said Selina, a home-schooled high school freshman associated with Hope Christian School, is working toward a college scholarship in rifle shooting.

"She's making so many good adjustments thanks to the help she's getting from her coach and fellow shooters," Lora said. "Just a week ago she changed her forehand hold to a fist from an open hand," she said. "It works!"

"It's amazing here," Selina's mom said of the CMP Marksmanship Center. "There are so many people here shooting and watching. We're having a great time."
<! Nested Table for picture>

Ashley Jackson applied pressure to members of the US Army Marksmanship Unit and finished with two 100+ finals scores on each day of the 2010 Dixie Double.


Ashley Jackson, 22, of Cuyahoga Falls, Ohio is a member of the University of Kentucky rifle team. She placed third overall in the two-day Dixie Double air rifle aggregate open class.

"Actually I was really hoping to do better than that," she said. "I knew I was capable of shooting those numbers (590s) and I was working real hard to get there."

"I was kind of bummed after I walked off the line and saw Parker (SFC Jason Parker) had a '94," she said. SFC Parker scored a 594 to Jackson's 591 on Day II. Overall, Jackson finished with a two-day aggregate of 1381 to SFC Parker's 1396. She was however, only four points behind SFC Parker's teammate SSG Hank Gray who fired 1385.

"I think I kind of over-thought my last string. I was working for 100 and was over-holding," she said.

Jackson, one of several USA Shooting national development team members at the event, is in her senior year at UK and is hoping to land a spot on the US Olympic team which competes in London in 2012.
<! Nested Table for picture>

Stephen "Anthony" Lutz takes aim with his precision air pistol at the 2010 Dixie Double in Anniston, Alabama. Lutz led all open category shooters on both days of competition.


Stephen "Anthony" Lutz, 22, residing in Colorado Springs along with fellow precision air pistol shooters Will Brown, 18, and Hannah Lewis, 18, said he is making progress. Lutz won the Dixie Double open air pistol championship with an aggregate of 1350.

"I'm feeling better mentally and shooting with more confidence," Lutz said afterward.
<! Nested Table for picture>

Will Brown pressed through a match he called "a little rough" on Day II of the Dixie Double. Brown finished second overall and high junior in precision air pistol.


Brown placed second (1333) in the event and said after a decent start on Saturday, he has been a little rough. "My process just wasn't there today (Day II)."
<! Nested Table for picture>

USA Shooting precision air pistol shooter Hannah Lewis placed third in the open category at the Dixie Double and says she's looking for greater consistency prior to entering the Winter Airgun Championships in Colorado Springs in December.


Lewis placed third (1290) in the open category and said she is frustrated trying to find consistency.

All three shooters will next compete in the Winter Airgun Championships in Colorado Springs during the first week in December.

For complete results of the Dixie Double event in Anniston, Alabama log onto http://clubs.odcmp.com/cgi-bin/report_matchResult.cgi?matchID=6204. To view more photos from the 2010 Dixie Double, log onto http://cmp1.zenfolio.com.