We want your feedback! Please let us know what you think about TFS. Do you have an interesting story or article that you would like to share? If so, please let us know!
Upcoming CMP Events:
Tuesday & Thursday Night Open Public Shooting

CMP Marksmanship Centers,
Port Clinton, OH
Anniston, AL

Shooters, including aspiring new shooters are invited to take advantage of a new opportunity to do practice shooting. Both ranges consist of 80-point, 10-meter air gun range and are fully equipped with electronic targets that accommodate air rifle, air pistol or National Match Air Rifle shooting. Instruction and equipment are also available. Visit http://www.TheCMP.org/3P/
MarksmanshipCenters.htm for additional information.
---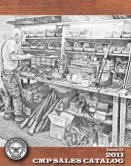 Download a CMP Sales
Catalog Today
---
National Match Air Rifle Marksmanship Competition

Camp Perry, Ohio
NOVEMBER 3, 2012

The Civilian Marksmanship Program (CMP) invites you to participate in the CMP's NMAR Match at the CMP's North Marksmanship Center. The competition will feature a National Match Air Rifle Garand
Course and Highpower 3x20 Course events. For more information, visit http://www.thecmp.org/
Competitions/NMAR.htm.
---
2012 Dixie Double
November 9-11, 2012

International Air Rifle & Pistol Competition
Anniston, Alabama

The Civilian Marksmanship Program (CMP) invites you to participate in its fourth annual Anniston Marksmanship Center Dixie Double. This match offers 60-shot international air rifle standing and 60-shot air pistol events for open men and women and junior men and women. USA Shooting is sanctioning this match as a PSA/PSI match sanctions; it is also sanctioned as a PTO.

http://www.odcmp.com/3P/
DixieDouble.htm
---
CMP Applications & Software

The CMP currently offers three Apps for shooting sports. Each download supports the Civilian Marksmanship Program. For more information, visit http://www.thecmp.org/
Comm/Apps.htm.
---
The Civilian Marksmanship Program (CMP) invites you and your club rifle team to participate in the CMP's Monthly Matches. The matches will take place on 20/27 Oct and 17 Nov at the CMP's Marksmanship Centers North and South. The competitions will feature a Junior Air Rifle 3x20, 60 Shots Air Rifle Standing, 60 Shots Air Pistol, a 20 shot Novice Prone stage a National Match Air Rifle 20 Shot Standing, Garand Course and 3x20 events. For more information, please visit http://www.TheCMP.org/3P/
MonthlyMatches.htm.
---
National Match Air Rifle is a new shooting discipline with something to offer all rifle shooters—NMAR offers three competition classes with real challenges for shooters of all ages and competitive interests. The CMP will hold Monthly NMAR matches at the CMP Marksmanship Centers. Please visit http://www.TheCMP.org
/Competitions/NMAR.htm for more information.






USA Shooting President and Two-Time Olympic Gold Medalist Gary Anderson Receives IOC's Olympic Order

Courtesy of USA Shooting




USA Shooting President and two-time Olympic gold medalist Gary Anderson (Oak Harbor, Ohio) was awarded the International Olympic Committee's (IOC) Olympic Order on Thursday. <! Nested Table for picture>


USA Shooting President and two-time Olympic Medalist Gary Anderson receives the IOC's highest honor. Photo courtesy of the ISSF.


International Shooting Sport Federation (ISSF) President and IOC member Olegario Vazquez Raņa had the honor to award the IOC Olympic Order to Anderson during ISSF Meetings taking place in Alcapulco, Mexico, on behalf of IOC President Jacques Rogge.

The Olympic Order is the highest award of the IOC and was created in May 1975 as a successor to the Olympic Certificate. The Olympic Order is awarded to individuals for distinguished contributions to the Olympic Movement. The Olympic Order insignia resembles a collar with the five Olympic rings framed by olive branches.

"Gary Anderson has devoted his life to sport, both as an athlete and as a sports administrator in the USA and at the International Shooting Sport Federation," said Raņa. "He has placed his knowledge and experience as an elite athlete at the service of sports administration." Anderson was a member of the USA Shooting Team for 10 years (1959-1969) and earned two Olympic gold medals in Tokyo (1964) and Mexico City (1968). He also claimed seven World Championship medals, two Pan American Games titles and 16 National Championship titles to go along with six individual World Records in his career.

Anderson has served USA Shooting as President since 2009. At the international level, he joined the international shooting family in 1978 as member of the ISSF Administrative Council, and is now serving the international federation in his role as Vice President.

Anderson served as the Director of the Civilian Marksmanship Program (CMP) from 1999 to 2009. In addition to promoting firearms safety training and rifle practice for all shooters, Anderson's primary focus at CMP was to develop and sustain successful youth shooting programs at both regional and national levels.

A former Nebraska state senator, Anderson previously worked at the NRA where he served as Executive Director of General Operations. Gary was responsible for the development of safety, training and competition programs. Among hundreds of other honors, Gary was awarded the National Board for the Promotion of Rifle Practice (NBPRP) Distinguished International Shooting Badge (Serial number one) in April 1963 by President John F. Kennedy. While at the NRA, Anderson served on the NBPRP board, and was one of the first people to advocate and pioneer a shift in priorities to youth and junior shooting. As a result of this shift, Anderson became the founding and administrative director of the U. S. Shooting Team Foundation.

In 1993, he moved to Atlanta to become the Shooting Competitions Manager for the 1996 Olympic Games. In 1996, Anderson accepted a position with Fulton County Georgia, to manage the Wolf Creek Shooting Venue, a facility destined to become a premier national and international center for the shooting sports.

Anderson's influence on shooting sports extends well beyond the United States. He has traveled extensively throughout his career in shooting, serving as a genuine ambassador for shooting sports, attending 12 Olympic Games, three as a competitor and nine as technical delegate or a jury member. He is also the recipient of one of only five prestigious honorary memberships to the historic and renowned shooting club, Hauptschutzengesellschaft, in Munich, Germany.