The 2006 Creedmoor Cup Matches took place 8-12 November 2006 at Camp Pendleton, CA. The matches were held in conjunction with the Western CMP Games and were conducted by Creedmoor Sports Inc. of Oceanside, California and the Santa Margarita Gun Club. Match entries were managed by the CMP through its Competition Tracker on-line results system; CMP staff members were at the match to statistical operations and post results on the CMP website.

<! Nested Table for picture>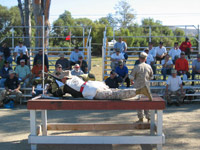 Over 70 competitors took advantage of the highpower rifle shooting clinic at the beginning of the Creedmoor Cup Matches.
The Creedmoor Cup Matches began with a free shooting clinic conducted by the U. S. Marine Corps Reserves Rifle Team and Creedmoor General Manager CWO3 Dennis DeMille, USMC (Ret.). DeMille, the 2003 National Service Rifle Champion and the 2005 National Highpower Rifle Champion, also served as the Match Director for the competitions. The clinic featured lecture, demonstration and dry-fire activities with hands-on coaching during the dry-fire sessions on Wednesday, followed by a day of live-fire training on Thursday.

This year, the Creedmoor Cup Matches featured a Creedmoor EIC Individual Match over the National Match Course. A total 103 Non-Distinguished competitors fired in the EIC Match. Sgt Stephen Ferguson, USMC, of San Clemente, CA, was the winner with a 486-10X. Nine other competitors also earned EIC "Leg" points in the match: Michael Glembourtt; SSgt Matthew Benack, USMC; Nao Lewis, USMC; Sgt Michael Clark, USMC; Michael Baggett; Tyler Rico; LCpl Kyle Hoelscher, USMC; Karl Kasarda and Gary Campbell.

In addition to the 103 Non-Distinguished competitors in this match, there were 27 Distinguished shooters and 14 shooters who elected to fire for special awards with their match rifles. 15-year-old Kathryn Bugg from Vacaville, CA, who earned her Distinguished Rifleman badge earlier this year, fired the overall high score in the match with a 489-14X. Sgt. Donald McClester, USMC, fired the high match rifle score with a 487-14X.

<! Nested Table for picture>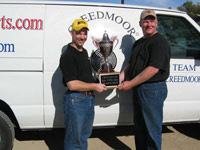 Shawn McKenna, left, was the winning service rifle competitor and Neil Jensen, right, was the top match rifle shooter in the Creedmoor Cup Match.
A total of 159 competitors fired in the Creedmoor Cup Match, an 800 point aggregate match. Shawn McKenna, a High Master from La Habra, CA, won the Service Rifle event with a 786-20X. MSgt Neil Jensen, USAF, a High Master from Las Vegas, NV, won the Match Rifle event with a 785-34X. He also won this event last year.

The Commanding General's Match Rifle Team Championship was won by Competition Shooting Stuff with a 1918–53X four-person total. X's R-US followed closely with a 1911–44X and Coalinga Surfers finished third with a 1909–43X. Competition Shooting Stuff team members were Gary Eliseo, Randy Teissedre, Jeffrey Mendoza and Brian Fisher.


The USMC Reserves Gold team won the Commanding General's Service Rifle Team Championship with a 1942-73X. Team members were SSgt Justin Skaret, Cpl Eric Swearingen, CWO2 David Karcher and Cpl Tomas Gonzalez. USMCR Gold was coached by MGySgt Harry Harrison; their team captain was CWO2 David Karcher. MCRD Gold finished second with 1893–46X, and Tucson Rifle Club BLACK finished third with 1872–32X.

To view a list of the 2006 Creedmoor Cup Matches sponsors and prizes winners, visit http://www.creedmoorsports.com/store/pages.php?pageid=1. Complete results for the 2006 Creedmoor Cup Match can be viewed at http://clubs.odcmp.com/cgi-bin/report_matchResult.cgi?matchID=1643. Photos from the matches are posted at http://www.odcmp.com/Photos/05/Index.htm.