<! Nested Table for picture>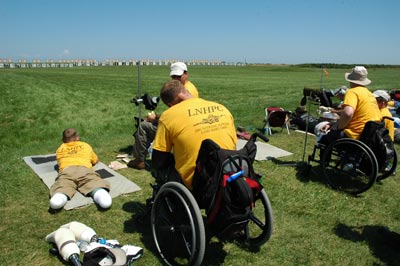 Camp Perry, 2006 - This says it all! Recipients of the M1s for Vets Project shot in both the Springfield and John C. Garand Matches at the 2006 National Matches. All shot M1 Garands that they have received from donations given to the organization.
We now approach the anniversary of our first year of the "M1s for Vets" project. What began as an idea to provide one returning veteran with an M1 Garand as a way of showing our support and appreciation for his or her service, has grown into a nationwide project providing rifles to over sixty recipients.

When I first put this idea into motion, I received both positive and negative feedback. Most thought it was a fine and simple gift from the members of the "shooting sports" community, some felt that it wrong to give a rifle to a combat veteran. I listened to many different points of view, and decided to move forward. The gift of this rifle was not for everyone, and a simple list of guidelines were established.


The recipient was to have served in either OEF or OIF,

Potential recipients had to have a desire to continue in the "shooting sports." Such as hunting, trap/skeet, or rifle marksmanship, and

Recipients had to be willing to accept the gift.
<! Nested Table for picture>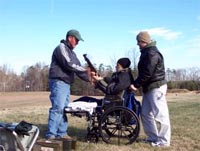 The "M1s for Vets" program has presented 55 rifles since the program began.
On 24 December, 2005, our first M1 was presented to a young Marine in Kentucky. Since then, we have presented 55 rifles, with 10 more being readied for presentation. Almost half of these rifles were donated as complete rifles, and the balance were purchased from the Civilian Marksmanship Program. Donations have been received from those deployed in Iraq and Afghanistan, military personnel, LEO's, and civilians. Almost every State is represented in our list of donors.

We have also had growing support from rifle clubs. Lake Norman High Power Club, Tucson Rifle and Pistol, Central Kansas Rifle and Pistol Club, Muskegon Rifle and Pistol Club, Durham Pistol and Rifle Club and Quantico Shooting Club have all been instrumental in providing both rifles and range time for our project. My heartfelt thanks are extended to all those that worked so unselfishly to "give back".

<! Nested Table for picture>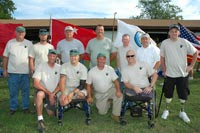 The group came to Camp Perry as Team WRAMC, from Walter Reed Army Medical Center where many are still under going therapy for injuries they received in Iraq.
The "M1s for Vets" Project made it possible for seven of our recipients to attend the CMP National Matches held at Camp Perry, Ohio in August 2006. The guys shot in both the Springfield and Garand matches, and had an outstanding showing. They all hope to return and keep 'em in the black in 2007. This undertaking was made possible by support from many individual donations and The Walter Reed Society.

During the past year, I have been very fortunate to have met some wonderful people who share the same passion and love of these young men and women that we have. While doing my initial research into potential recipients, I found a small grassroots volunteer organization that operated out of Walter Reed Army Medical Center. Operation Second Chance, founded by Cindy McGrew, provides much needed immediate need items to the wounded and their families. This organization has been instrumental in assisting "M1s for Vets" with rifle presentations, transportation, and financial assistance. If you would like more information on Operation Second Chance, go to http://www.operationsecondchance.org.

We have also received help from the Wounded Warrior Project. This organization provides many social and sports related activities for U. S. military personnel recovering from their wounds. They can be contacted at http://www.woundedwarriorproject.org.

Other organizations which have helped include:
I want to thank each and every member of our small group for allowing me to represent you. I can not begin to thank all those that have made our first year such a success. We hope to continue with "M1s for Vets" as long as support comes in.

Any help is appreciated. The mailing address for donations is JJ O'Shea, P.O. Box 876, Huntersville, N.C. 28070

Make any donations payable to JJ O'Shea and include your contact information. My email is jjoshea@msn.com.