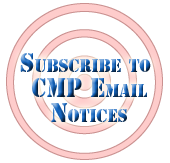 We want your feedback! Please let us know what you think about TFS. Do you have an interesting story or article that you would like to share? If so, please let us know!
Reader Comments:

CMP Shooters' News is one of my favorite email news publications. Information packed, talented authors, timely subjects, and all around well done. What a great service you are providing to the shooting community. Just wanted to say thanks and Merry Christmas. Newt E.
---
I enjoy and look forward to TFS and the excellent articles that are published on a regular basis. Please keep this publication coming and keep the CMP active. Don M.
---
One of the members at Snipers Hide pointed out the newsletter and the High Power Tips articles by the USAMU team.
Darn you! I was up until 1:00 AM last night reading all of the articles. Great newsletter and really great USAMU articles.
Thanks,
Michael E.
---
Great article written on physical conditioning in the latest TFS. I was one of likely many who had asked about the type of conditioning recommended for serious shooters. Sgt. Craig did a great job on describing the routines. Now it's my turn to put it to work.
Thanks to you, Sgt. Craig and other contributors who share best practices of shooting excellence.
Sincerely,
Keith H.
---
I use these articles in our high power clinics and have found them very helpful for both new shooters and reinforcement of the basics for the more experienced.
Thanks, Gary M.
---
Thanks for the great articles on the Carbine, Springfield, Garand matches. All the articles are interesting, but the Carbine, Springfield & Garand are my favorites.
Jim H.
---
The September-07 on line shooting tips by SSG Tobie Tomlinson, USAMU Service Rifle Team Member, is a great article. I have reproduced 15 copies of it to hand out and discuss to our "newbie" first year air rifle shooters on our high school JROTC Air Rifle Team. Come to think about it believe I'll hand out a copy to my advance shooters as well. His explanations are simple to understand but rich in detail. Coupled with the sight pictures this article will go a long way towards helping all our JROTC shooters obtain better sight patterns. Keep up the great work. AND…..keep the articles like this coming.
Malcolm V.
CW2 (R), US Army
---
It seemed good to read the article on Infantry Trophy Match. As a shooter on the Marine Corp Team way back in 1967 I participated in the Match. We were the second team for the Marines but placed second overall. One of our shooters forgot to put the windage on his rifle. I enjoyed shooting the M-1 and M-14 at Camp Perry and always wanted to go back but never seemed to find the time. The top over all shooter at that time was my team mate Lt. Bowen. I remember some of the team members carrying him from the 600 yd line back to the rest of us. It was a great time in my life and will never forget it. Thanks again for the article.
Mike A.
---
Thanks for the great series of articles from the USAMU – they are very readable, and usable!
Tom, AZ
---
Great articles. Great to identify those who are participating as well as those who are working behind the scenes to make the whole of the National Matches run so well.
David D.
Boxford, MA
---
This is a special note just for my friends at the CMP, I want to thank you all for your hard work and attention to details, it's a great program!
"You help our shooting dreams come true!"
Best Regards,
Tony M.
---



Avid National Match Competitor Elected to U. S. Congress


Written By Sommer Wood, CMP Writer/Editor




Political office is not new territory for U. S. Congressman-Elect Bob Latta (R-Ohio). In fact, Latta has over 17 years of experience serving in various offices in his home county and in the Ohio State Senate and House of Representatives. Bob Latta, a dedicated gun enthusiast and outdoorsman, has almost as many years of experience as a National Matches competitor. On 11 December 2007 a special election was held in Ohio to fill the seat of Rep. Paul E Gillmor (R), who passed away in September after a fall in his home. Latta, who was serving his fourth term in the Ohio House of Representatives at the time of the special election, won the election by a 57-43 margin and is now taking over the same Ohio 5th Congressional District Seat that his father, Del Latta (R), held from 1958 until 1988.


Then Ohio State Representative Bob Latta, (on left) is shown here firing in the 2007 John C. Garand Match at Camp Perry alongside Ohio National Guard leaders Brigadier General Matt Kambic (center) and Major Greg Wayt (right).

Congressman Latta—he was sworn in on 14 December—has been an avid and effective supporter of Camp Perry and the National Matches throughout his eleven years in the Ohio State Senate and House of Representatives that began in 1996, the same year that the Civilian Marksmanship Program was established as a federally chartered, non-profit corporation. Throughout this period Latta frequently visited Camp Perry and has been an active participant in National Matches Planning Conferences and Camp Perry Executive Committee sessions. He was successful in obtaining funding for several improvement projects at Camp Perry.

Then State Senator Latta was invited to be the First Shot Speaker to officially open the National Matches in 1998. When the John C. Garand Match was inaugurated in 1998, Latta was one of the competitors in that first Garand Match. He has been a regular competitor in every National Matches since. In 2007, Latta fired in three National Matches events, the Carbine Match, the Springfield Match and the John C. Garand Match. He won a Bronze Achievement Medal in the Garand Match to demonstrate his outstanding skill as a rifleman.

Congressman Latta is a certified Hunter Safety Instructor, an Endowment Member of the NRA and holds memberships in the Ohio Rifle and Pistol Association and Friends of Camp Perry.