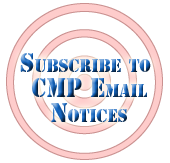 We want your feedback! Please let us know what you think about TFS. Do you have an interesting story or article that you would like to share? If so, please let us know!
Reader Comments:

CMP Shooters' News is one of my favorite email news publications. Information packed, talented authors, timely subjects, and all around well done. What a great service you are providing to the shooting community. Just wanted to say thanks and Merry Christmas. Newt E.
---
I enjoy and look forward to TFS and the excellent articles that are published on a regular basis. Please keep this publication coming and keep the CMP active. Don M.
---
One of the members at Snipers Hide pointed out the newsletter and the High Power Tips articles by the USAMU team.
Darn you! I was up until 1:00 AM last night reading all of the articles. Great newsletter and really great USAMU articles.
Thanks,
Michael E.
---
Great article written on physical conditioning in the latest TFS. I was one of likely many who had asked about the type of conditioning recommended for serious shooters. Sgt. Craig did a great job on describing the routines. Now it's my turn to put it to work.
Thanks to you, Sgt. Craig and other contributors who share best practices of shooting excellence.
Sincerely,
Keith H.
---
I use these articles in our high power clinics and have found them very helpful for both new shooters and reinforcement of the basics for the more experienced.
Thanks, Gary M.
---
Thanks for the great articles on the Carbine, Springfield, Garand matches. All the articles are interesting, but the Carbine, Springfield & Garand are my favorites.
Jim H.
---
The September-07 on line shooting tips by SSG Tobie Tomlinson, USAMU Service Rifle Team Member, is a great article. I have reproduced 15 copies of it to hand out and discuss to our "newbie" first year air rifle shooters on our high school JROTC Air Rifle Team. Come to think about it believe I'll hand out a copy to my advance shooters as well. His explanations are simple to understand but rich in detail. Coupled with the sight pictures this article will go a long way towards helping all our JROTC shooters obtain better sight patterns. Keep up the great work. AND…..keep the articles like this coming.
Malcolm V.
CW2 (R), US Army
---
It seemed good to read the article on Infantry Trophy Match. As a shooter on the Marine Corp Team way back in 1967 I participated in the Match. We were the second team for the Marines but placed second overall. One of our shooters forgot to put the windage on his rifle. I enjoyed shooting the M-1 and M-14 at Camp Perry and always wanted to go back but never seemed to find the time. The top over all shooter at that time was my team mate Lt. Bowen. I remember some of the team members carrying him from the 600 yd line back to the rest of us. It was a great time in my life and will never forget it. Thanks again for the article.
Mike A.
---
Thanks for the great series of articles from the USAMU – they are very readable, and usable!
Tom, AZ
---
Great articles. Great to identify those who are participating as well as those who are working behind the scenes to make the whole of the National Matches run so well.
David D.
Boxford, MA
---
This is a special note just for my friends at the CMP, I want to thank you all for your hard work and attention to details, it's a great program!
"You help our shooting dreams come true!"
Best Regards,
Tony M.
---



2007 Creedmoor Cup Matches

By Sommer Wood, CMP Writer/Editor



<! Nested Table for picture>

The 2007 Creedmoor Cup Matches and Clinic were held 24-28 October at the Ben Avery Shooting Facility which is located just north of Phoenix, AZ. This was a new location for the Creedmoor Cup, which is held in conjunction with the CMP Western Games. The Ben Avery Range has a long history of hosting major events including the 1970 World Shooting Championship and several National Championships. The range also has the distinction of being the largest public shooting facility in the country since the Arizona Game and Fish Department took over the operations of the complex. Camp Pendleton, CA hosted the event for the past four years, but the change of venue proved to be fortuitous because the wildfires ravaged southern California that same week and would have lead to the cancellation of the Matches.

In Phoenix the conditions were near perfect for the event which kicked off with a free clinic on 24 October which was conducted by members of the US Army and US Marine Corps Service Rifle Teams, and Creedmoor General Manager and Match Director CWO3 Dennis DeMille who holds multiple National Service Rifle Championships. The clinic featured lectures, demonstrations and hands-on coaching. Participants were able to put the training to a test on Thursday when they participated in a 50-shot practice match.

<! Nested Table for picture>

Kathryn Bugg was the High Junior in the Creedmoor Cup Match. Bugg earned her Distinguished Rifle Badge in May of '06 when she was 15.

The real competition began on Friday 26 October with a 50-shot EIC Match Rifle course. Competitors were grouped according to the type of rifle they fired, either service or match, and all together 110 people participated in the event. In the Service Class Trenton Hering of Corvallis, OR took first with a 491-15X. He just edged out SGT Brandon Green USA from Columbus, GA who shot a 491-14X. It was center X's that determined the winner of the Match Class as well with Kenneth Walston of Fruitland, ID claiming first over Wayne Forshee of Senoia, GA. Walston shot a 484-12X to Forshee's 484-11X. An additional bonus from this event is that the top 10% of non-distinguished shooters earned EIC points in this Match.

On Saturday the 80-shot Creedmoor Cup Match was held and participation was high with a combined 133 competitors in the Service and Match Rifle classes. SGT Brandon Green would not be denied two days in a row and claimed the top spot in the Service Class with a 794-39X. In the Match Class Neil Jensen of Las Vegas, NV took first with a 792-28X. Kathryn Bugg of Vacaville, CA was recognized as the High Junior of the day with a 787-28X. Bushmaster Firearms International presented SGT Brandon Green and Kathryn Bugg a certificate for redemption with their FFL dealers for a Bushmaster DCM-XR Competition Rifle bearing special laser engravings of the Creedmoor Cup and CMP Western Games logos as well as their names.

<! Nested Table for picture>

SGT Brandon Green, USA, was the High Service Class Competitor in the Creedmoor Cup Match. SGT Green also joined teammates SSG William Pace, SFC Lance Dement and SPC Matthew Sigrist to dominate the 4-person Service Class Team Match.

A 4-person Team Match was held on Sunday to close-out competition and 21 teams took part in the event. In the Service Class USAMU Blue dominated with a 44 point lead over second place finisher Oregon State Shooting Association. USAMU team members, SFC Lance Dement, 487-16X, SPC Matthew Sigrist, 485-10X, SGT Brandon Green, 483-14X and SSG William Pace, 482-10X, combined for a 1937-50X team total. The team was coached by Donald Heuman. In the Match Class the top team was Richards Associates which was coached by Carlton Hardin and team captain Wayne Forshee. The team consisted of Tom Albanito, 488-20X, Robert DelCotto, 487-19X, Forshee, 485-14X and Hardin, 479-12X combined for a total of 1939-65X. Shawn McKenna of Whittier, CA was the overall high shooter of the Team Match with a 492-22X.

Capping off the week, Creedmoor Sports hosted a barbecue for all the competitors that was sponsored by Bushmaster Firearms. The event included a prize drawing with over $20,000 in prizes.

Complete results from the 2007 Creedmoor Cup can be found at, http://clubs.odcmp.com/cgi-bin/report_matchResult.cgi?matchID=2516. Photos from the event can be found at, http://www.odcmp.com/Photos/07/WesternCreedmoorCup/index.htm.