On Sept. 14 and 15, 2013, Cumberland Riflemen, Millville, NJ, sponsored its third New Jersey State CMP Championship. Sunny Skies brought a beautiful day for Randy Ent from Pennsylvania who bested a field of 40 entries to win the Garand A Match (284-5), the Springfield Match (286-6) and the Aggregate (840-16).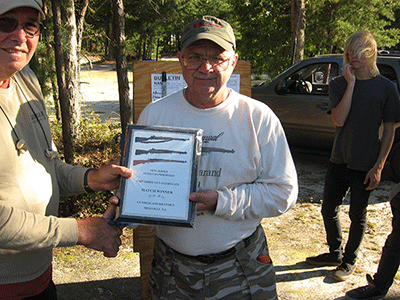 Randy Ent receives Aggregate Trophy from Paul Adamowski.
Ken Stein won the Vintage Rifle Match with a score of 287-5. Don Zubritsky took NJ State Championship honors in the Garand Match. Art Snellbaker won the Springfield State Championship mantel, while Kevin Tunney, in his second year of shooting, bested the competition to become NJ State Champion in the Vintage Military Rifle category and the Aggregate.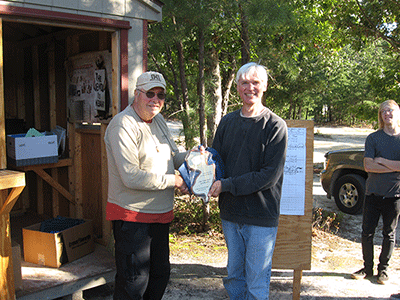 Kevin Tunney receives NJ State Champion Aggregate Trophy from Paul Adamowski.
On September 15, the weather hung in while New York State resident Leonid Kurtich bested a field of 27 shooters to win the Governors Match with a score of 292-14. New Jersey High Resident was Joe Burkel, who took the Governor's Trophy. Both shooters fired the AR15 Service Rifle in the 30 round course, which started with standing at the 200 yard line, progressed to prone rapid at the 300 yard line, followed by slow prone at the 600.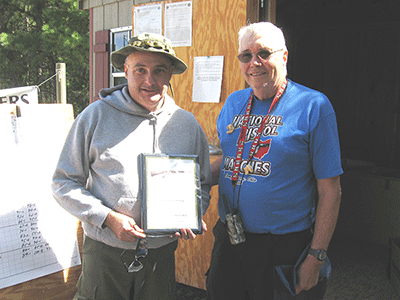 Leonid Kurtich (left) receiving match winner trophy for governor's match.
Following the Governor's match, Distinguished Shooter John Sylvester showed that his recent eye trauma didn't affect his "homecoming" as he bested a field of 29 shooters in the EIC match with a score of 487-13. Charles Fulmer made good on his travel from New York State to win the Leg.
The good weather, camaraderie and shooting combined to make an excellent weekend.
On October 19, 2013, the club held its Camp Perry Match Weekend.
Winner of the M1/M1A Garand B Match was Thomas Foster, who bested the field with a score of 458-6.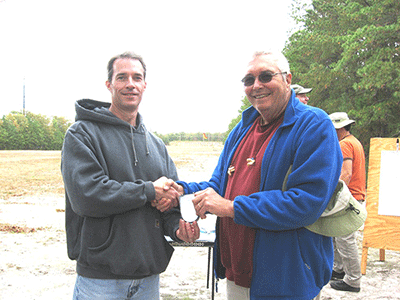 Tom Foster (left) receives the M1/M1A Match winner award.
The afternoon saw a new match to hit the Jersey Shore as Cumberland hosted the first CMP Sniper Match. A gray day hung over the team of Matt Zagorski and Greg Alcorn as they fired a 377-6 to win the match. Both shooters shared a Springfield 1903A4.
Zagorski set the pace at the 300 yard line with a 100-4 and followed with a 97-2 at the 600 yard line. Alcorn kept pace, and the team won handily. Second place team consisting of Foster and Joe Burkel also used a 1903A4. Several shooters fired the Mosin-Nagant but failed to match the pace of the American '03s.
Match Director Art Snellbaker and his team ran a flawless match, and shooters finished with a positive experience.
Consensus of shooters was that this was a fun match that should be done again.
NEXT ARTICLE